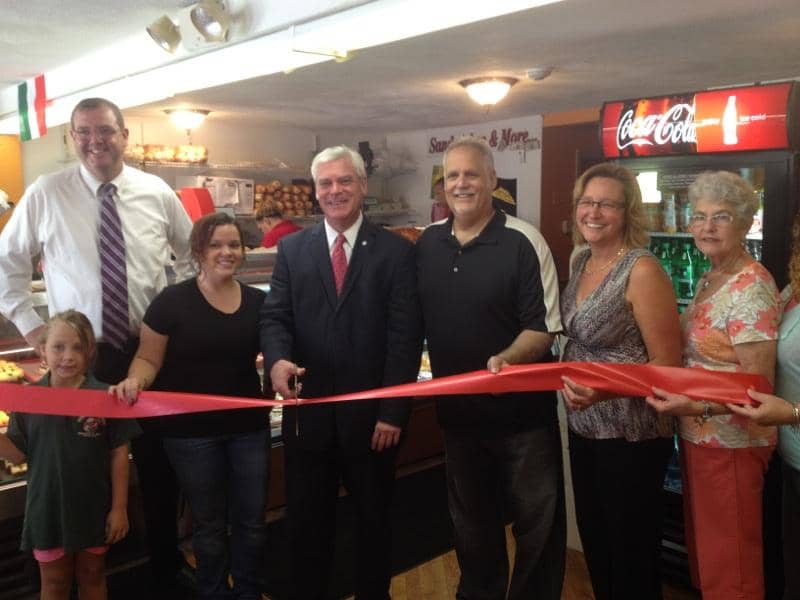 Warwick, RI – Borelli's & Rosa's Bakery/Deli held its grand re-opening Wednesday with 30 people and a ribbon cutting ceremony presided by Mayor Scott Avedisian, celebrating a comeback after a Memorial Day Weekend fire.
Stop in at the 3292 Post Road location, and you can buy an orange frosted, firefighter-themed cupcake, designed, said co-owner Tori Swenson, "since they saved our store!"
Faulty wiring on a sandwich machine started a fire at the bakery-deli the Sunday of the holiday weekend at night after closing, Swenson said, and "We got very, very lucky."
Only one exterior wall of the shop had to be replaced after the fire, causing abuot $15,000 in damage, and they were back in business about two weeks after being forced to shut down.
Unfortunately, they've been working hard ever since to build back the customer base they had at the store, which had been open at the location for about nine months at the time of the fire. But they're making progress.
"Every day we get people coming in, saying, 'Oh, I didn't even know you were here,' Swenson said.
That wasn't the case with two regulars who visited with their dad, Christa Terrizzi, 7 and her brother, Christian Terizzi, 5.
Christian recommended the cupcakes and brownies. Christa spoke highly of the chicken parm sandwiches, and, "I like the brownies, the carrot cake," she said, and the big chocolate chip cookies.
Swenson, whose family has been in the baking business since her grandfather, Carmine II, opened their first bakery in Providence on Smith Street in North Providence in 1948, moved to Warwick about three years ago.
Carmine II closed that shop, but the family business started up again in the 1980s when Swenson's father, Carmine III, opened a new bakery on Charles Street in Providence, and has grown to include locations in Johnston, North Kingstown, Wickford, and most recently, the Post Road location.
Swenson said she often drove past the Post Road spot next to the Central RI Chamber of Commerce offices, and thought it was a good location for a new expansion of the family business. "I called and asked to see the building and it was perfect," Swenson said.
The spot's locals also make it a good choice for the shop. "It's a great area and the people who come in are fantastic," Swenson said.