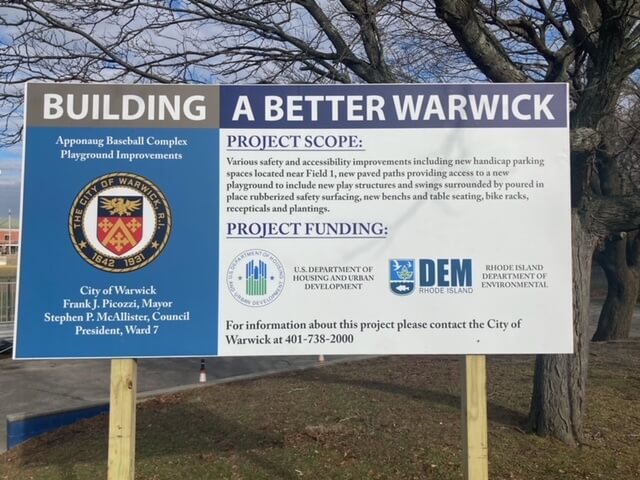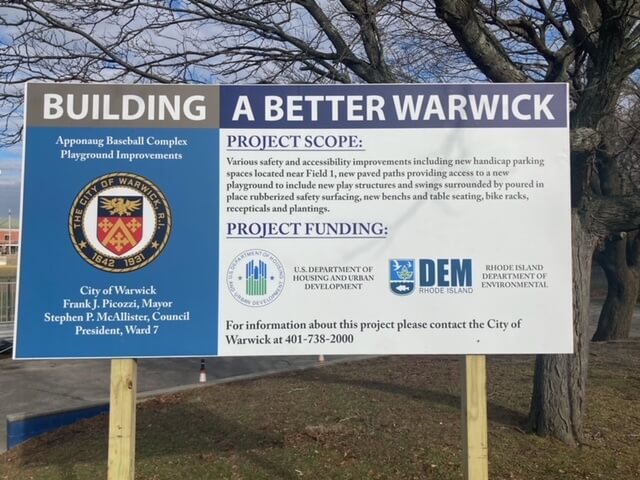 WARWICK, RI — With the $789,950 Apponaug Recreation Complex upgrades fully funded and a contractor secured, work will begin on the project this spring.
Warwick City Council Steve McAllister announced work to add new equipment, accessible surfacing, improve loop paths, add accessible parking, new stair handrails, bleachers, benches, tables, shade trees, interpretive signage, and Little League safety netting will start as weather warms.
'Apponaug is going to be the biggest gathering place for the community in the next few years once all the projects are done.'
A  $320,000 grant announced by Gov. Dan McKee and the DEM in May, part of $4 million invested in RI parks last year, gave the City Council confidence that they could fulfill the scope of work planned for the park behind Warwick City Hall at 3257 Post Road.
"Once we received that grant in May we were finally able to put an RFP out to get bids for the project in the summer. Without that DEM grant we were not confident enough we had enough funding with just the CDBG funds to complete the project the way we envisioned," McAllister said.
The balance of the project funding, $469,950, is provided by federal Community Development Block Grant (CDBG) funds.
"Those funds we have had allocated for this project for awhile now," McAllister said, praising the work of Bill Facente from Warwick's Office of Housing & Community Development, who "Does an outstanding job getting and administering these federal grants," McAllister said.
But as construction costs rose, they knew they would need more to do the job they wanted done there. So they waited until they could use a supplemental grant, which came from the DEM.
"This way we can have the best playground possible but also have the paved path to the playground and landscaping work around the area and upgrades to the parking lot," McAllister said.
Once the DEM grant was awarded, the City was able to get bids, go before the Council to award the bid, which happened in October, with Yardworks Inc. of Warwick winning the contract, followed by signing the contracts, "To where we are today, ready to start the work," McAllister said, "This is going to make an outstanding addition to Apponaug and fit right into the new rink which is coming soon. Apponaug is going to be the biggest gathering place for the community in the next few years once all the projects are done."