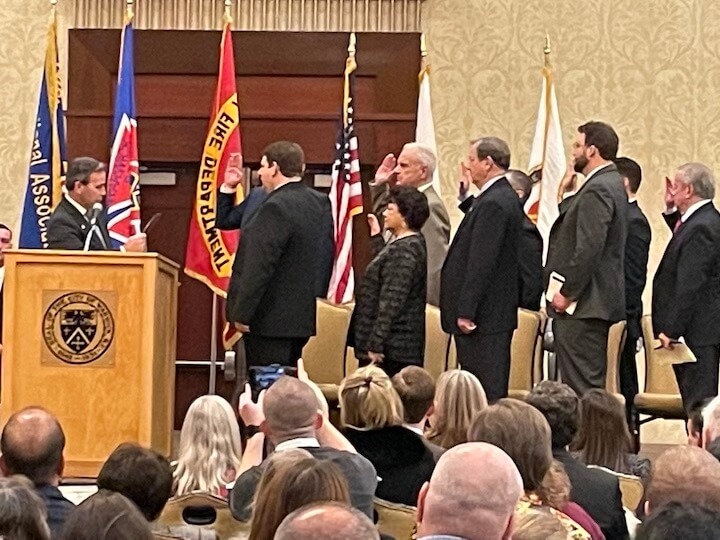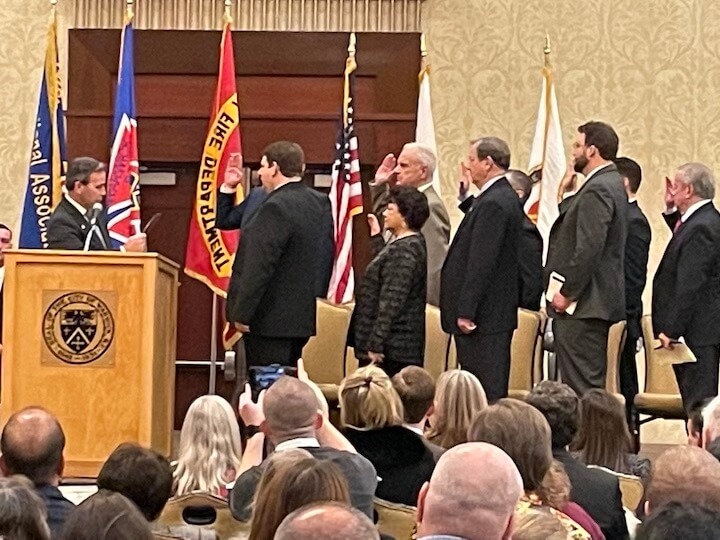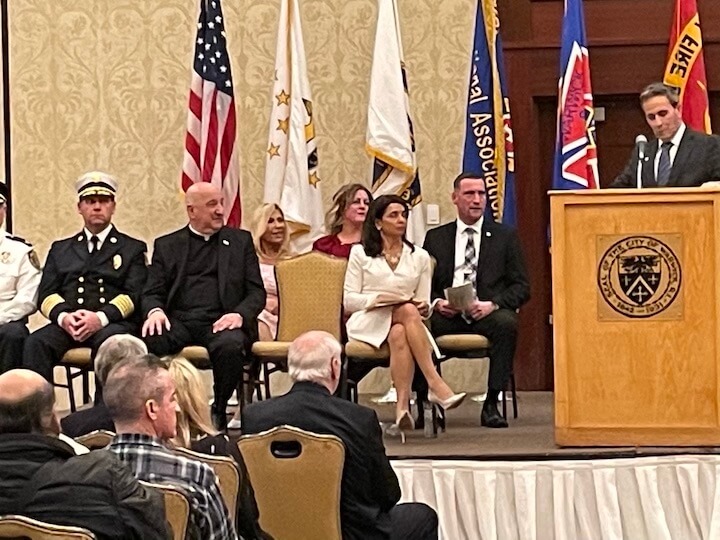 CORRECTION: An earlier version of this story inaccurately identified Democrat James McElroy's political affiliation. Warwick Post has corrected, and regrets, the error.
WARWICK, RI —  The city swore in its Mayor, City Council and new School Committee members in two Warwick inauguration ceremonies Tuesday, celebrating recent and future teamwork.
First, Mayor Frank Picozzi, marking his second term as Mayor, gathered with officials at Warwick City Hall for his inauguration at 10 a.m. The ceremony was moved indoors, to City Council Chambers on the second floor due to rain.
At 7 p.m., Picozzi joined the Warwick City Council and newly elected members of the Warwick School Committee for their respective inaugurations in a packed ballroom at the Crowne Plaza in Warwick. Rain settled to a drizzle outside as a packed room watched the event, with the assistance of Boy Scout Troops 7 and 77, the voices of the Warwick Neck Elementary School Chorus and opening and closing of the ceremony by the Warwick Fire Department and Warwick Police Department honor guard.
Picozzi swore in the City Council first, followed by the School Committee members.
"You've been elected to educate and look after the welfare of our most precious asset, our children. I want to welcome you tonight for stepping up to the plate, taking on this difficult job. The city council and I are here to offer our help," Picozzi said.
The Council re-elected Steve McAllister as City Council President, Councilwoman Donna Travis as Council President Pro-Tem.
Both McAllister and Picozzi praised the teamwork among city officials in the last two years. McAllister noted the period has been one of unprecedented cooperation and progress between the Council and Mayor's office. He also praised the families of city officials who lend their support during trying times and difficult decisions as public servants make decisions that inevitably draw criticism.
Picozzi recalled his first meeting with the Council after his first election, held in his front yard while he was organizing the famous Picozzi Christmas Display. He recalled he pledged to set politics aside and work toward what was best for the city.
Picozzi also praised the work of every city employee. "It's you who are responsible for the success of my administration, and I'm grateful and the residents are grateful, for each and every one of you," he said.
Picozzi listed the accomplishments the city marked during the last two years, echoing McAllister's earlier remarks, praising the work of council members in advancing Warwick's business, working with Councilman Timothy Howe to replace the city's aging service vehicles, with Councilman Bill Foley on school projects, with Councilman Ed Ladouceur on the Bayside Sewer Project, started this year after some work to manage costs to homeowners.
"I know the council doesn't agree with me on everything and that's natural. You don't expect someone to be right all the time."
"In my inaugural address two years ago, I told you the foundation of this city is its people. It's a good, rock-solid foundation. When a foundation is strong, anything can result," Picozzi said, "Today we celebrate. Tomorrow we go back to work."