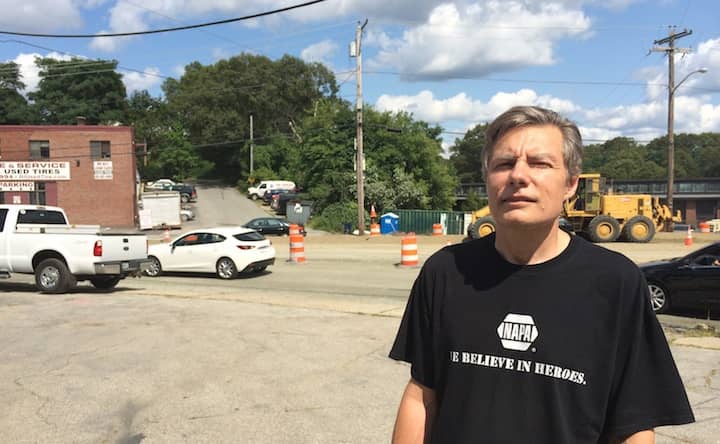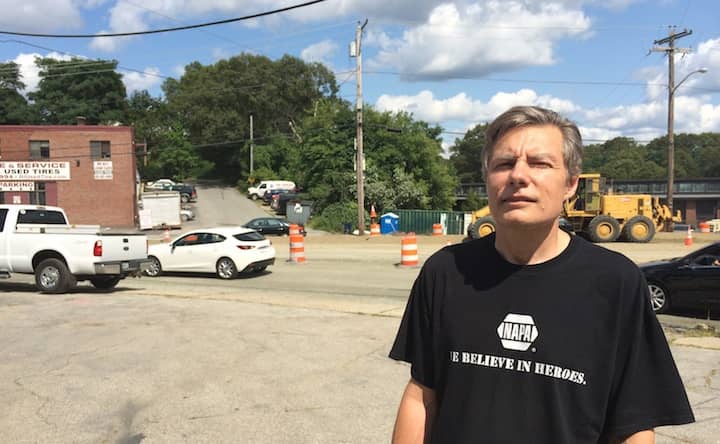 Warwick, RI – As the start of DOT's $29.9 million Apponaug Circulator Project continues on Post Road at the Coyle Street intersection, business owners are making the best of the inconvenience and say they're focused on the promise of better access to their locations.
DOT was still in the process of removing the concrete road base from West Shore Road to Veteran's Memorial Drive Tuesday. A  temporary asphalt pavement will be placed when they're done, followed by a new water main.
The entire project, which will convert the one-way Post Road stretch through Apponaug into a two-way at Post Road at Williams Corner, and put roundabouts at Apponaug Four Corners, the Centerville Road and Tollgate Road intersection, the Greenwich Avenue and Veteran's Memorial Drive intersection, and the Veterans Memorial Drive and Post Road Extension intersection, is expected to be complete in 2017.
The project will also demolish the old Bank of America building at the the Veterans Memorial Drive and Post Road Extension intersection, and the iconic landmark Warwick Water Tower at Apponaug Four Corners.
At Karl's East Coast Speed, owner Karl Volk says DOT officials have told him they'll be finished with his stretch of Post Road by winter.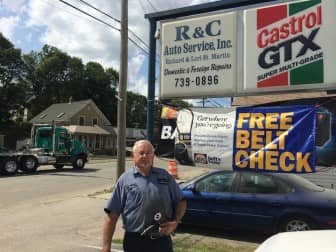 "That sounds really good to me," Volk said. His busy season starts in the spring and lasts into the summer, so if construction isn't affecting business by next season, he'll count himself lucky.
Even though the road in front of his business is bare dirt and requires a careful driving through construction, customers are able to get to him, and are making the effort to do so, parking on adjacent roads and walking in, if necessary.
"People have been taking good care of us," said Volk, who's been in business there since 1986.
When the work is done, he said, they'll have to re-do their signs, which will now need to catch people's attention driving both ways. Volk said he's not sure the two-way traffic will be better or worse for business. He's waiting to see what happens.
At R&C Auto Service a little further down the street at 3096 Post Road, "It's kind of tough," said owner Richard St. Martin. Travel in and out of his garage is difficult, but he's optimistic the redesigned road will be improve business.
"Yes. Yes it will," St. Martin said.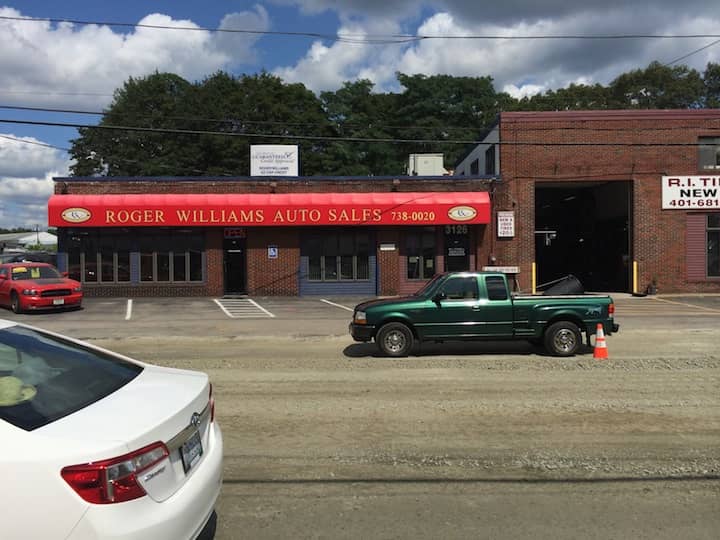 As the road stood before, he said, people would race each other trying to switch lanes before the next intersection to go left down Veterans Memorial Parkway or right up the Post Road Extension.
"When they go two-way, you're going to see everything going easy," he said, which will make it easier for St. Martin and his customers to get to his garage.
At Roger Williams Auto Sales, where a light coat of dust settled on cars and a road roller sent occasional vibrations through the building, owner Roy LaCroix is also optimistic that the inconvenience will be worth getting a better road.
LaCroix said the DOT is reimbursing them for the minimal cost to keep the cars clean, and keeping them well-informed about the project's progress.
"These guys are great," LaCroix said.
Watch YouTube videos of the planned changes in Apponaug:
Centerville Road and Tollgate Road intersection
Greenwich Avenue and Veteran's Memorial Drive intersection
Veterans Memorial Drive and Post Road Extension intersection
Post Road at Williams Corner