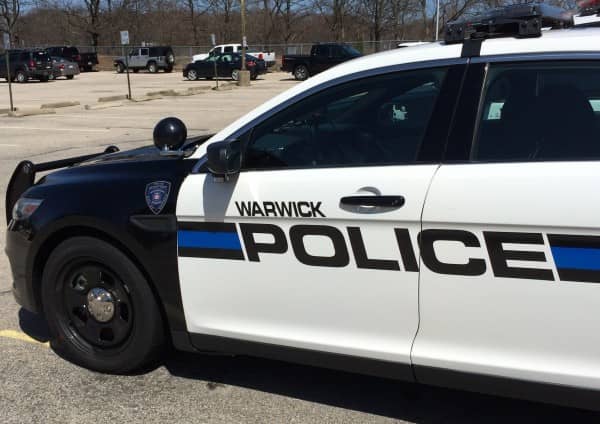 WARWICK, RI — Officer Keara Enos stopped a wrong-way  driver in front of Warwick Fire Department HQ on Veterans Memorial  Drive Aug. 14 at 4:40 p.m., arresting her for DUI.
Enos, stationed at the Post Road extension rotary, was alerted to the wrong-way driver by a chorus of car horns and screeching tires, followed by the sight of a white 2015 Mercedes IGW-910 speeding west in the east-bound lane of Veterans Memorial Drive as oncoming traffic swerved to avoid it, Enos reported.
Enos pulled in to follow the driver, lights and siren activated in an attempt to halt the driver. However, according to the officer's report, the Mercedes appeared to accelerate further, gaining distance on her cruiser, according to the officer's report.
At the emergency access break in the median between west and east lanes, the Mercedes slowed abruptly, turned across both west lanes, entered the median break and pulled into the front drive of Warwick Fire Department headquarters at 111 Veterans Memorial Dr., according to the report.
Enos approached the driver's side door, finding the driver, later identified as Eileen Daniel, 59, of 82 Rome Ave., Providence, RI. Daniel stared at her through her closed door window, then began speaking through it before Enos motioned for her to roll it down. First, Daniel rolled down the wrong window, then found the switch for the correct one, Enos reported.
Enos reported observing Daniel appeared disheveled, her hair out of place and her makeup smudged. As they spoke the officer noted a smell of alcohol on her breath. Daniel told Enos she was coming from Providence, and that she had drank two glasses of Chardonay. Enos asked her to step out of the Mercedes, and to perform sobriety tests, which she did.
During the tests, Daniel demonstrated a lack of smooth pursuit and involuntary movement in her vision, was unable to perform a walk and turn as instructed, making no effort to take heel-to-toe steps and swaying off-balance, and could not balance on one foot as instructed, hopping and nearly falling over.
Enos called for a tow from Bill's Towing and drove Daniel the short distance to Warwick Police Headquarters, 99 Veterans Memorial Drive, behind WFD HQ. At WPD HQ, Daniel refused to submit to a breath test of her blood alcohol.
Enos charged her with DUI, first offense, blood alcohol unknown, and cited her for refusing the test. She was later released to the custody of a sober adult.