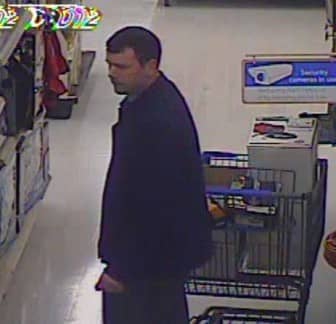 Warwick, RI — Warwick Police are asking the help of their Facebook community in finding a man who stole a number of power tools from the Post Road WalMart Friday, stuck them in a silver trash can and wheeled it all out the door Friday night.
Police dubbed the thief the Valentine Vandal in their Facebook post about the theft, due to the timing of the crime, on the Friday before Valentine's Day on Sunday. Police also provided four security photos of the man, including one that shows him wearing a wedding ring and another showing him carting his soon-to-be stolen goods past a sign warning would-be thieves that the premises are monitored by video surveillance.
"Now I am sure if any woman were given power tools by her man on Valentine's Day she would love to turn him in!" the author of the Facebook post wrote.
Police ask anyone who knows the man to let them know via IM chat or calling Det. Tom DiGregorio at 401-468-4237.