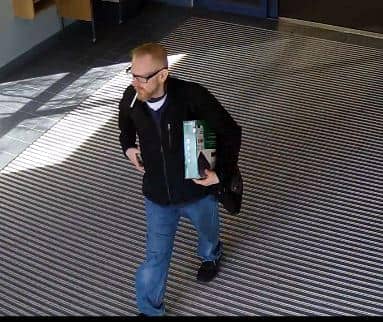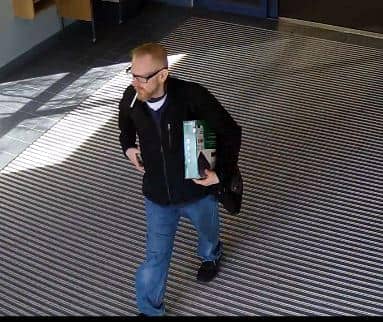 WARWICK, RI — Warwick Police are seeking the public's help finding a man recorded on the Sandy Lane main branch Warwick Public Library's video surveillance stealing a SONY Blu-ray player from the staff desk Feb. 6 at about 1:17 p.m.
Officer Thomas Nye was called to the library to take the report of the theft Feb. 11 at 5 p.m., and reviewed video footage of the theft in progress, according to the officer's report.
Nye reported a library staff member disconnected the player from the teen room and stored it under the staff work desk. Nye said video next showed a man enter the teen workspace and begin using his laptop at about 12:10 p.m. Feb. 6.
When the man left the workspace, he stopped at the staff desk, sat down, and rummaged through the desk. The man picked up the Blu-ray player, which was in its box, and left the library, then got into his vehicle at 1:17 p.m., according to the report.
A receipt for the player provided by the library valued the device at $81.92, and numerous photos of the man were taken from the video, according to the report.
Warwick Police ask that anyone with information about the man or the theft contact Det. Christopher Lo at [email protected] or 401-468-4273.