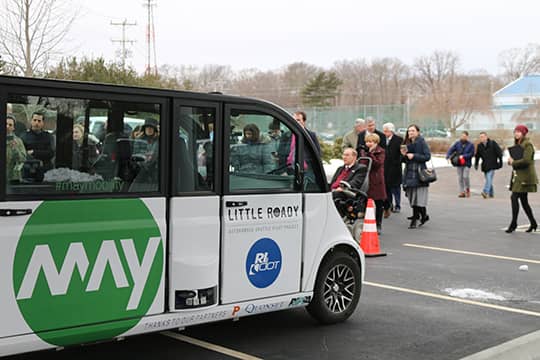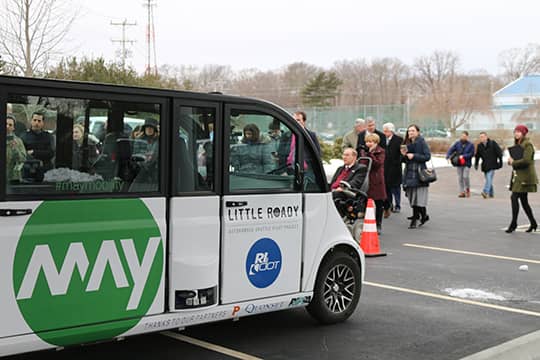 NORTH KINGSTON, RI — Wednesday afternoon, Rhode Island Department of Transportation Director Peter Alviti invited officials to the Quonset Development Corporation for a demonstration of the Little Roady Pilot Project, bringing a fleet of self-driving electric, six-person shuttles to low-speed roads along the Woonasquatucket River Corridor this spring.
The area lacks transit service, according to an announcement from the RIDOT. Senator Sheldon Whitehouse, (D-RI) Congressman Jim Langevin, (D-RI), Rhode Island Public Transit Authority (RIPTA) CEO Scott Avedisian, Quonset Development Corporation Managing Director Steven King, among other officials, attended to see the autonomous electric shuttle vehicles in action.
Attendees viewed the self-driving shuttles operating a short distance along Callahan Road.
"Under Governor Raimondo and Director Alvitti's leadership, Rhode Island is leading the way with the Little Roady pilot program that will explore all aspects of autonomous vehicle technology in a responsible manner," said Langevin.  "I was proud to be a part of this exciting day, and I will continue to support RIDOT and secure federal resources for innovative transportation solutions for Rhode Island." 
The project is the result of the RIDOT' Rhode Island Transportation Innovation Partnership (TRIP), launched in 2017. TRIP accepted proposals in 2018 for an autonomous vehicle transit pilot program in Providence, and selected May Mobility, Inc., to provide the service.
Under the terms of the public-private partnership with May Mobility, Inc., RIDOT will contribute $800,000 for the first year of operation. The funding includes $300,000 in federal research funds through the Federal Highway Administration and a $500,000 grant awarded by the R.I. Attorney General's Office as part of a settlement with Volkswagen. In March 2017, the RIAG reached a settlement with Volkswagen to pay more than $4.1 million for violating Rhode Island state laws prohibiting the sale and leasing of diesel vehicles equipped with illegal and undisclosed emissions control defeat device software.
The pilot service will be available and free to the public for a year, during which time RIDOT will test and research a range of factors to better understand the potential of new technology to improve mobility options for Rhode Islanders.
Each vehicle holds six people, including a fleet attendant who will have the ability to fully control the vehicle at any time.
RIDOT's contract with May Mobility includes options to extend the service for an additional two years. The company plans to hire fleet attendants and managers from Rhode Island and will set up a local operations office in Providence.