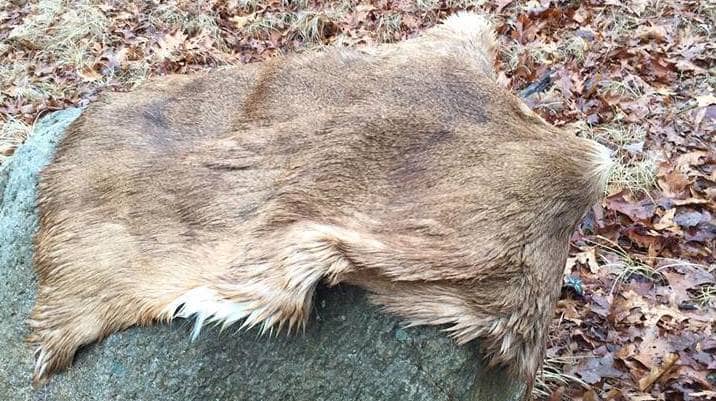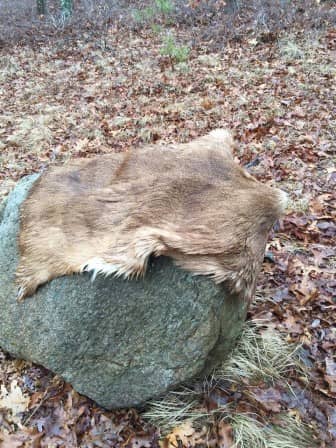 Warwick, RI — Hunting deer in Warwick is illegal, so the recent discovery of a deer pelt in Warwick City Park at185 Asylum Road has Warwick Police asking regular park users to alert them to anything unusual.
"It didn't get dragged there by some animal," said Warwick Police Lt. Joe Hopkins, who hunts in his spare time and recognizes a skinned deer when he sees one.
Hunting season's been over a few days now. The last day for bow hunting, the last of the seasons, ended Jan. 31, Hopkins said. The only hunting allowed within city limits, he said, is shoreline hunting of water fowl, but bird shot isn't enough to kill deer.
Warwick Police posted a photo of the deer pelt to their Facebook page, and asked residents to be alert for unusual activity in the area. "This is a fresh deer pelt left in the woods but found by one of our FB community," the post reads.
In 2010, Hopkins said, he was among a team of officers who staked out the City Park when deer blood was found at one location in the area, followed by two other deposits of deer blood and guts, also remains of deer poaching.
At the time, police had also found a bullet hole in the outside wall of the park's bathhouse, which he believed was the result of a poacher shooting at deer in the area. Regardless of whether the more recent poacher is using a bow or a rifle, "It's a dangerous situation, of course," Hopkins said.
Fortunately, it seems the poacher is in the park at times when it's closed to the public and unlikely to cross paths with hikers or joggers, but it still pays to be aware of the possibility, Hopkins said.
Should someone spot a person exiting the park wielding a rifle or bow, Hopkins said, he wants to make it clear that's a violation police are interested in.
"Please keep your eye out for signs of poaching activity: a person likely walking into the park from adjoining neighborhoods with hunting gear, etc. Maybe flashlights bouncing around in the woods. Seriously, though, do not be alarmed, this is just the first sign. Let's make it the last. See Something, please Say Something."
Warwick Police can be reached at 401-468-4200.