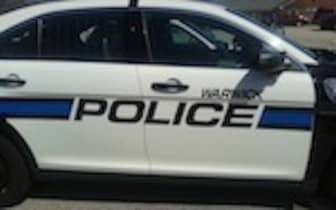 WARWICK, RI —Officer Evan Johnson and Russell Brown were called to the Pawtucket Police Department Nov. 28 at 8:45 a.m. to take custody of a man wanted for larceny in Warwick, the suspect in the theft of several tools worth more than $1,000 from Cowesett Hills Apartments.
The officers arrived and took Jason Leach, 36, of 64 Ferris St., Pawtucket, into custody, transporting him to Warwick Police Headquarters, 99 Veterans Memorial Drive, without incident.
On July 7, WPD Officer Tyler Stone was called to Cowesett Hills Apartments for a report of stolen tools, and spoke with the manager, who said that two employees, a woman had been spotted near the garage. Each had recently been let go from the company, the owner said.
Stone called the woman, who told him that while at the garage for supplies, she had seen Leach at the garage with his pickup, which had the company's paint sprayer in the back. She said she had believed at the time he was returning the sprayer. She said she left before he did, so she didn't see him leave with it.
In total, the owner reported the sprayer, worth $1,0000 had been taken, as well as a $150 nailgun and $150 stapler.
At Warwick Police headquarters, Johnson charged Leach with one count of larceny under $1,500 and released with a summons for Third District Court on Jan. 10, 2019 to answer the charge.