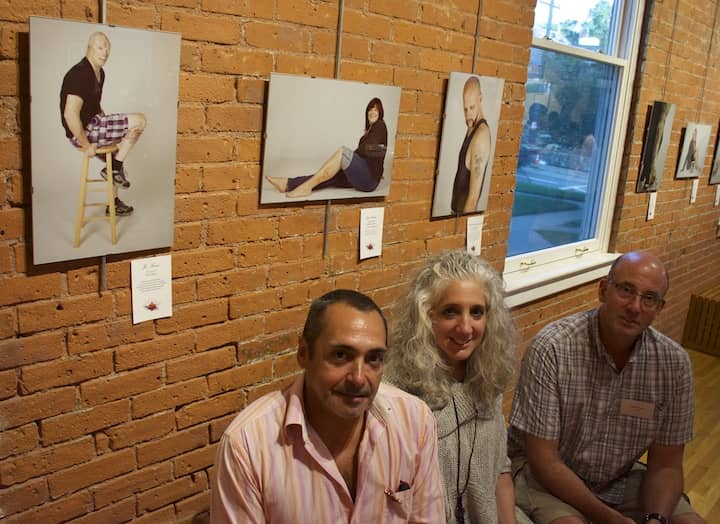 Warwick, RI – WMOA's "Human Canvas: It's All About the Tattoo" opened Wednesday night, debuting 25 works exploring the world of tattooing in paintings, drawings, photographs, and sculpture.
About 30 artists and members of the public showed at the opening reception at the 3259 Post Road location, where artworks had back stories about the tattoos they featured, which had their own back stories.
Case in point, a number of photos from the Station Ink exhibit, featuring photography of tattoos etched onto people's bodies as memorials to the 100 victims and survivors of the Station Nightclub Fire in 2003 in West Warwick.
More than 60 people were photographed for the project, and more than 80 photos were incorporated into the display, shown at the Armory in Pawtucket in February of 2013, during the 10-year anniversary of the fire.
The Station Ink show was organized by Paula McLaughlin, in memory of her brother, Michael Hoogasian and sister-in-law, Sandy.
McLaughlin's entry was a photograph of her memorial tattoo for Michael, a small heart on her wrist titled "Sacred Heart."
"Mike's next tattoo was going to be a sacred heart. I miss them every day that goes by. When I see my little heart it reminds me that they are here with me," McLaughlin wrote in her submission to Station Ink.
About nine portraits of McLaughlin and other contributors to Station Ink make up about a third of the WMOA's 25-piece exhibit, which runs through Aug. 28.
The Museum is open to visitors Wednesday – Friday: 12 – 4 p.m. during the summer, and closed Saturday, Sunday, Monday, and Tuesday.