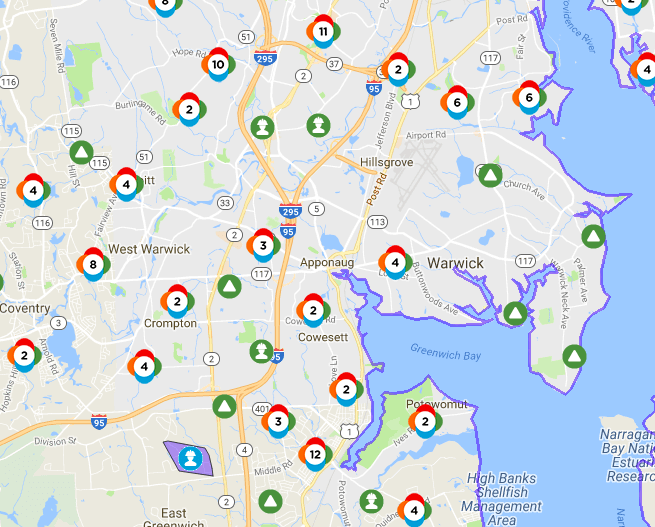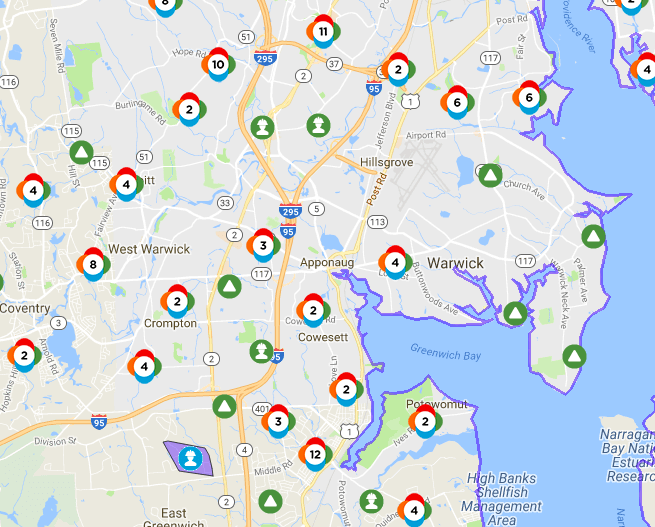 UPDATE: 9 p.m.: Mayor Scott Avedisian announced the following measures in advance of the storm forecast for Wednesday afternoon:
·         Trash pickup is expected to be on its regular schedule tomorrow
·         Warwick Public Schools will be open on a regular class schedule; however, there will be no after-school programs
·         Afternoon programs at the Warburton and Thayer ice rinks and McDermott pool are cancelled tomorrow
·         A parking ban will take effect at noon tomorrow
The Warwick Public Library, 600 Sandy Lane, will close at 

5 p.m.

 today due to the projected forecast for this afternoon and evening.
WARWICK, RI — The NWS has issued a Winter Storm Watch for Warwick and the region beginning Wednesday morning and lasting through Thursday morning, warning of the possibility of heavy snow and snow accumulations of 6 to 12 inches. Up to 15 inches of snow is expected further inland in Massachusetts. The storm could deliver heavy rain instead of snow near Boston and Providence.
The heaviest snow is expected Wednesday afternoon into early Thursday morning. The Wednesday evening in particular will be difficult, during the height of the expected heavy snowfall, according to the weather service.  Snow may fall at 2 to 3 inch per hour during this time, causing significant reductions in visibility.
Also, the weather service predicts a period of 45 to 60 mph winds along the coast, with the strongest winds across far southeast New England.  If the bulk of the s torm falls as heavy rain there will be renewed river flooding across Rhode Island and Southeast MA.
RIEMA Tips on Preparing for a Power Failure:
Get your Disaster‐Supply Kit together and make a Family Emergency CommunicaƟons Plan.
Check flashlights and portable radios to ensure they are working.
 Follow energy conservaƟon measures to keep the use of electricity as low as possible, which can help power companies avoid rolling black‐ outs.
If a storm is coming that may bring power out‐ ages, fully charge your cell phone, laptop, and any other devices in advance of a power out‐ age.
Fill containers with water and place them in a refrigerator or freezer. This chilled or frozen water will help keep food cold during a power outage.
Keep your gas tank at least half full because gas staƟons rely on electricity to power their pumps.
Make sure you have cash on hand, as ATMs may not work during a power
Emergency Alerts:
RIBA – Make sure you're signed up for text alerts from the Rhode Island Broadcasters Association. You'll get emergency notifications (including school closings and delays) direct to your phone or email.
CodeRED – The City of Warwick has instituted a new rapid emergency notification service called CodeRED®.  The new system will distribute emergency messages via telephone to targeted areas or the entire City of Warwick. Register here.
TF Green Airport –  Click here to follow arrivals and departures at Green.
Emergency Calls:
In an emergency, dial 911
Police Department: 401-468-4200
Fire Department: (401) 468-4000
Highway Dept./Snow removal – 401-738-2000 ext. 6518
Do NOT call 911 to report a power outage. Contact National Grid at 1-800-465-1212. Smartphone users can also text STORM to NGRID (64743) for outage alerts. To check the status of outages in your area, visit  National Grid Outage Central for Rhode Island.
Serve RI is looking for volunteers to help neighbors in need shovel out after upcoming snowfall. You can sign up here.  You can ask for their help at at 401-331-2298. For all other needs, people should call United Way-2-1-1.
Listen to NOAA radio: Check the National Oceanic and Atmospheric Administration radio frequency here.