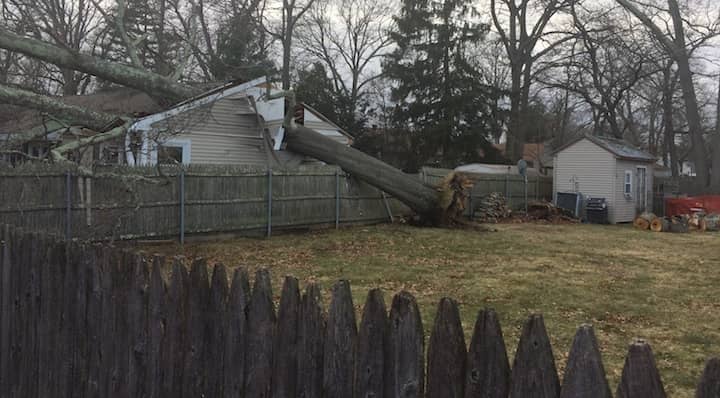 WARWICK, RI  — Bill and Eileen Dowding knew the tree to the north of their home at 12 New Britain Drive was likely to come down, but they thought it would be a branch that caused them trouble, not the whole tree.
"We knew something on this tree was going to fall off," Bill said.
Fortunately, Eileen had a bad feeling about the tree at about noon Friday, and moved to the opposite side of the house just before the tree hit the house, caving in the bedroom she'd just been in.
The Dowdings are staying at a nearby hotel while they wait for repairs to be made, paid for by their insurance, which is a good thing.
"It's going to be well over a month to repair this," Dowding said.
The tree in their front yard isn't long for their property either, even though it's never lost a branch and they're not worried about it getting knocked over by a future storm. There's still a practical reason for getting rid of it, though – acorns.
Bill said the acorns fill his front yard and cause a lot of damage to his cars each year. But that will be a memory next week when the front yard tree is taken down.
Bill Dowding watched as the crew made short work of the downed branches and tree trunk that had crumpled the roof over the bedroom of his house. A number of passers-by pulled over to the side of the road to watch Bay Crane and Northeastern Tree Removal, but a closer look is available in the video above.