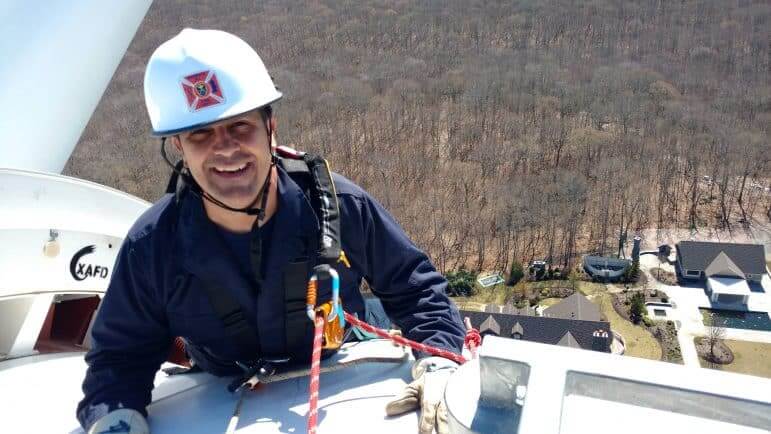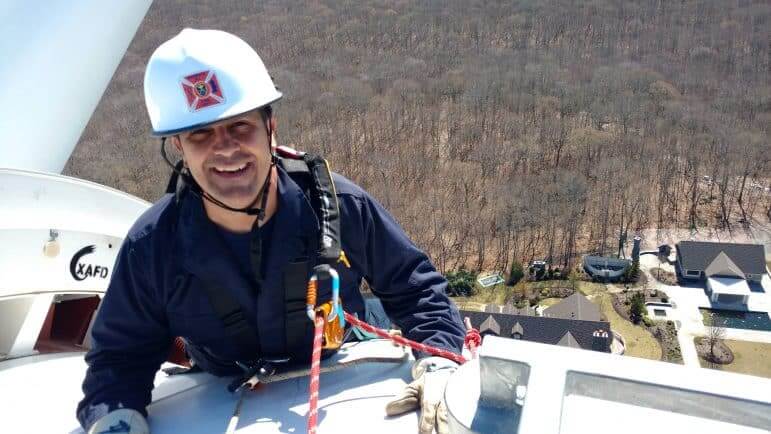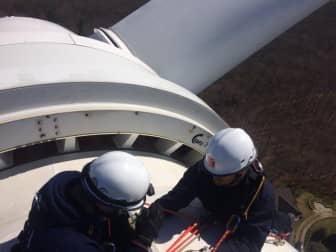 Warwick, RI — Technicians working atop a 300 ft. wind turbine who need help getting down after an equipment or medical mishap won't be left hanging after the Warwick Fire Department's Technical Rescue Team training in North Kingstown Tuesday and Wednesday.
Not every member of the 36-person team was comfortable with heights when they began this part of their training.
"Everyone seems to have an appreciation for the height. Not necessarily a fear of it," said Firefighter Dan Vale.
Teams of three firefighters climbed inside the turbine's tower at a time: Safety spotter Lt. Rob Cembor, a "victim" playing the part of a worker hanging by his harness but too tired or unwell to climb to safety, and a rescuer.
Firefighters also practiced a rescue drill halfway up the tower on the inside, this one for a worker whose harness had jammed, trapping him. Firefighters practiced rigging up a separate harness they could attach to the worker and use to lower him to safety.
"I still don't like heights. It was a little unnerving going over the side," said Lt. Bill Wilson. But, he added, he trusted in his team, and he performed the exercises.
"I took this class to overcome it," said Rescue Lt. Brad Ginaitt.
Some of his fellow firefighters were confident with heights, others were not.
"We just kind of got together and brought all of our skills to bear," Ginaitt said. Training to work together as a team in a high-up environment was necessary to help them focus on rescue instead of venue. "It's one thing to be at a fire. It's another thing to hang off a rope."