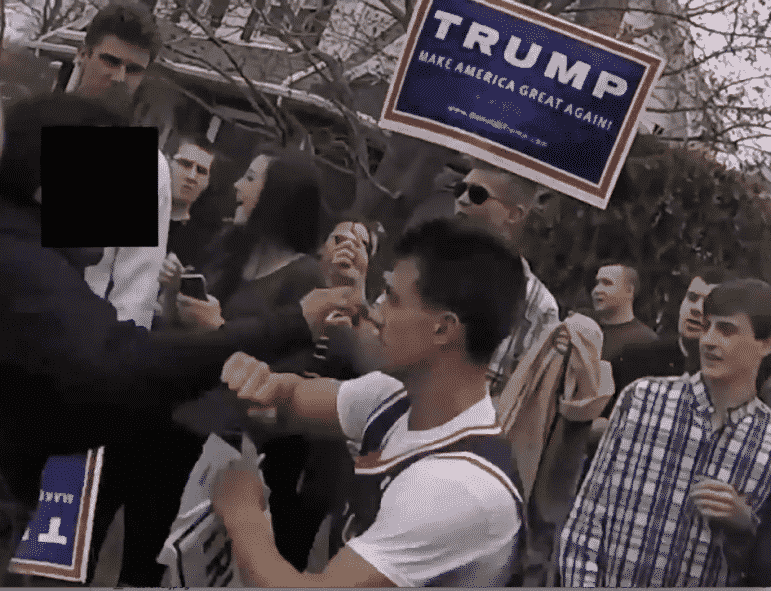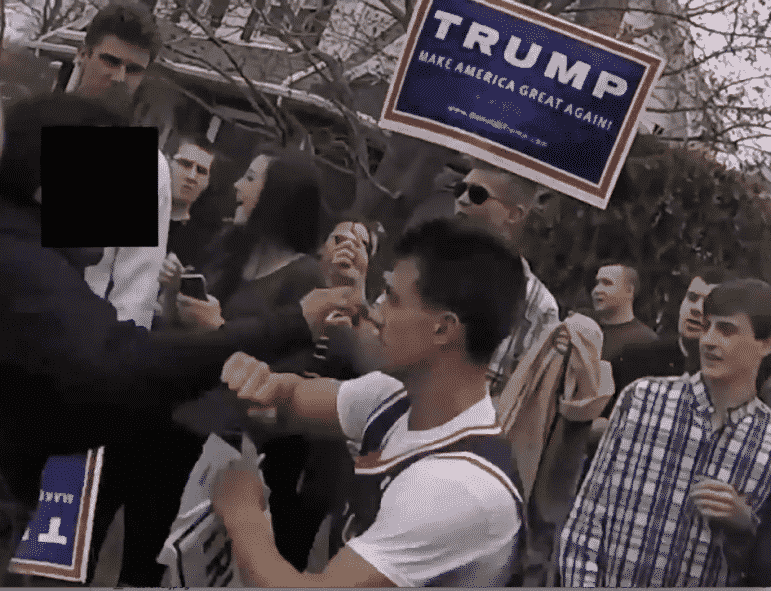 Warwick, RI — State Troopers have arrested a Warwick man and Providence man on assault and disorderly conduct charges following a scuffle started after the latter spit at the former outside presidential candidate Donald Trump's rally at Crowne Plaza Hotel on Greenwich Avenue April 25.
State Police Superintendent Col. Steven G. O'Donnell stated in a release posted to the state's website Thursday that the initial investigation by troopers assigned to the Trump rally security detail was inconclusive due to conflicting witness reports and the men's lack of cooperation with officers.
However, following a review of videos of the incident RI State Police accessed via social media, O'Donnell reported, the two men, Josh Sandin, 19, of 51 King St., Warwick, and Alexander Carrion, 22, of 25 Iona St., Providence, were arrested April 27 and each charged with Simple Assault and Disorderly Conduct.
"The videos depicted a very volatile and tumultuous situation on Greenwich Avenue," O'Donnell wrote in the release about the arrests.
According to O'Donnell, Carrion pushed his way through Trump supporters aggressively, moving toward Sandin, and spit into his face. Sandin and Carrion began pushing and shoving each other. As they were being separated by bystanders, Sandin spit at Carrion.
In a video of the incident posted to YouTube by Roderick Webber of Boston, MA, Sandin appears to throw a punch at Carrion during the scuffle at the 50-second mark:
Webber, who has been documenting Trump rallies across the US, said he blocked out Carrion's face after several people began doxxing him – publishing personal information in the comments of the video.
Webber's begun bringing a loudspeaker to the rallies to give Trump supporters and protesters an opportunity to communicate with each other without chanting or yelling, he said. He asks people using his loudspeaker not to swear and not to chant, but otherwise gives them the platform to speak their minds.
Trump's Warwick rally was the 29th rally he's filmed.
"For such a small rally, there seemed to be an awful lot of venom," Roderick said.
That assessment differed from the description of peaceful protest from the center of the rally behind the building in an outdoor tent, reported by RIFuture.org's Steve Ahlquist. Ahlquist noted that while an assault occurred, protesters were peacefully escorted from the rally.
Outside, Roderick said, "There was a certain sliminess that went above and beyond your regular Trump rally."
Roderick's video also shows a man attempting to steal a sign from another man, and documents a man who stole and smashed one of his cameras worth $200.
While Roderick said he's concerned about that hooliganism, he's more concerned about the anger displayed by the crowd and people's apparent lack of interest in the opportunity he provided to clearly communicate their concerns.
Roderick described the crowd's vitriol as a "gaping wound in the American psyche caused by Trump himself."
"Someone's got to work toward mending that," Roderick said.