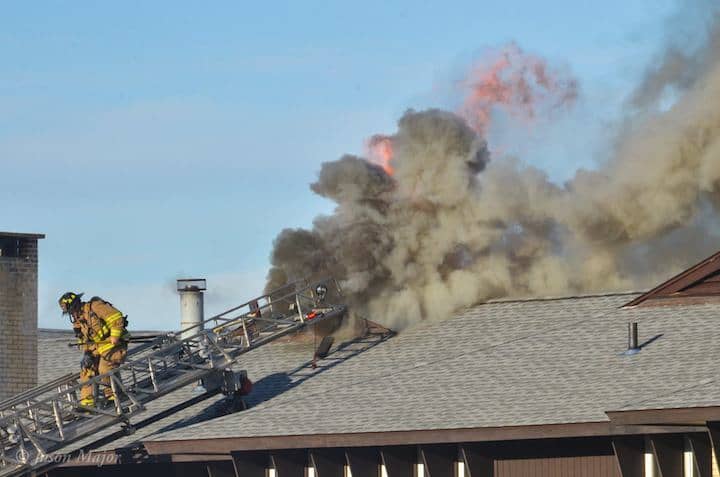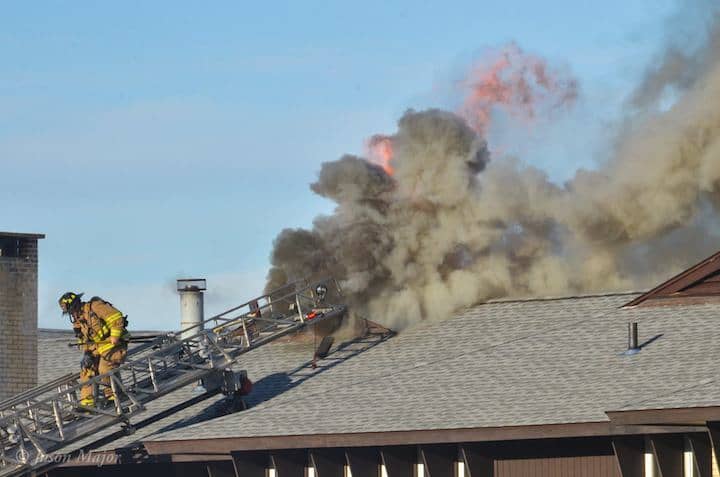 UPDATE – 10:20 p.m.: WFD Battalion Chief Miles Steere said the cause of the fire at Narragansett Village Condominiums at 3:46 p.m. Sunday remains under investigation due to extensive amount of damage to the units involved.
Six units altogether were damaged by the incident, three or four from the fire itself and the rest from heavy water and smoke damage, Steere said. "They are absolutely uninhabitable," he said.
At least three families received assistance from the Red Cross, Steere said, though the residents of the unaffected units were able to return to their homes Sunday night.
Heavy smoke was coming from the condo units when firefighters arrived, and they had to vent the roof, he said. For a time, the fire turned into a stubborn attic fire. Though the initial fire was knocked down within about 30 minutes, ensuring all the hot spots were out and securing the scene took, "A significant amount of time," Steere said.
Steere said investigators will return to the building in the morning to continue to search for the cause of the fire.
Warwick, RI — Warwick Firefighters were called to a kitchen fire at Narragansett Village Condominiums at 400 Narragansett Parkway Sunday at about 3:46 p.m. for a reported fire inside the kitchen of one of the units.
According to scanner reports, firefighters arrived to find smoke showing from the unit. The fire was quickly knocked down by about 4:03 p.m., according to reports.
The Warwick Fire Department reported most of the fire trucks were clear from the scene by about 6 p.m. By 7:50 p.m., investigators were still at the scene.
Warwick Post will update this story as more information becomes available.