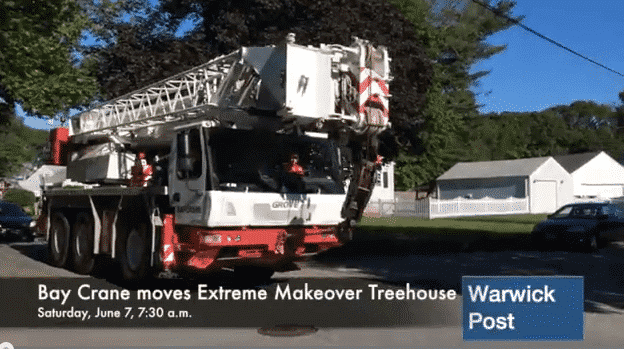 In just four and a half hours, Bay Crane Northeast disassembled Warwick's Extreme Makeover: Home Edition Treehouse near Hoxsie Four Corners, lifted it onto a flatbed and rebuilt it across the city at Totally Kids Childcare Center.
Bay Crane's crew and trucks showed up at 7:30 a.m. June 7 in front of the treehouse's home since 2008 and set up a crane that dwarfed the rest of the man-made structures in the neighborhood. They strapped the crane to three sections of the treehouse, lifting them in turn over the house and onto the flatbed.
From there, a 20-minute ride across the city brought the treehouse to its new home at the daycare center on Messer Street. Bay Crane's crew set up the crane again, and lifted the sections into place inside the center's fenced-in play area. They were finished by lunchtime.
The treehouse could be ready for kids to play in by late this week.