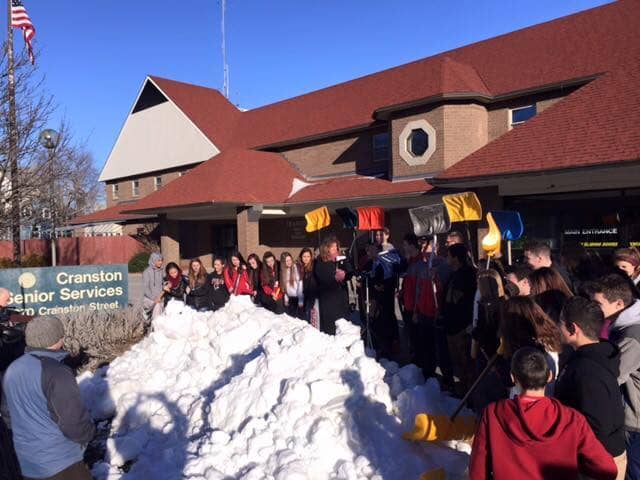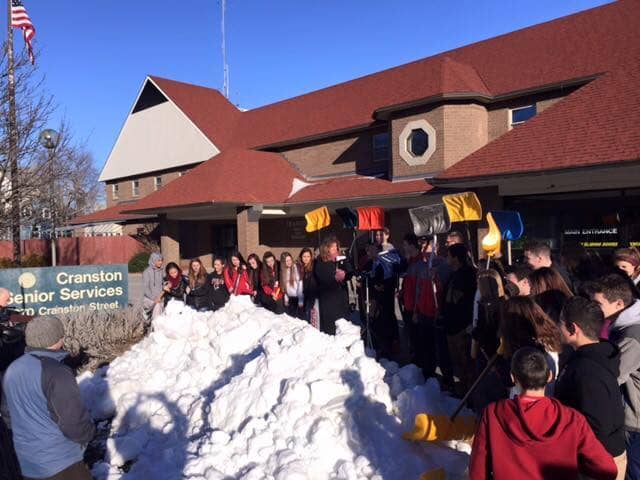 Editor's note, Jan. 15,2016: This story has been updated with comment from Warwick Mayor Scott Avedisian.
Warwick, RI — Sue Stenhouse, a Warwick Planning Board Member and former Warwick City Councilor, has resigned as executive director of Cranston's Senior Enrichment Center after NBC10 reported that a senior center bus driver masqueraded as a female senior citizen during her evidently staged press conference.
After the news station covered the Jan. 5 press conference about a city program, Snow Angels, recruiting high school students to shovel snow for local seniors, sources told them the elderly woman, videotaped standing next to Stenhouse and Cranston Mayor Alan Fung, was not who she seemed. The station has since also identified the driver.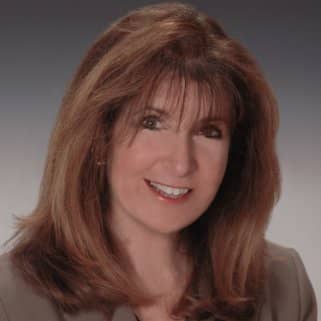 Cranston Patch followed the story, reporting that the bus driver was not the only staged element of the press conference. The website quoted Stenhouse's Facebook page, where she referenced having the snow deposited in the front of the Senior Center from an ice rink.
By Thursday, the story had gone national, getting attention from Jezebel.com, The Providence Journal, nydailynews.com, and Boston.com, among others. The story has inspired a hashtag, coined by freelance RI Journalist Phil Eil,#FakeOldLadyGate, and a spoof Twitter Account, CranstonElder.
Stenhouse was a member of the Warwick City Council until she left to run an unsuccessful bid for Secretary of State in 2006. She started with the City of Cranston as the Executive Director of Senior Enrichment, managing the city's senior center, in 2013. She is also a current member of the City of Warwick's Planning Board, appointed by the Warwick City Council to a term ending in 2020. In 2014, Warwick Mayor Scott Avedisian named Stenhouse his honorary campaign chair, according to a report from the Warwick Beacon.
Avedisian said the spirit of collaboration between Cranston senior services and the Warwick Senior Center during Stenhouse's tenure will continue without her.
"We are very grateful for the good working relationship that we have had with Sue in her role as senior services director in Cranston.  With Mayor Fung's strong support, we were able to forge a partnership that had Cranston take over the meal service at our senior center, and it has been a great success. We look forward to keeping that partnership going and working on other ways the two senior centers can collaborate. Sue has been a good member of the Planning Board, served with distinction on our City Council, and has been a political friend and supporter of mine as I have been of hers."
Fung could not be reached for comment about the situation. An email, phone call to her office, Tweet and message left at Stenhouse's Warwick home seeking comment were not returned.
Stenhouse did appear to endorse the defense of her actions posted to Facebook by former City Clerk Marie Ahlert, who retired last summer.
"For those who know Sue, she has never created a bizarre stunt to try to look good for the media. Everything she does is based on her willingness to reach out and help someone in the community," Ahlert wrote
"It is just like Sue to protect the seniors she served. I commend her for thinking of the safety of the frail seniors. It was 26 degrees last Tuesday and slippery by the snow pile (which was a prop as there was no snow)! Knowing Sue, I'm sure she was also thinking of the possibility of putting a "real" senior in harm's way should someone recognize that person and go to their home to take advantage of them. I commend Sue and the staffer for putting safety first!"
"Anyone who attends PR events knows they are staged. Political press events are often staged; ribbon cuttings; ordinance /law signing ceremonies; to name a few. In politics campaign ads are staged with the perfect demographic representation in the mix. How is this any different?"
On her Twitter feed, Stenhouse posted a screenshot of Ahlert's defense, writing "Thanks, Marie!"