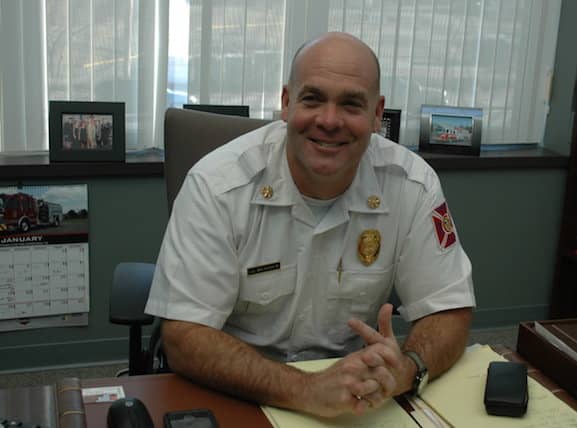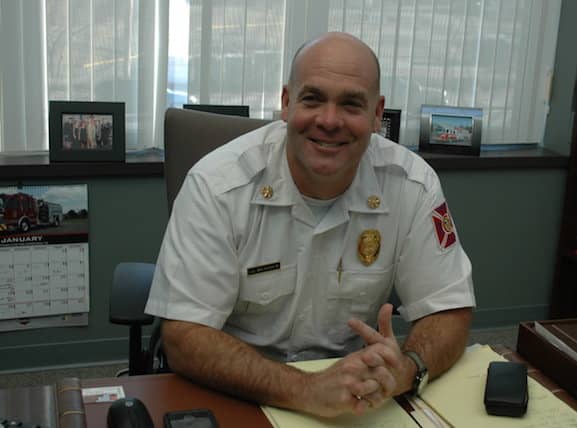 Warwick, RI — Assistant Fire Chief James McLaughlin, days away from striking "assistant" from his title, is settled in his new office inside WFD headquarters' "Tower Room", enjoying a high ceiling, lots of light, and a confidence in the ability and competence of his fellow firefighters that dispels any stress he might feel about his new job.
When retiring Warwick Fire Department Chief Edmund Armstrong leaves Jan. 24, McLaughlin will be in charge of the department's 220 firefighters including 60 HazMat techs, 30 rescue divers, six SWAT medics and 32 technical rescue techs in training; nine fire engines, three ladder trucks, four EMS rescues, two marine rescue boats and nine fire stations. Fire Department doesn't really cover the scope of what they handle. "We're really an all-hazard department," McLaughlin said.
McLaughlin said the personnel serving in the department, combined with Armstrong's focus on delegation throughout the department, makes him confident.
"So I'm not nervous, because I feel like I've got a good team," McLaughlin said.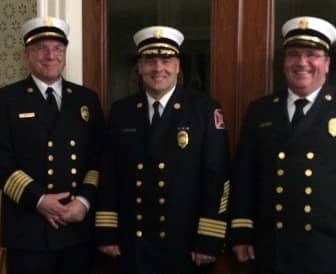 One of the initiatives McLaughlin intends to focus on as Chief include the training of fire dispatchers for Computer Aided Dispatch and the transfer of fire dispatch to the system. That and making sure the department continues to keep up with advancing technology holds some challenges in a department that is deeply rooted in tradition.
"But I think there is a fine line between tradition and the status quo," McLaughlin said. He said he'll work to encourage thinking outside the box.
McLaughlin will also start making visits to each station every week to get input from the rank and file of the department. "I feel it's important that they're heard," he said.
Six of the Fire Department's stations were built in the 60s and 70s, and those need to be modernized with more efficient heat and power. Also, McLaughlin said, many of the people living near those stations have never set foot inside the buildings. While the first is a long-term challenge, McLaughlin has an idea for a more immediate answer to the latter: Open houses at each station once a month, so neighbors of the stations can meet the firefighters who work inside.
McLlaughlin has been with the Warwick Fire Department for 27 and a half years, joining in 1988, spending his early years in Providence, where his dad, Gilbert, was a firefighter. "It was in my family and it's in my blood," McLaughlin said.
On his 11th birthday, his dad's present to him was a night in the Hartford Avenue Fire Station. He still remembers going out on an alarm early that evening, he said. It was only a routine call, but it was an exciting ride for him nonetheless. He didn't sleep much the rest of the night, he said.
Beyond the excitement, McLaughlin said the other big draw of life as a firefighter is being part of the family atmosphere of the department; being involved in events, and with each others' kids, "There's nothing like it," McLaughlin said. When he started with the department, firefighters from Warwick didn't care that he wasn't from Warwick. "They took me right in," he said.
McLauglin looks forward to the department's future with a mind toward what he calls Armstrong's limitless energy, and his responsibility to the men and women in the department. "I'm not going to do less than that because I owe it to them," he said.