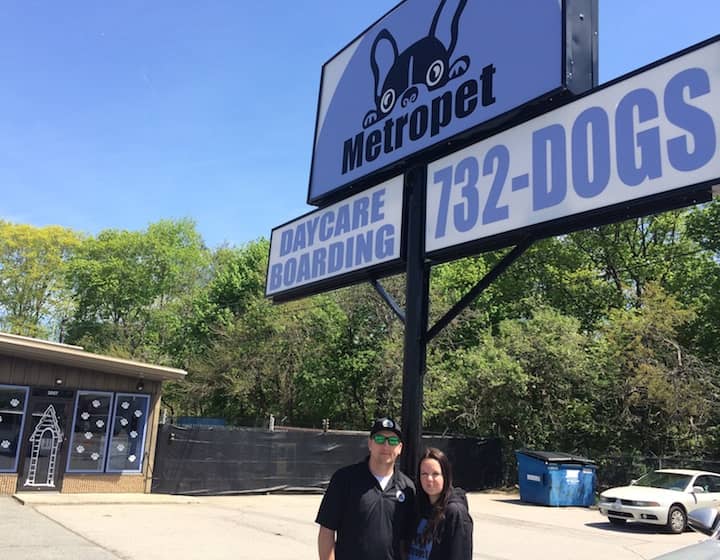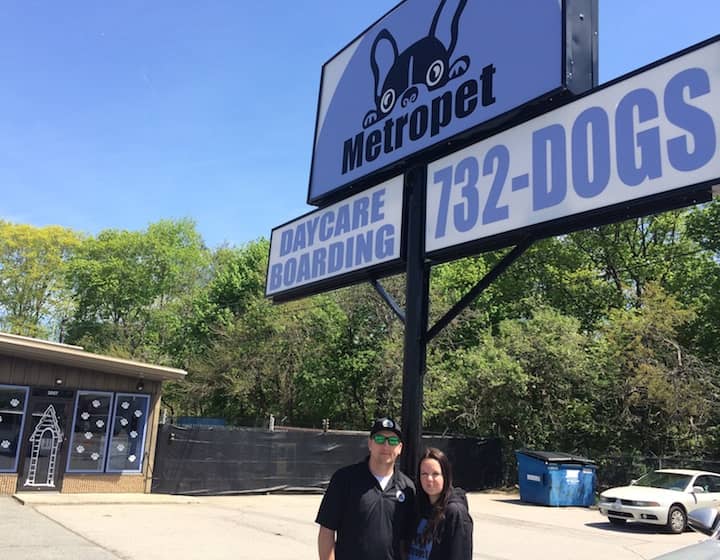 WARWICK, RI — Warwick Veterans High sweethearts Susan and Tim Bedard are the new owners of MetroPet dog daycare at 2057 West Shore Road, and now they're both working their dream jobs.
Susan had worked as manager at MetroPet for eight years when Azure and Michael MacCannell, the owners of the company since 2003 (they moved it from East Providence to West Shore Road in 2005), asked her if she'd like to buy the business.
Susan, who had been dreaming about opening her own dog daycare business for years, but couldn't bear to leave MetroPet's customers, wanted to jump at the chance. She and Tim talked it over.
Tim, a Warwick Fire Department private stationed with Engine 6 in Conimicut, said his job is something he'd always dreamed of as a kid. "I would never want her to tell me I couldn't do that," Tim said. So they agreed to use their savings, and got help from family to take out a Small Business Administration loan.
Also, Susan had improved techniques, training papers, and social media for the business over the years, and helped grow the business and clientele. She had put in nearly 10 years of hard work, Tim said.  "I couldn't leave what I'd built here," Susan said.
With the couple on the same page, and their family's support, "It was a no-brainer," Susan said.
Susan's family was familiar with her passion for the business and for dogs in general. She started working at MetroPet because she wanted her own dog. Eventually, she adopted her bulldog, Belle, whose caricature is now the business's logo.
In addition to the logo, they've put new floors and new kennels in the rear of the center, installed new lighting to save on energy bills, put up a new sign, and did a spring cleaning to mark their new ownership, then followed that up with new paint. Next on their list of changes will be new fences and ramps and toys for the dogs.
Customers appreciate the changes.
"We've been sending our dog, Daisy, to Metropet for the past two and a half years, since she was a puppy.  We've watched as the Bedards transformed Metropet over the past year.  They've made numerous improvements to the facility, including updated kennels, flooring, and signage.  They have also increased their hours of operation without increasing their prices, making drop-off even more convenient for working dog-parents.  Additionally, the Bedards have expanded Metropet's presence on social media, which keeps us connected with our pup all day long," said Coren Ellis.
The couple now cares for 50-60 dogs a day at the center, and a big part of that success is the relationship they have with their customers. "They're like my second family," Susan said.
A few customers who have left to take their dogs to more convenient spots, but the personal touch Susan provides is unique, Tim said. "They always find their way back because they see the family aspect," Tim said.
When a customer lost their dog recently, Tim said, he and Susan joined the search because they knew the dog knew Susan and would be more likely to approach her. They weren't the ones to find the dog, but it was later found a mile from where they'd been searching. Later, they helped pay some of the veterinary cost for treating the dog. Tim said.
The couple also boarded one woman's dog for free for three months while she recovered from a serious illness. "She couldn't afford to send the dog for boarding," Tim said.
Tim and Susan know they're fortunate to own a business at 30 and 29, respectively. They also know they're fortunate to have each other. The two have been a couple since high school, and have known they were going to be together for a long time.
"It's like we've done everything together," Susan said.
"We feel like that's why we might be a little bit ahead," Tim said.
Also, Tim said, they've each gotten a lot of support from their parents.
But at the heart, the business owes its success to Susan's love of the work, the dogs and the customers.
"She's built the business and has more passion that you can believe," Tim said.