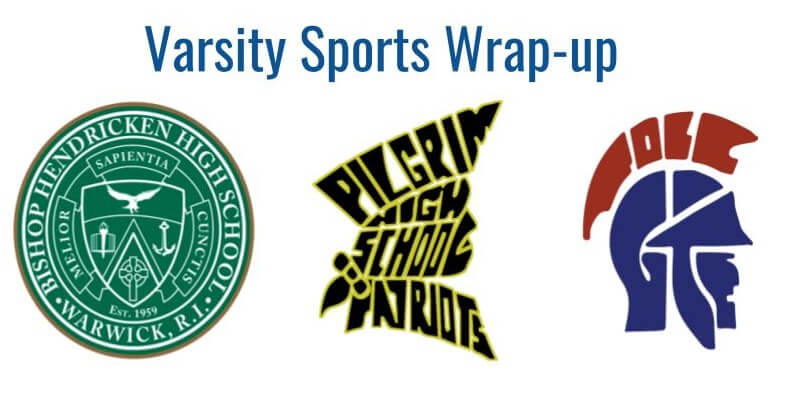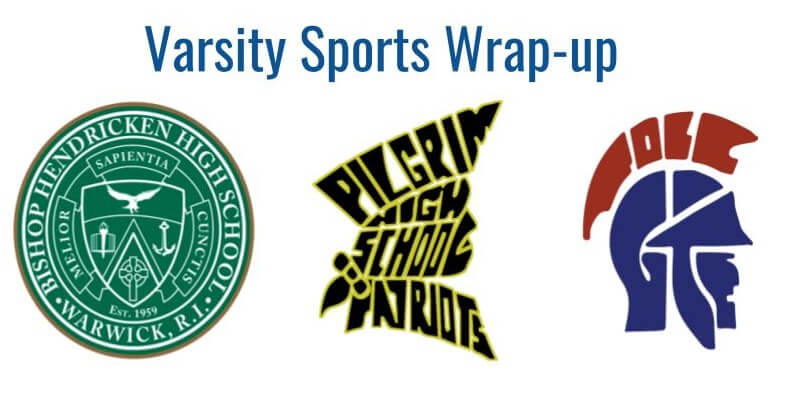 WARWICK, RI — Here's your recap of Warwick varsity sports for May 23, 2023, as reported on the Rhode Island Interscholastic League website.
Baseball:
Mixed results in home-at-homes for Warwick teams
Bishop Hendricken completed a home-at-home series with two more wins, maintaining first place in Division 1 with an 18-1 overall record. On May 19, the Hawks answered a 7-run rally in the first and second innings by Central (6-17) with three each in the third and fifth, then powered ahead with a 6 runs in the bottom of the sixth to secure the win. Hendricken then visited Central on May 22, defeating the Knights 10-1.
Toll Gate dropped both sides of a home-at-home with North Kingstown to end the regular season, dropping a 7-3 decision on May 19 and a 12-9 contest on May 22. Senior Dylan Penney and Junior Jeremie Luna both went 2-for-5 and combined for 2 runs and 3 RBI for the Titans (6-13) in the back half of the series.
Pilgrim finished the week 0-2 in a home-at-home series against LaSalle Academy, 9-5 on May 19 and 2-0 on May 22. Junior A.J. Ferreira pitched a complete game for the Patriots (5-15) and held the Rams (13-5) to 2 runs on 5 hits with 7 strikeouts and 1 walk in the second contest.
Next up: Hendricken travels to North Kingstown on May 25 before returning home to host Xaverian Brothers, the top team in the Massachusetts Catholic Division, on May 28. Pilgrim completes its regular season on May 23 at Lincoln.
Softball:
Pilgrim blanks opponents; Toll Gate splits home games
Pilgrim notched two shutout wins, 6-0 over Smithfield on May 16 and 12-0 over Chariho on May 22, keeping a hold on first place in Division 1  with a 15-1 record. Senior Sophia Chevian led the Patriots offense, going 1-for-3 with 3 runs and 1 RBI against the Chargers (7-13). Senior Jenna Altieri and sophomore Genna Damato added 2 runs each and five others chipped in scores in the winning effort.
Toll Gate split a two-game homestand, dropping a 20-8 decision to Mt. Hope on May 17 before edging out South Kingstown, 6-5, on May 22. It was the first win for the Titans (3-12) since defeating North Providence on May 4.
Next up: Pilgrim wraps the regular season with two road games, at Prout on May 25 and at St. Mary Academy-Bay View on May 26. Toll Gate also completes the regular season on the road, at Woonsocket on May 23 and at North Kingstown on May 25.
Boys Lacrosse: 
Pilgrim, Toll Gate head into playoffs
Pilgrim and Toll Gate advanced to their respective division playoffs, with the Patriots (12-3) securing a first-round bye in Division 2 to await the winner of the May 24 Cumberland vs. Prout contest. Pilgrim defeated Cumberland, 12-8, on May 18 to lock in their #2 playoff seed.
Toll Gate won its final regular season matchup, 8-4 against Burrillville, on May 22, setting up a rematch in the first round of the Division 3 playoffs. The 3-seed Titans (10-5) host the Broncos (6-8) at home on May 24.
Hendricken finished its regular season 5-10, dropping two of its last three games. The Hawks (5-10) outlasted North Kingstown, 15-14 on May 17 before falling in two straight road games, 10-6 at East Greenwich on May 19 and 15-7 at Barrington on May 22.
Girls Lacrosse:
Toll Gate, Pilgrim wrap season
Both local teams finished the regular season with losses at home against teams that qualified for the Division 2 playoffs. Toll Gate (1-12) fell 13-6 against Cumberland on May 18, while Pilgrim (3-10) dropped a 10-2 decision against Mt. Hope on May 20.
Want to contribute photos, video, or recaps of Warwick varsity sports? Email Publisher Rob Borkowski,  and use "Varsity Sports Wrap" in your subject line.