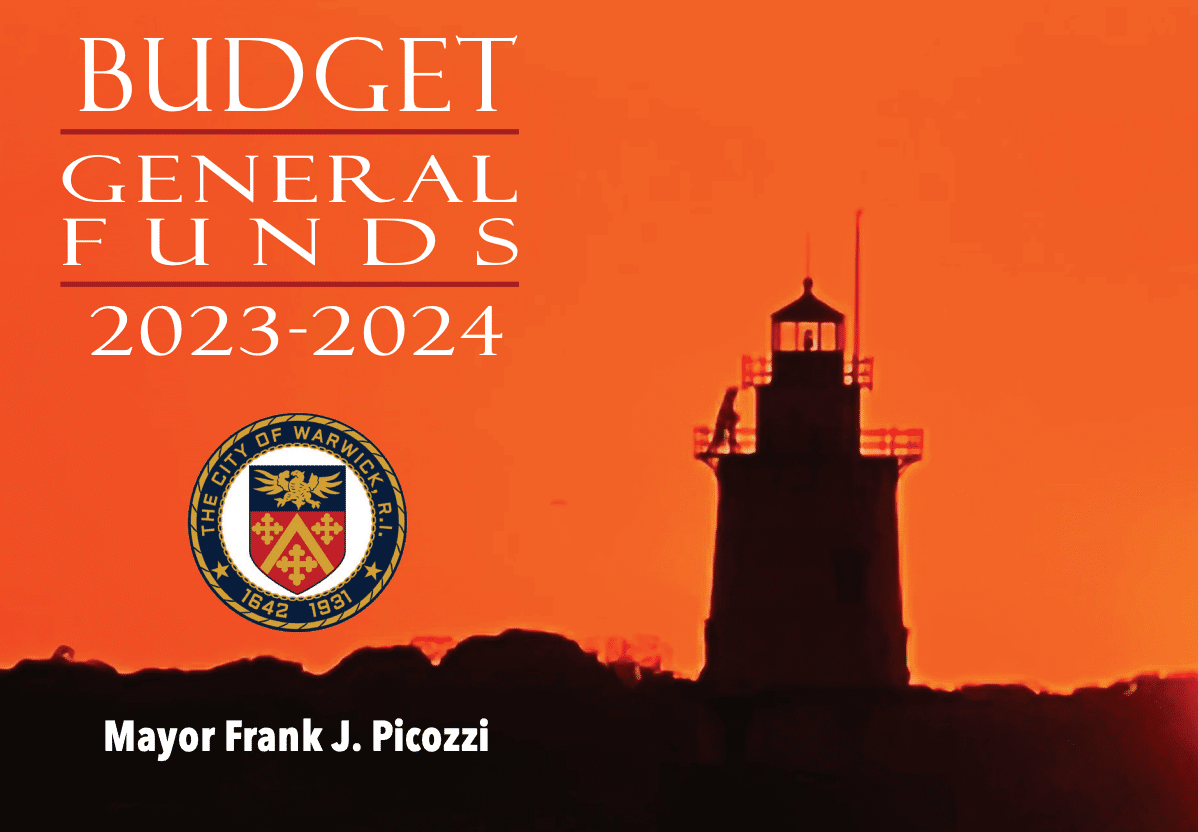 WARWICK, RI — The Warwick City Council moved methodically through all 47 departments in six and a half hours  during its budget hearing Monday night, seldom pausing, scheduling Thursday, May 25 for followup.
Warwick City Council President Steve McAllister kept council members on a tight rein as the night progressed, interjecting to point out off-topic commentary and move the hearing efficiently along to the next question, topic or department director. McAllister didn't even pause for a compliment about the speed with which the hearing was progressing as the session reached the Building and Parks and Recreation Departments, whose directors did not attend. Mayor Frank Picozzi explained he had not anticipated reaching that far into the agenda. Subsequently, Building inspector Al DeCorte was out for a procedure and Parks and Rec Director Beverly Wiley was also not present. Councilors had no questions for DeCorte, and Picozzi fielded questions on Wiley's behalf.
"This Council has made significant progress. More progress further into the agenda on a budget hearing than in any year I've been on the Council. To get through, I believe, it's about…"
"Any questions on the Parks and Recreation budget?' McAllister interjected. Rix moved to his questions without further pause.
At the start of the hearings, Picozzi noted his proposed $353.2 million FY24 budget calls for a 3 percent, $5 million increase in municipal spending, and a 2.8 percent, $3.8 million increase in school spending. While funding that requires a 2.9 percent increase in property taxes, Picozzi said, with economic growth and new investments in the city, the net tax increase will be 2.4 percent.
Picozzi noted the city also enjoys a more than $30 million fund balance.
"This, along with economic growth occurring the city, will allow us to ease property tax burdens going forward," Picozzi said. He praised city staff in their efforts to prepare the budget and provide the city's future needs, including meeting pension obligations, a decades-long challenge or the city.
"In addition and in particular, the administration has greatly benefitted from the valuable knowledge, talent and professionalism of finance director Peder Schaefer and Acting Chief of Staff Bruce Kaiser, whose combined experience in public finance and budgeting exceeds 90 years."
Councilman Ed Ladouceur remarked during the personnel department review that department heads should come prepared to explain salary increases when they are the result of a combined step increase and longevity increases when it results in an increase greater than 2.75 percent.
"Councilman, that would require a great deal of work. You would've had to ask before that. The DPW's going to come here, they have a lot of employees. We would have had to have some warning. You've done budgets before. You didn't ask for this last year, the year before. It's impossible for us to do that for these budget hearings."
Ladouceur insisted he's asked that question before, but Picozzi noted that while he's asked specific salary questions, he hasn't yet requested a breakdown salary by salary, which the Mayor said he would provide with notice.
During the budget hearing questions, Councillors, Picozzi and department directors discussed staffing challenges and infrastructure milestones for Warwick:
Chief of Staff promotion Acting Chief of Staff Bruce Kaiser, answering a question from Councilman William Foley about vacancies in the executive Department, noted he has filled in since the former Chief of Staff Susan Nahabedian Ayrassian, left in March. He will step back in June, he said, when Assistant Chief of Staff Aaron Mackisey is expected to take on the role, budgeted for $118,000. Mackisey, who had been working as executive assistant, received a salary raise from $51,337 yearly to $75,000 yearly when he was promoted to Deputy Chief of Staff.
Finance Director Salary update When Ladouceur asked why the Finance Director's Budget was increasing from $128,438 to $140,000, the Schaefer noted he is thinking about retiring, and that increase would ensure someone with equivalent experience can be recruited. The current salary makes him the 11th highest paid finance director in the state in the RI's second largest city, with the most complicated financial statements. "So, I've talked to the Mayor about this, and I'm not sure this is for me. Councilman, I'm two or three years older than you. I'm not sure how much longer I'm going to keep going." Schaefer said the increase would be for him, but also Pawtucket and Cranston each just spent about 9 months recruiting new finance directors at comparable salaries. "But I'm worried about his recruiting a future finance director. You're not gonna be able to find someone at the compensation level and this is what happened with Cranston. They went up over $30,000 from the previous finance director."  Schaefer said he has not made the a decision to leave yet, but the raise would secure a replacement if he does.
Road maintenance Upon comments from Rix about whether the $3 million budgeted for road resurfacing was sufficient to either keep up current road conditions or improve it, DPW Director Eric Earls assured him previous investments have improved the condition of Warwick roads to a point where regular upkeep will soon be able to keep pace with normal wear and tear. Rix suggested $10 million would be more appropriate, but Earls said crack-sealing roads can save pennies on the dollar, "And that buys you 3-5 years on that road." Micro-surfacing, done on Sandy Lane and Long Street, is a quarter the usual price to pave a road, giving you 5-7 years. "So what you need to do is you need to have a lot of different bullets in your gun, to address the needs." Earls said perfect roads throughout the city would cost $6 million a year. "But that's not realistic, to have perfect roads throughout the city." However, he said, with about $3 million, keeping up with road maintenance is possible.
Playground maintenance request Peter Becker, a member of the Friends of Salter's Grove, noted his group has been working to get reimbursed $4,100 for replacing wood chips at the Salter's Grove playground. He said the group replaced the chips after the city did not respond to their requests for the maintenance. He also asked if the $35,000 budgeted for maintaining playgrounds was sufficient, given his own group's experience waiting on playground work. "Is it enough to keep playgrounds functioning in a safe manner? Perhaps." Earls said they have to work within the budget. "The budget is being discussed tonight, so what I'm suggesting is that a correct amount should be appropriated for those basic, day-to-day maintenance activities." Becker said. He noted the city is considering a skating rink that would require even more maintenance attention when built. "At this point it would be my judgement that the city is not meeting its obligations to provide a safe environment by maintaining the parks appropriately. This is not just our experience but the experience of other friends of parks groups that I've spoken with.
Bay Side Sewers on schedule Bettyanne Rogers, executive director, Warwick Sewer Authority, told the council the The Bay Side Sewer Project is on schedule, and will be complete no later than the end of the year. While the end date is in September, she said, she wanted to be wary of unforeseen obstacles uncovered as crews continue to dig the sewer lines.
The Council will resume the hearings Thursday, 4 p.m. at Warwick City Hall, Council Chambers.