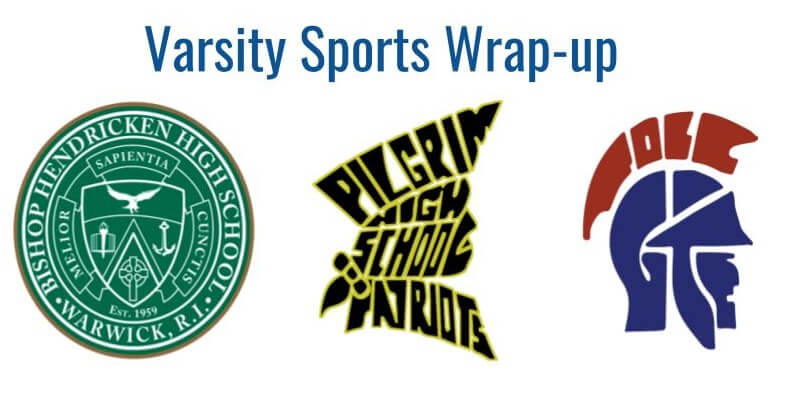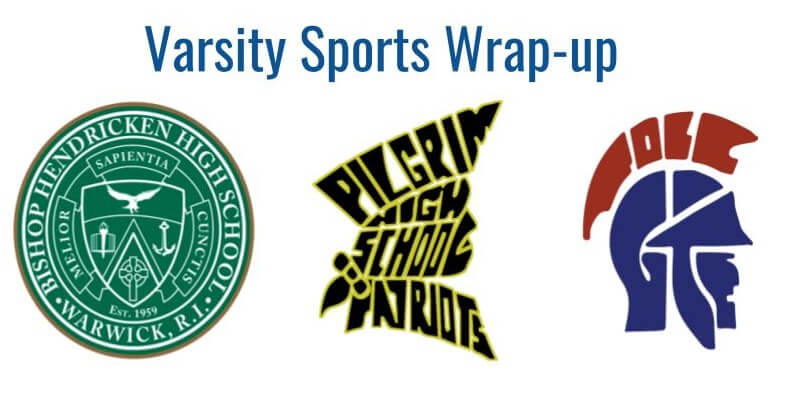 WARWICK, RI — Here's your recap of Warwick varsity sports for May 17, 2023, as reported on the Rhode Island Interscholastic League website.
Baseball:
Hawks maintain top spot, Toll Gate and Pilgrim improve
Bishop Hendricken kept the number-one spot in Division 1 on the strength of two more wins since May 9 where the Hawks (15-1) outscored their opponents by a combined 21-0. Hendricken traveled to Portsmouth (10-6) on May 11 and jumped out to an early 6-0 lead on the way to blanking the Patriots, 11-0. The Hawks completed the two-game sweep with a 10-0 home win over Moses Brown on May 15. Junior Griffin Crane held the Quakers (3-12) to two hits over five innings of work, tallying seven strikeouts on the way to the shutout.
Toll Gate went two-for-three over the past week, beating Cranston East 7-3 at home on May 11 before hosting Central (6-14) on May 13 and securing an identical 7-3 margin. Seniors Dylan Penney (2-for-3, 2 R, 2 RBI) and Zachary Decorpo (2-for-4, 2 R) and junior Jamie Luna (3-for-4, 2 R)  led the scoring against the Bolts (9-8). Senior Brayden Adler-Maranhao and junior Jeremie Luna each added two RBI, and junior Dylan Perreault chipped in a run to complete the win. Senior Brady MacCarone led the Titans (6-10) over Central, going 2-for-4 with 2 runs and 2 RBI. Decorpo, Jeremie Luna, Jamie Luna, Perreault, and sophomore Connor Salzillo contributed to the victory over the Knights. Penney and Jamie Luna scored the Titans' only runs in a 4-2 road loss to Cranston West on May 15.
Pilgrim split its two games, dropping a 3-1 decision at South Kingstown on May 10 before defeating Smithfield at home, 3-2, on May 15. Senior Mason Link (2-for-2, 1 R, 1 RBI) led the offense for the Patriots (5-12), while senior Robert Court held the visiting Sentinels (4-12) to two runs on six hits over six innings and tallied six strikeouts.
Next up: Hendricken travels to Moses Brown on May 17 before playing a home-at-home series against Central on May 19 and 22. Toll Gate wraps its season with a home game against Cranston West on May 17 and a two-game series against North Kingstown, traveling to play the Skippers on May 19 before returning home on May 19. Pilgrim completes a home-at-home series against Smithfield on May 17 before wrapping the season with four games in five nights including three road contests, hosting LaSalle on May 19 then traveling to West Warwick on May 20, LaSalle on May 22, and Lincoln on May 23.
Softball:
Pilgrim remains unbeaten vs. division; tough road loss for Toll Gate
Pilgrim extended its division record to 7-0 after defeating Moses Brown, 6-1, on May 15. The Patriots tallied a run in the second and two in the fifth before notching three runs in the top of the seventh to secure the won over the Quakers (1-13). Pilgrim is 12-1 overall, good for first in Division 1, with the only loss coming in a non-conference matchup against LaSalle on May 8 where the Rams (15-3) scored a run in the second inning and held on for the win.
Katie Motta and Sydnee Perrault scored two runs in the top of the first for Toll Gate against Ponaganset on May 15, but couldn't hold off the Chieftains' offense, which scored 11 runs in the first four innings on the way to an 12-2 loss for the Titans (2-10).
Next up: Pilgrim travels to Smithfield on May 18 and returning home on May 22 for a game against Chariho. Toll Gate hosts Mt. Hope on May 17 and South KIngstown on May 22.
Boys Lacrosse: 
Pilgrim extends win streak to five; Toll Gate drops close contests
Pilgrim kept its hold on the top spot in Division 2 with three straight victories since May 9, extending its unbeaten streak to five games on the strength of a 75-48 point differential over that span. The Patriots (11-3) defeated Chariho, 10-6, on May 9 before securing a 20-12 home win against South Kingstown on May 11 and beating Prout on the road, 17-13.
Toll Gate dropped two games by one point each, falling 6-5 against the St. Raphael Academy/Providence Country Day co-op team on May 11 and dropping a 7-6 decision at Smithfield on May 13. The Titans (9-4) are currently third in Division 3.
Hendricken fell to Moses Brown, 18-9, on May 9, dropping the Hawks to fifth in Division 1 with a 4-7 division record, 4-8 overall.
Next up:
Pilgrim completes its regular season with a home game against Cumberland on May 18. Toll Gate wraps up the regular season with a home game on May 20 against Burrillville.  Hendricken ends the season with two road games, at East Greenwich on May 19 and at Barrington on May 22.
Girls Lacrosse:
Pilgrim edges Toll Gate; Titans secure first win
Pilgrim outlasted Toll Gate, 11-10, on May 10, giving the Patriots a 2-0 season advantage against the Titans and a 3-7 overall record. Toll Gate recovered from the loss with a 14-12 win over Middletown, the Titans' first victory of the season, on May 12. The Islanders (7-4) had defeated Toll Gate, 12-3, on April 7.
Next up: Pilgrim hosts Chariho on May 19 and Mt. Hope on May 20 to complete the regular season. Toll Gate wraps up the season at home against Cumberland on May 18.
Want to contribute photos, video, or recaps of Warwick varsity sports? Email Publisher Rob Borkowski,  and use "Varsity Sports Wrap" in your subject line.