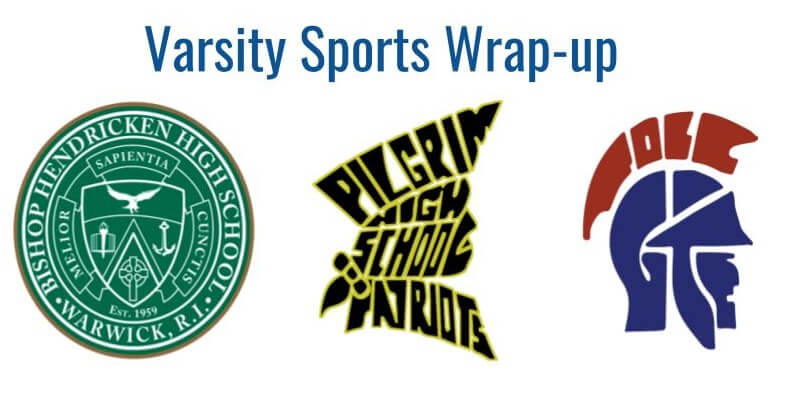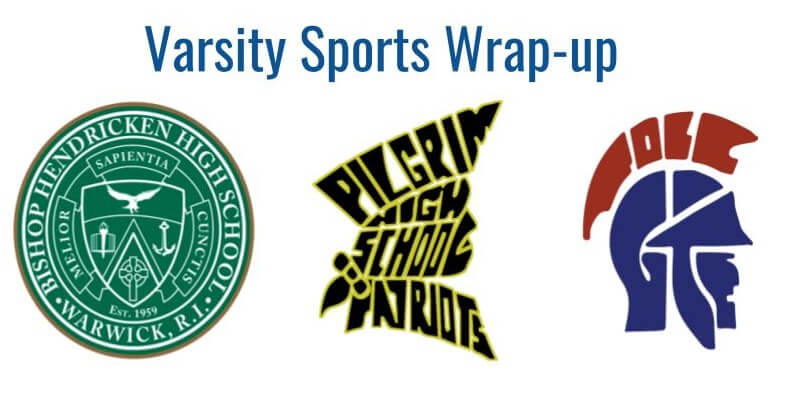 WARWICK, RI — Here's your recap of Warwick high school varsity sports for April 25, 2023, as reported on the Rhode Island Interscholastic League website.
Baseball:
Hendricken win streak at 8
Bishop Hendricken went 3-0 in the last week, extending their win streak to 8 games following victories against LaSalle Academy on April 19, Smithfield on April 21, and South Kingstown on April 24. The Hawks outscored their opponents 21-6 over that stretch, and hold an 86-25 margin for the season. Hendricken sits tied for first with LaSalle in Division 1.
Pilgrim finished the week 1-2 after a 5-4 loss against Central on April 19 and a 6-5 defeat by Portsmouth on April 24 bookended a 8-0 shutout win against Moses Brown on April 21. The Patriots are currently 3-5 in Division 1, 3-7 overall.
A 7-run third inning propelled Coventry to a 10-0 win against Toll Gate on April 24, contributing to a three-game losing streak for the Titans. Toll Gate is currently 2-6 on the season.
Next up: Hendricken hosts Cranston West on April 28 before traveling to North Kingstown on May 2. Pilgrim plays at Coventry on April 26 and hosts Cumberland on April 28, followed by an away game at Lincoln on May 2. Toll Gate hosts Portsmouth on April 27 and Central on May 2 with a road game at Moses Brown on April 28.
Boys Lacrosse:
Toll Gate, Pilgrim drop contests vs. division rivals
Toll Gate went 1-1 since April 18, securing a 5-3 win over Providence Country Day on Wednesday before taking a 13-4 loss against visiting Westerly on April 21. The Patriots dropped a close 9-8 contest against Prout on April 20.
Next up: Toll Gate (5-2) travels to Burrillville on April 25 before hosting Ponaganset on April 28 and visiting Smithfield on May 2.
Girls Lacrosse:
Pilgrim goes 1-1; Toll Gate falls to Burrillville
Pilgrim defeated Cumberland, 7-6, on April 18 before dropping a 15-3 contest against Cranston West on April 21.
Freshman Delaney Wheeler scored a goal and sophomore Mary McNulty made 11 saves in a 14-1 loss against Burrillville on April 20.
Next up: Pilgrim (2-3) travels to Burrillville on April 26 and visits North Kingstown on May 2 with a home contest against Smithfield on April 28. Toll Gate (0-5) plays at Mt. Hope on May 3.
Softball:
Toll Gate earns 1st win; Pilgrim stays undefeated 
Toll Gate defeated Portsmouth at home, 18-11, for its first win of the season on April 21, before dropping a 12-9 decision at West Warwick on April 22. Katie Motta scored three runs and Ellie Goldman and Sydnee Perreault added two each in the loss.
The Pilgrim softball team extended its winning streak to 8 games overall, including six shutouts over the last seven games where they outscored opponents 43-1, to maintain 1st place in Division 1.
Next up: Toll Gate (1-5) travels to East Greenwich on April 25 before traveling to Burrillville on May 1. Pilgrim plays at Cranston West on April 26 and St. Mary Academy-Bay View on May 2 with a home contest against Cumberland on April 28.
Want to contribute photos, video, or recaps of Warwick varsity sports? Email Publisher Rob Borkowski.