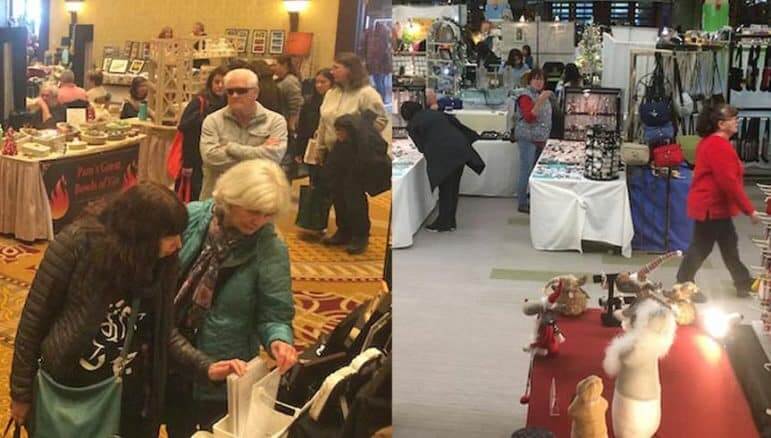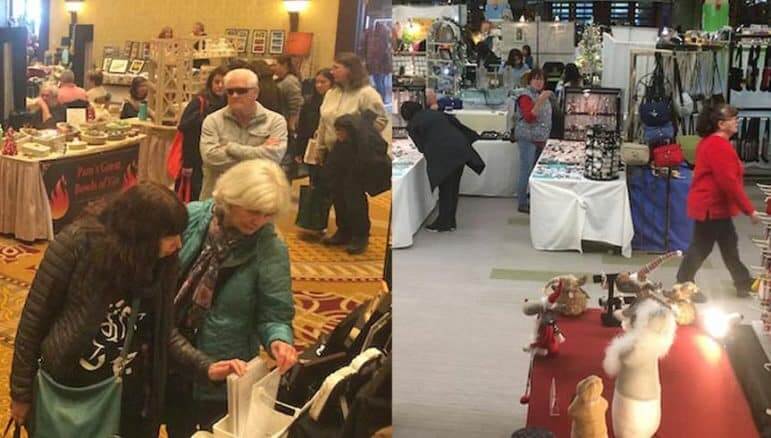 WARWICK, RI — Small Business Saturday drew thousands of shoppers to Crowne Plaza Warwick and CCRI, where many business owners reported their best sales day of the year.
Some crafters and small businesses had to replenish their booths after selling out stock at SHOP RI's Small Business Saturday expo at Crowne Plaza, said Sue Babin,'s SHOP RI Co-Chair.
The event drew more than 2,000 people, Babin said.
"We've got some people saying that it's the best business day that they've had all year," Babin noted.
At the Dyan's Driftwood Trees table, Dyan Vaughan said she and her husband had filled up their table with their driftwood-sourced gifts, then filled it up again to nearly sell out a second time.
"For us, that's a very good day," Vaughan said.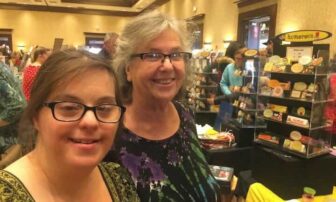 At the Favorables table, business was going, "Very well. Very well. It's been a great day," said Dian Cerep, who was helping at the table with her daughter, Steph, the owner of the business, "It's been a great day," Dian said.
Favorables sells "intentional act of kindness" — crafted three-dimensional favors filled with chocolate kisses. The gifts are perfect for showing someone your appreciation in a unique, thoughtful way that'll appeal to a person's sweet tooth and appreciative eye.
"The idea behind this is that each person is able to make someone's day, thereby making a difference in the world," according to the company's website.
Stock was also all but sold out at the Chepatchet Farms booth owned by Jody Esposito, said Pat Lindquist, who was serving customers what was left of the peanut brittle and maple syrup.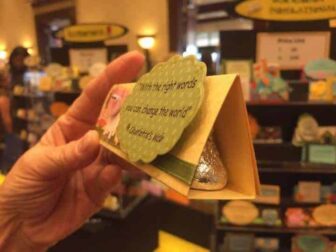 In the middle aisle, husband and wife Mike and Rondel Dooley's tables, his photography prints, Mike Dooley Photography and hers, crocheted creations, Roni's Crafty Critters, were enjoying a brisk business.
"She moved a lot of yarn today," Mike said.
"The whole purpose of this event, for us, is to show the diversity of the small business community," said Babin.
A short drive west on East Avenue from Crowne Plaza, the Ocean State Artisans were enjoying a less brisk second day of business for their annual craft fair, about 1,700 people by about 3 p.m. visiting about 93 local crafters. Their first day, Friday, was much busier, said Mary Larson, coordinator for the event working for
"It's over 3,000 total in the two days," said Larson. More than 1,700 of those people showed up Friday, the first day of the two-day event at the community college.
"Yesterday was one of the busiest days we've ever had," Larson said.
Proceeds from ticket sales, about $3,000, will be donated to loal charities including Rite Care and the Ronald McDonald House.
Ocean State Artisans may gather at CCRI annually, but its members are in contact all through the intervening months.
"We work together all year long," said Susan Keenan, president of the Ocean State Artisans.