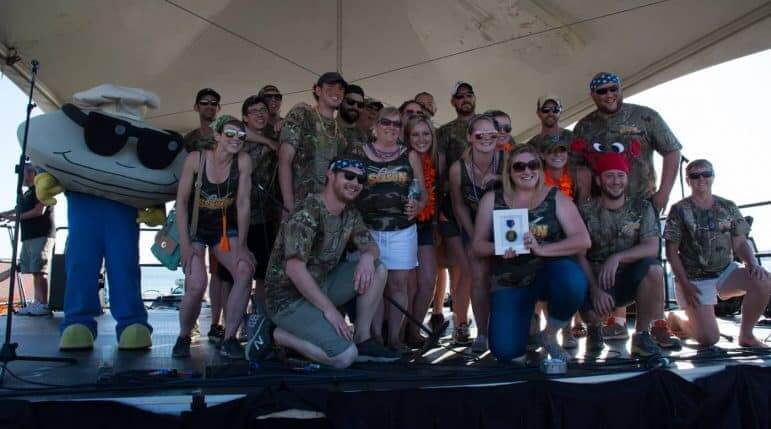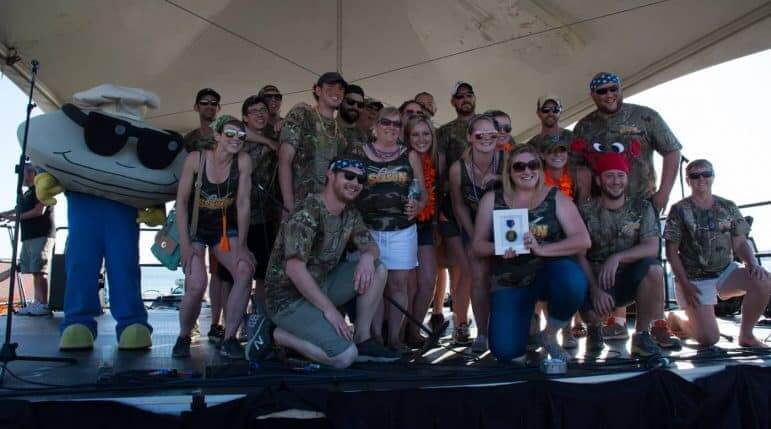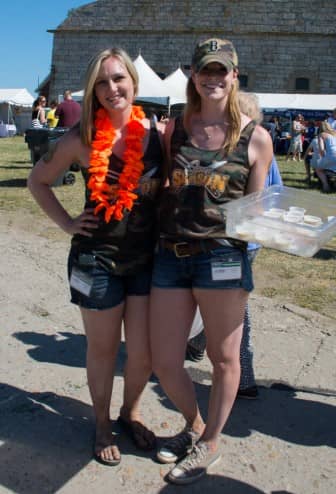 NEWPORT, RI — Warwick's Open Season Catering and Grid Iron Ale House won second and third place in the clam chowder division of the Great Chowder Cook-Off Saturday at Fort Adams State Park in Newport, but the caterer's camouflage motif and "Number Eight is Great" slogan also won them Best Decorated and Most Spirited awards.
The top honors on clam chowder went to Hurricane's Soup/Luke's Lobster of Greene, Maine for their clam chowder, and Bristol Plymouth Technical High School won first place for their seafood chowder.
"This makes the two hours of sleep and the 29 hours of stirring chowder worth it," said Dave Livesey, owner of Open Season Catering, as he walked from the awards stage with three trophy plaques with members of his team, all in high spirits following their wins.
"This makes the two hours of sleep and the 29 hours of stirring chowder worth it." — Dave Livesey
The awards capped festivities at the Great Chowder Cook-Off, the original and longest-running event of its kind in the nation, which officially kicks off Rhode Island's summer festivities.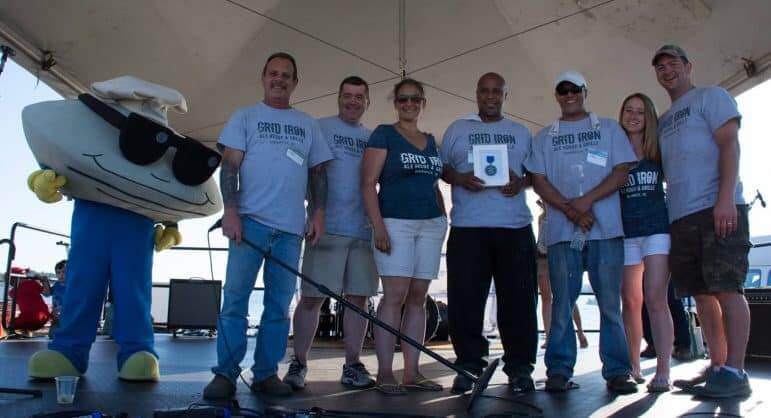 Hungry chowder enthusiasts were able to eat their fill of free chowder samples at the event, in the effort to choose among the virtues of recipies from 23 participants from across New England (and one from Ireland) drawing on the flavors of salt, bacon, dill, tumeric, chive oil in batches running from stewy to soupy.
Members of each team scoured the field with trays of chowder samples, chanting slogans and slinging smiles as eager members of the crowd helped themselves.
At the Grid Iron's booth, the whole family, including owner Peter Rawcliffe and his wife, Kerri Rawcliffe, were busy serving hungry voters. Sister-in-laws Cassie Rawcliffe and Shelly Brousseau, as well as David Owen, were also taking turns serving, and Raymond McDaniel and Norman Caines were busy cooking behind the scenes.
Tommy's Clam Shack, popular Warwick Avenue spot for seafood lovers, didn't win awards, but it was a popular destination for chowder samplers. That was credited to the attention of Steve DeLory, manager and chef at Tommy's Clam Shack since it opened three years ago.
DeLory said his recipe calls for one pound of clams for every gallon of chowder.
"Nobody does that," DeLory said.