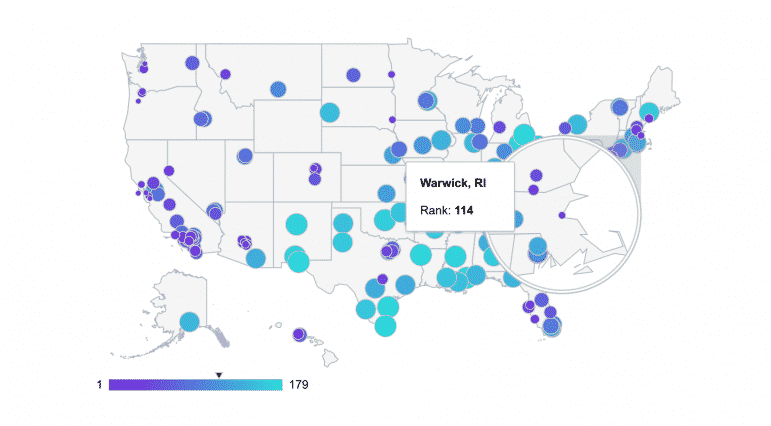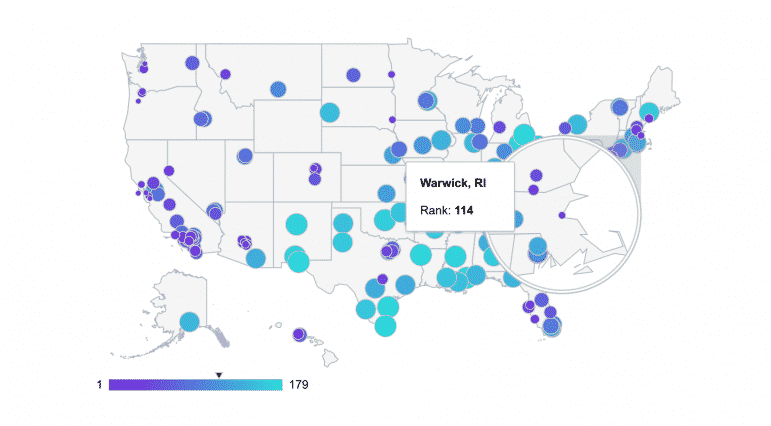 WARWICK, RI — WalletHub's recent assessment of the best places in the U.S. to be a real estate agent place Warwick on the map at 114 out of 149 cities, derived from a composite job opportunity score of 49 and a market health rank of 133.
On the health of the market, Mark Raymond of Residential Properties enthusiastically asserts the local market is underestimated. Warwick's real estate market is very robust, said Raymond, a real estate agent for 33 years who has long worked in the Warwick real estate market.
"It's out of control," Raymond said of the city's real estate market during the last few years. Recently, he said, he represented a buyer interested in a $400,000-range property, setting their initial offer $15,000 over the seller's asking price.
"We went $30,000 over and did not get it," Raymond said.
Raymond said not only do home buyers in Warwick receive a lot of value for their money, but the community is an attractive location, thanks to its proximity to the highway, Providence and TF Green Airport.
According to Wallethub, Warwick's real estate market is one of the top three in the U.S. for highest sales per agent, at 103 sales per salesperson. Providence, RI Also made that list, tying with Warwick for sales per agent. Only Modesto, CA, ranked higher, with 106 sales per agent.
Raymond said the Cowesett, Greenwood Proper (across from Crowne Plaza Warwick) and Gov. Francis neighborhoods seem to be in highest demand. Often, he said, depending on the neighborhood, nearby schools are also noted as attractive elements of the neighborhood.
Warwick Neck, while home to some very attractive properties, faces a challenge with the long commute residents there face in driving to nearby cities.
Raymond said demand for property in the city began to rise about two years ago. But, he said, even in 2009, when the national economy was flagging, the city was still popular among new homeowners. Again, Raymond said, the value for one's dollar was attractive in Warwick.
Overall nationally, WalletHub reports the current real estate market is very healthy. January to February 2019 showed the biggest month-to-month rise in sales since 2015, according to Wallethub's latest report on the market.
With unemployment falling and house prices rising, the market as a whole has been in a boom, according to WalletHub's report.
But while home values are rising, up almost $16,000 on average just in the first quarter of 2018, fewer homes are being built and bought because mortgage rates are rising.
In their assessment, WalletHub compared compared the 179 cities — including the 150 most populated U.S. cities, plus at least two of the most populated cities in each state — across two key dimensions: "Job Opportunity & Competition" and "Real-Estate Market Health."
Wallethub evaluated the two dimensions using 19 relevant metrics, which are listed below with their corresponding weights. Each metric was graded on a 100-point scale, with 100 representing the most favorable conditions for real-estate agents.
Providence ranked 42 overall, a composite score derived from a job opportunity score of 60 and a market health rank of 142.