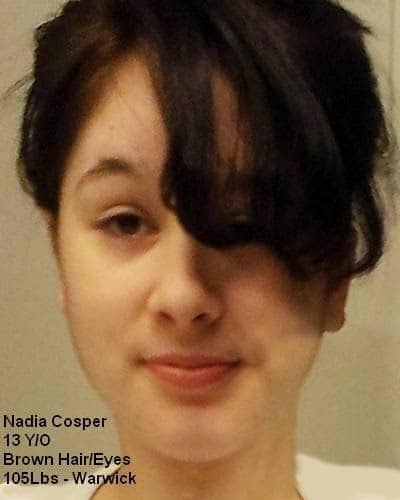 Warwick, RI, – (UPDATE 6/26@11:44 a.m. ) Warwick Police report Nadia Cosper, 13, has been located and is safe.
Warwick Police sent a release to local residents about the missing girl using the CodeRED emergency messaging system Wednesday morning at about 11 a.m. Police suspected the teen was in the company of a male, known as "Angel", willingly.
The teen was located late last night by Pawtucket Police, and transferred into the custody of Warwick officers, according to Warwick Police.
4 p.m. UPDATED Warwick Police are searching for a 13-year-old last seen near St. Gregory's Church in the Cowesett area of the city.
Police are seeking Nadia Cosper, 13, who is 5 ft tall and weighs 105 lbs. She has brown hair and brown eyes. She has bandages on her legs from a recent surgery.
@RIBNS has tweeted a screen capture of the alert, including a photo of the girl.
When Nadia was last seen, police report, she was  wearing grey and white pajama bottoms and a white top and black high top Jordan sneakers. Warwick Police Capt. Joseph Coffey said Nadia may not be alone.
"We're finding more and more that she probably went with a male, apparently voluntarily," he said.
The male, whose age is as yet undetermined, is identified as 'Angel', Coffey said.
"She may have went voluntarily, but is she staying voluntarily?" Coffey said.
Nadia is considered missing and endangered. Anyone with information on her whereabouts is urged to contact Coffey at the Warwick Police Department, 401-468-4200.