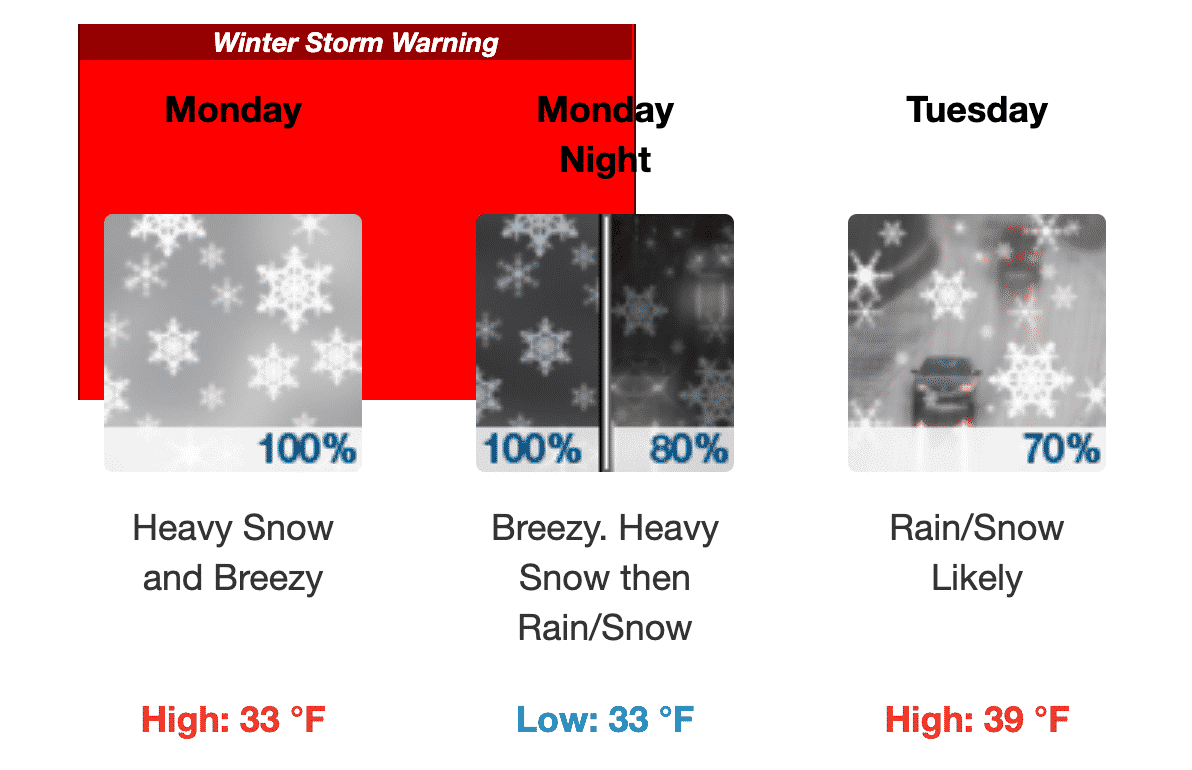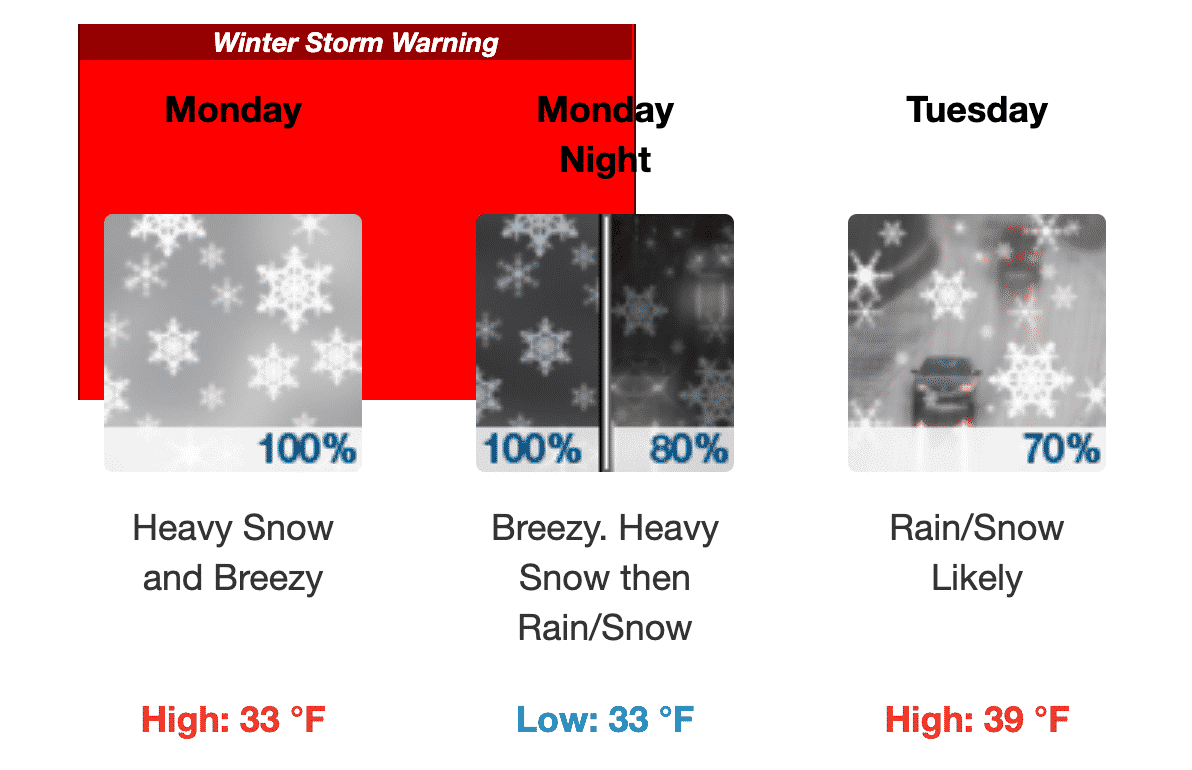 WARWICK, RI — There's a Winter Storm Warning in effect for Rhode Island till 2 a.m. Tuesday as a snowstorm bringing six to 12 inches of snow and wind gusts up to 50 mph, and possible power outages settles over the state.
There's a parking ban in effect for Warwick, starting at 6 a.m. Monday and lasting until Tuesday at 3 p.m.
By Monday night, the RI Broadcasters Association has catalogued a number of school and service cancellations, including:
Because of the inclement weather expected, all State-operated COVID-19 testing sites will be closed on Monday, February 1st. State sites are any of the locations scheduled through portal.ri.gov or the K-12 test scheduling service.

Bay Collaborative

: 

Closed. Distance learning ; All staff to work remotely

Eleanor Briggs School

: 

Distance Learning Day

J. Arthur Trudeau Memorial Center

: 

Closed 2/1. Group homes open.; EI Virtual sessions open.

Sargent Rehabilitation Center

: 

Distance Learning Day; Business/operations report

Bishop Hendricken HS

: 

Distance Learning Day; Cancel Activities; Virtual Schedule ABCD

St Kevin School

: 

Closed Tomorrow; No Distance Learning

St Peter School

: 

Closed Tomorrow; No Distance Learning

St Rose of Lima School

: 

Closed Tomorrow

NE Inst. of Technology

: 

On campus cancelled; Remote classes / staff report

Boys and Girls Club – Warwick

: 

Closed Tomorrow

Buttonwoods School

: 

No PM Preschool; Kindergarten pick up 11:45

Clubhouse Kids

: 

Early Dismissal; Closing at 3pm

Lighthouse Preschool

: 

Closed Tomorrow

Lit'l Red Hen Preschool-KG

: 

Closed Tomorrow

Magic Years Child Care

: 

Closed Tomorrow

Precious Years Child Care

: 

Closed Tomorrow

Stork's Nest Child Acad-Wwk

: 

Early Dismissal; Open 7am -1pm

The Learning Garden

: 

Closed Tomorrow

West Bay Comm Action Child Care Center

: 

Early Dismissal; 12 Noon

Addiction Recovery Institute – Warwick

: 

Closed Tuesday; Snow Plan; BRING BOX MON-CLOSED TUESDAY

Bridgemark Inc

: 

Closed Tomorrow

Cornerstone Adult Services- All Locations

: 

Closed Tomorrow

St Rose & St Clement

: 

No Morning Mass

West Bay Community Action

: 

Early Dismissal; Closing at Noon
The National Weather Service warns travel could be difficult, or impossible during the morning or evening commutes. Wind gusts could bring down tree branches, and power lines with them.
Gov. Gina Raimondo encouraged all Rhode Islanders to stay home and off the roads as much as possible in an announcement about the storm.
"In preparation for the storm, we've set aside 60,000 tons of salt and have 500 plow trucks ready to go. That said, driving in tomorrow's storm will be dangerous, especially during the evening commute. If you're able to work from home, please plan to do so," Raimondo said in her statement.
She also encouraged people to charge devices and have supplies on hand in case of power outages.
What to do in an emergency:
First, do NOT call 911 to report a power outage.
Instead, contact National Grid at 1-800-465-1212. Smartphone users can also text STORM to NGRID (64743) for outage alerts. To check the status of outages in your area, visit  National Grid Outage Central for Rhode Island.
Also be sure to check batteries for radios, and charge up your cell phone in case of power loss.
Emergency Alerts:
RIBA – Make sure you're signed up for text alerts from the Rhode Island Broadcasters Association for school, business, and organization closings. You'll get emergency notifications direct to your phone or email. Check closings and delays here.
CodeRED – The City of Warwick's CodeRED system distributes emergency messages via telephone to targeted areas or the entire City of Warwick. Register here.
Emergency Calls:
In an emergency, dial 911
Police Department: 401-468-4200
Fire Department: (401) 468-4000
Highway Dept./Snow removal – 401-738-2000 ext. 6518
Serve RI is looking for volunteers to help neighbors in need shovel out after upcoming snowfall. You can sign up here.  You can ask for their help at at 401-331-2298. For all other needs, people should call United Way-2-1-1.
Listen to NOAA radio: Check the National Oceanic and Atmospheric Administration radio frequency here.
Shovel safely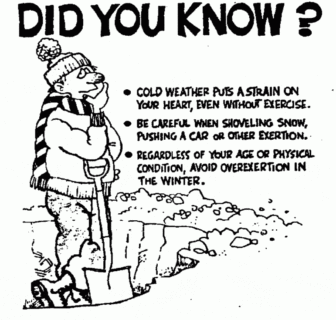 Working in cold weather puts a tremendous strain on the body, even for people in good shape. Take frequent breaks and don't overexert yourself. Make sure you dress properly for the conditions. Wear several layers of lightweight clothing. Air is trapped between the layers to help keep the body warm. Protect the extremities, such as the hands, feet and ears as they are the most susceptible to frostbite. Wear a hat as a large percentage of the body's heat is lost through the top of the head.
Be prepared for winter travel
Travel in winter can be extremely dangerous. The best thing to do is cancel any travel if winter weather will occur. However if you must travel, make sure you plan ahead. Make sure other people know your travel plans and know how to contact you. Travel in convoy with other vehicles if possible. Keep a survival kit in you vehicle. This kit should include items which include non-perishable food such as can goods or candy bars, extra clothes and blankets, a battery powered radio, a shovel, and sand and/or kitty litter for traction in case you're stuck. If stranded, the best thing to do in to stay in the vehicle. Tie a bright colored cloth to the antenna so rescuers can find you. Run the engine occasionally for heat making sure to keep the exhaust pipe clear. Open windows occasionally for fresh air.