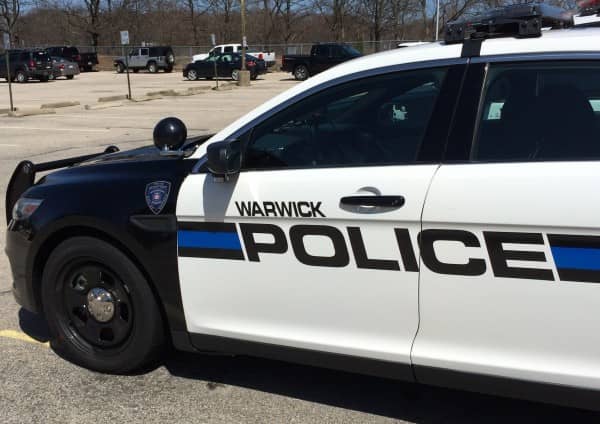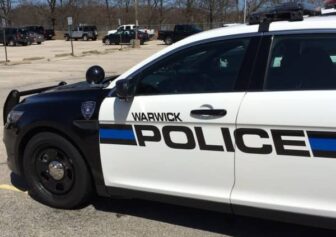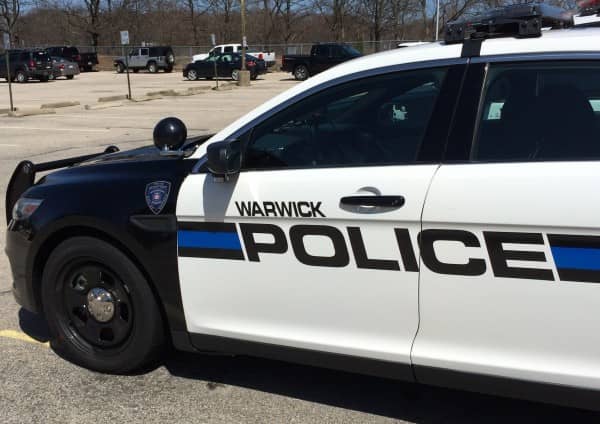 WARWICK, RI  — Officer Walter C. Larson, alerted to an erratic driver in a blue Subaru a caller said had nearly struck them, stopped the woman, who boasted she'd "Get a 100 on this b**ch," while taking a breath DUI test.
Helen Faille, 34, of 79 Service Road, West Warwick, did not deliver on the boast. She actually registered .196 and .198,  still much more than the .08 percent blood alcohol content required to earn a DUI charge in Rhode Island, according to Larson's report.
Larson reported that he spotted the blue car on Main Avenue go straight through the intersection with East Avenue, narrowly missing other cars as the driver ignored a left turn only green arrow traffic signal. The car continued, swerving, and Larson followed it onto Rte. 95 south, where it traveled, swerving, at 30 – 45 mph.
Larson used his emergency lights and loudspeaker to direct the driver to pull over, but instead the car took the Exit 12A off-ramp and stopped on the curve before exiting the highway.
Larson approached the car, and the driver, later identified as Faille, had her license in her hand sticking out the window waiting for him, according to the report. She reached for something in her glove box, lost her balance and leaned on the door, detaching it from her dashboard and onto the floor of the vehicle, according to the report.
Larson reported a strong odor of alcohol coming from Faille, who also had bloodshot eyes, slurred speech and slow movements. He spotted three empty White Claw cans on the floor of the car.
Larson asked Faille to get out of the car, which she did, stumbling and using her car for support as she moved around it. She nearly stumbled backwards into the nearby bushes, according to the report.
During a series of sobriety tests, Faille showed a lack of smooth pursuit and involuntary eye movement in her vision, was unable to competently walk a straight line, and swayed and put her foot down three times during a one-leg stand test. She ended the final test by telling Larson, "I'm drunk," according to the officer's report.
Following Faille's performance on the tests, Larson arrested her on suspicion of DUI, and transported her to Warwick Police Headquarters, 99 Veterans Memorial Drive, where Larson handed her a form detailing her rights, and began to read them to her. Before he started, Faille said, "You expect me to do paperwork now!" according to the report.
Faille agreed to the breath test of her blood alcohol level, boasting she would get 100. When her results were processed, Larson charged her with DUI, .15 or greater, with a date to answer the charge in Third District Court Feb. 2.  Larson also cited her for leaving the scene of a crash, and violating road lanes, with a court date of March 26.