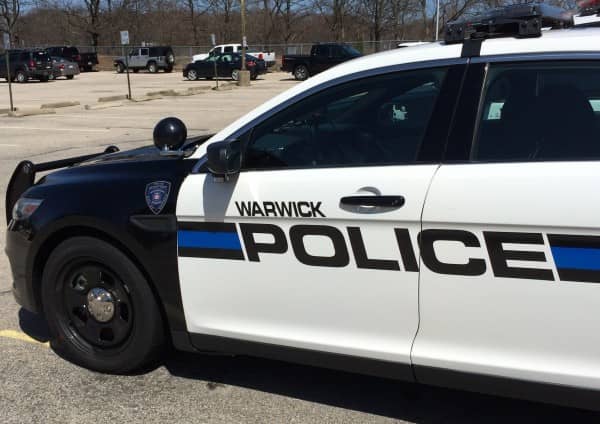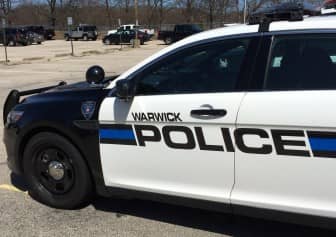 WARWICK, RI — A call reporting an attempted truck theft in the lot of the Remington House Restaurant at 3376 Post Road led officers on a brief foot chase of a Providence man through a wooded area near Village Green Apartments before they arrested him on a larceny charge Sept. 28 at 9:41 p.m.
The caller told police that he'd noticed a man driving a blue RI Historical Society van pull up next to his brown 1989 Ford plow truck, open the hood of both vehicles, then attach jumper cables between the two. The man was about 5'9″ and wearing a black hooded sweatshirt with a blue logo on the sleeve. The man entered his truck, the caller said, according to police reports.
Officers Kevin McGuire and Tomas Bogusz arrived at the restaurant and met with the caller, who pointed them to the man, who was still meddling with the vehicles, according to McGuire's report. McQuire pointed his spotlight at the truck, and could see a man in black leaning into the driver's side door of the pickup.
The suspect ran when he noticed the officer's cruiser, heading up an embankment, onto Arnold's Neck Road, then across Post Road and through the Village Green Apartments property, into a wooded area nearby. McGuire called for assistance, and Officer Aaron Steere and K9 Viking arrived and began tracking the man.
The K9 unit found the man curled up on the ground in a nearby marsh. McGuire and Officer Jacob Elderkin arrested the man, identified as James Waters, 47,  of 460 Charles St., Providence, who was transported to Warwick Police Headquarters at 99 Veterans Memorial Drive and charged with larceny.
A check with the RI Historical Society revealed that no one was authorized to be operating their van at that time, and a representative of the organization said they'd report the van stolen in the morning.