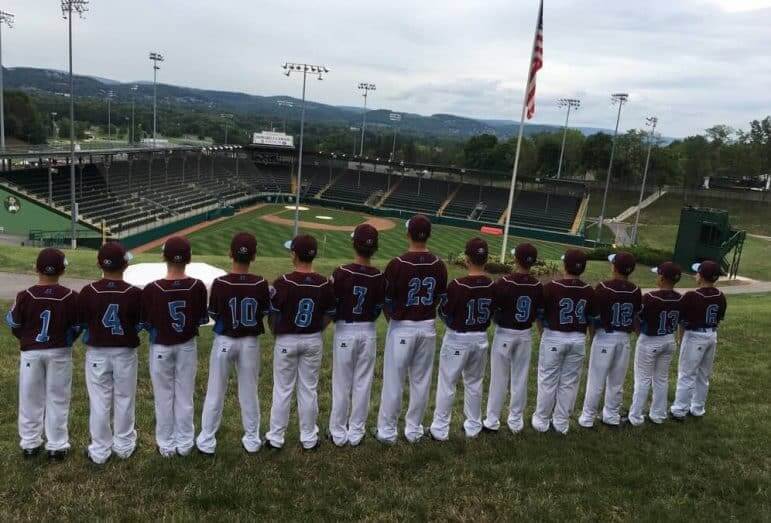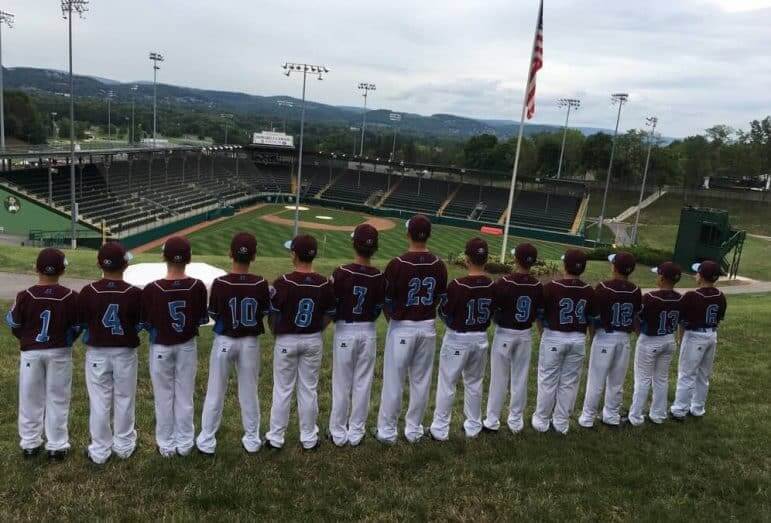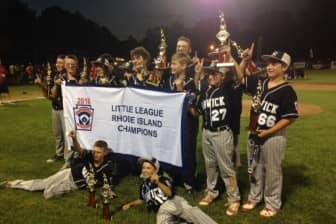 WARWICK, RI — The Warwick North 11/12 year-old boys All-star team will represent New England in the 2016 Little League Baseball World Series Aug. 18-28  Williamsport, CT, with enthusiastic support at home.
"I want to give a big shout out to Warwick Little League North," said Councilman Joseph Solomon during Monday's City Council meeting. I've watched some of the games on television, and I've got to tell you, they're a great group of guys," he said, adding congratulations for the boys' coaches and parents.
The remark was received with vigorous applause from the crowd at City Hall.
On Saturday, Warwick North Little League bested the  Fairfield American Connecticut team 5-1 in Bristol, CT with a strikeout at the top of the sixth by Colin Lemieux, earning the team the right to represent New England in the Little League World Series.
Lemieux scored three RBIs on two hits for Warwick North, homering in the third inning while sending a double in the fifth inning, according to the Little League World Series website. He also distinguished himself while pitching, preventing an earned run, giving up six hits and only one walk while recording six strikeouts in five innings.
The team has posted a Gofundme.com page seeking financial support to offset travel costs. "Anything that you choose to donate will be greatly appreciated. Please help these hard working boys to achieve their goals and dreams," wrote Matt J. McGrew. 
So far, supporters have donated $5,045 of the team's $20,000 fundraising goal to cover travel costs.
During Monday's City Council meeting, Sean Rainey, past Warwick North President, told the councillors and crowd about a viewing party for the team's first game at 3 p.m. against Johnston, IL Thursday at 3 p.m. at Bo's Billiards, Lambert Lind Highway, Warwick. Those with ESPN can also watch from home. 
Also, on Friday, 10 percent of the proceeds from all fish and chips orders at Anchorage Seafood, 641 Warwick Ave., will go to aid the team.
Rainey told the Council the boys are ranked number one among eight USA teams in the series, and among 16 teams in the world.
The Warwick North Little League All Stars
#1 Dillon Bourret
#7 Kenny Rix
#10 Aaron Narcavage
#15 Sean Gallagher
#12 Domenic Brazeau
#23 Colin Lemieux
#9 Chase Pariseau
#4 DJ Sollitto
#13 Cullen McGrew
#24 Thane Denton
#5 Brendan McCaffrey
#8 Camden Nadeau
#6 Max Turner