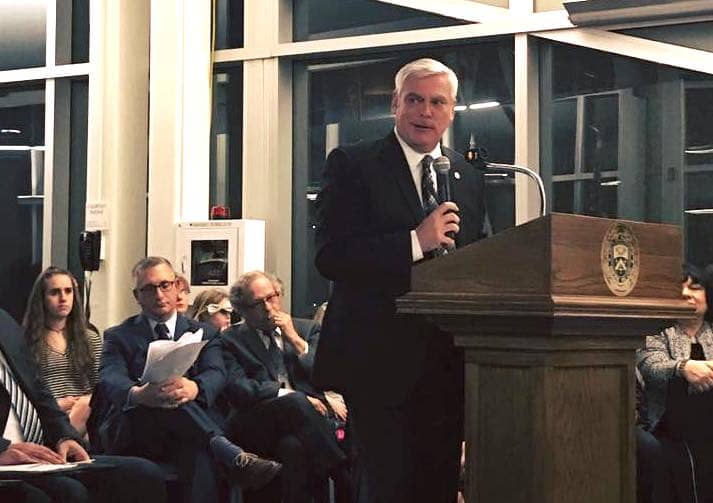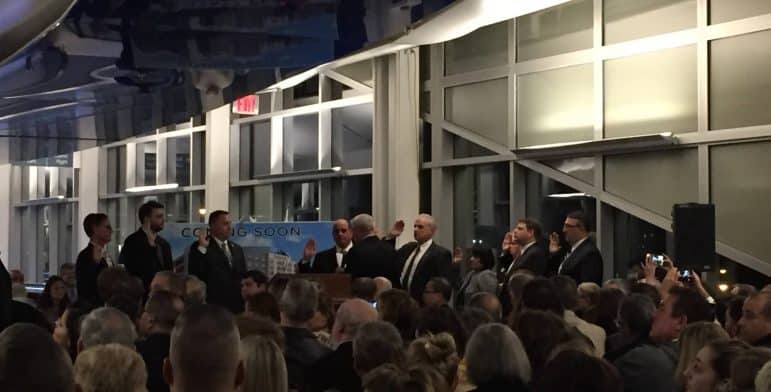 WARWICK, R.I. – Warwick celebrated the inauguration of Mayor Scott Avedisian, the City Council and the School Committee atT.F. Green 's Skywalk people mover Tuesday night.
The Inaugural program featured a prelude by the Pawtuxet Rangers, R.I.M., the Pawtuxet Rangers Fife and Drum Corps and a procession of honor guards from the Rangers and the Warwick Fire and Police Departments.
Councilman Steven Colantuouno served as master of ceremonies. Sophie Colantuono, daughter of Councilman and Mrs. Steven Colantuono, sang the National Anthem. Paige and Savannah Lenney led the Pledge of Allegiance.
The Right Reverend W. Nicholas Knisely, Bishop of the Episcopal Diocese of Rhode Island gave the invocation, the Reverend Kapriel Nazarian, pastor of Sts. Vartanantz Armenian Apostolic Church and Rabbi Jeffrey W. Goldwasser of Temple Sinai offered prayers for public service, and Reverend Robert Marciano, pastor of St. Kevin's Roman Catholic Church, gave the benediction.
Tayler and Hailey Avedisian held the Hearth family Bible as the mayor is sworn in by retired Family Court Chief Judge Haiganush Bedrosian. Avedisian in turn, swore in the City Council and School Committee members. PattiLou Normand sang "Let All Things Now Living," The Episcopal Conference Center Hymn, and "Lord of All Hopefulness." Kathryn Marciano sang "The King of Love My Shepherd Is."
The Warwick Fire Department and Police Department, along with the Rhode Island Professional Firefighters Pipes and Drums, performed during the recessional.
Council members who took the oath of office included Richard Corley, Jeremy Rix, Timothy J. Howe, Joseph Solomon, Edgar Ladouceur, Donna Travis, Stephen McAllister, Joseph Gallucci, and Steve Merolla.
Two School Committee members will be sworn in: Karen Bachus and David Testa.