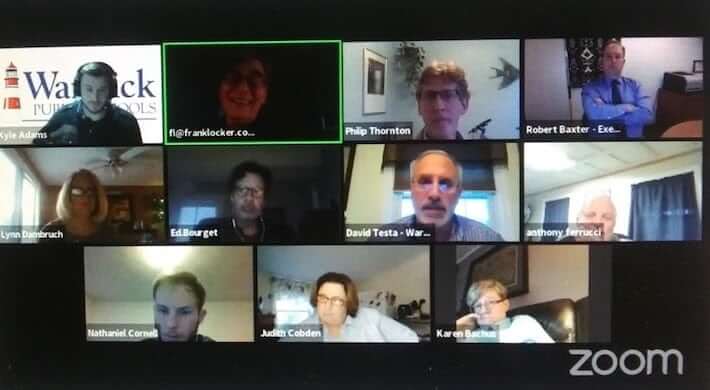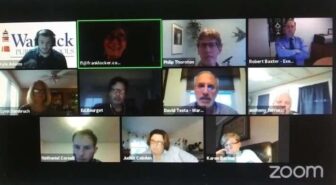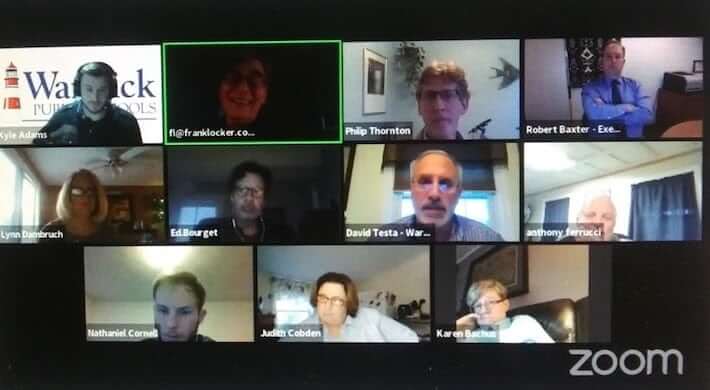 WARWICK, RI – Warwick high schools may be getting substantial upgrades in the next few years, but it will require voter support of at least $137 million in building bonds, the Warwick School Committee learned Tuesday night.
Pilgrim Building Options
There are four building options for Pilgrim High School, said Frank Locker, in charge of Educational Planning, as he presented possible plans for the projects to the Warwick School Committee Tuesday night.
The least ambitious Pilgrim option would cost $137 million. The most expensive option, requiring new construction, would cost $198 million, contingent on construction starting this summer.
Option A, at $137,977, 300, would include a synthetic football field and an addition.
Option B, at $139,410, 015, would include additions to the edges of the courtyards and a new front entryway to provide safety and security.
Option C would include a two-story addition at the front of the building. The total cost would be $176.7 million and the length of construction would be 36 months.
Option D, at $198,720, 845, would include a new parking lot and playing fields.
Toll Gate Building Options
For Toll Gate High School, the least expensive option would cost $122.1 million. The most expensive option would cost $159.1 million.
Option A, at $122,135,750 would include a new athletic field, additional classrooms and labs.
Option B, at $123,838,370 would include a new courtyard in the middle of the building and turn formerly windowless classrooms into windowed classrooms.
"One of the many problems with Toll Gate is it's a windowless building," Locker said.
"Many, many classrooms do not have windows. That makes everything more difficult. It makes ventilation more difficult," he added.
Option C, at $125,424,605 would have a center courtyard, which could serve as an interior food court/mall space with a skylight ceiling, which would be used as a media center. Construction would last for 36 months.
Option D, at $151,314,720, would include a multi-level parking structure with steps modeled after the Spanish steps in Rome to navigate from level to another.
Option D – An alternate option, at $159,170,445 is essentially the same concept as Option C with a courtyard/media center in the middle of the building.
Elements shared in designs for each school
Each school would feature a "community zone" which Locker explained was "one-stop shopping for those most likely functions that the public would be coming to," such as auditorium, gymnasiums, and a cafeteria.
The schools would also have "small learning" communities. Locker noted a range of building design options were developed for each school, from least "invasive" to new construction.
"The goal being to make the kind of buildings you're going to want to own for 50 or 60 years or 70 years as reality sets in," Locker said, noting the state education guidelines indicated Pilgrim's 265,000 square feet was "too small for the population served."
Locker told the committee about the facilities options assessments and the need for a bond vote at the end of 2022. The prices for the high school renovations would escalate from 3.5 to 5 percent at the date of the bond vote.
Committee member David Testa expressed enthusiasm for the proposals,
noting Pilgrim's interior was "completely outdated" and Toll Gate was nothing but "a corridor with rooms."
"We're trying to make relationships," Locker said, adding: "We're trying to have people working with each other. It means making strategic modifications to the existing buildings."
Building Committee Unveils New Website
The Warwick Schools Building Committee's new website was unveiled. The address is www.warwickschools.org/bc.
Anthony Ferrucci, the district's former Chief Budget Officer, serves on the committee and described the features to the school committee.
The site details the origins of the committee, its' responsibilities, the various bond phases, and the building projects already in development. There will also be photos of building projects in progress.
The site includes a bidding tab for vendors who are interested in bidding and for community members to understand the process.
Ferrucci pointed out a closed bond bid list, which includes ADA playgrounds for the elementary schools.
Visitors can also access agendas, meeting minutes, and cash release requests. They can also be added to the building committee's e-mail list.
Ferrucci added the new website would be "more fluid in the course of the next couple of years."
Testa said he was impressed by the new and improved site, telling Ferrucci: "You appealed to the geek side of me with all the information that's in there."