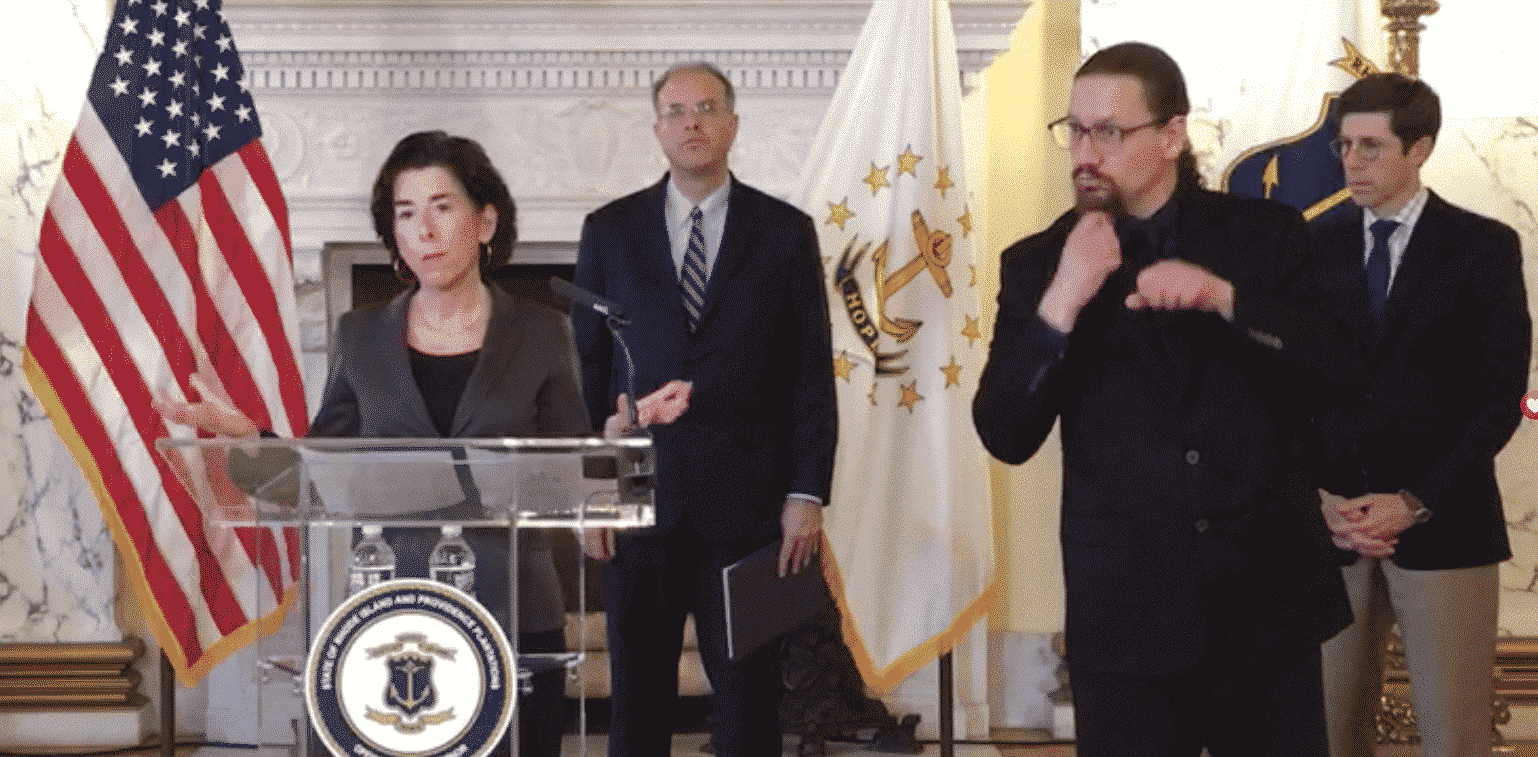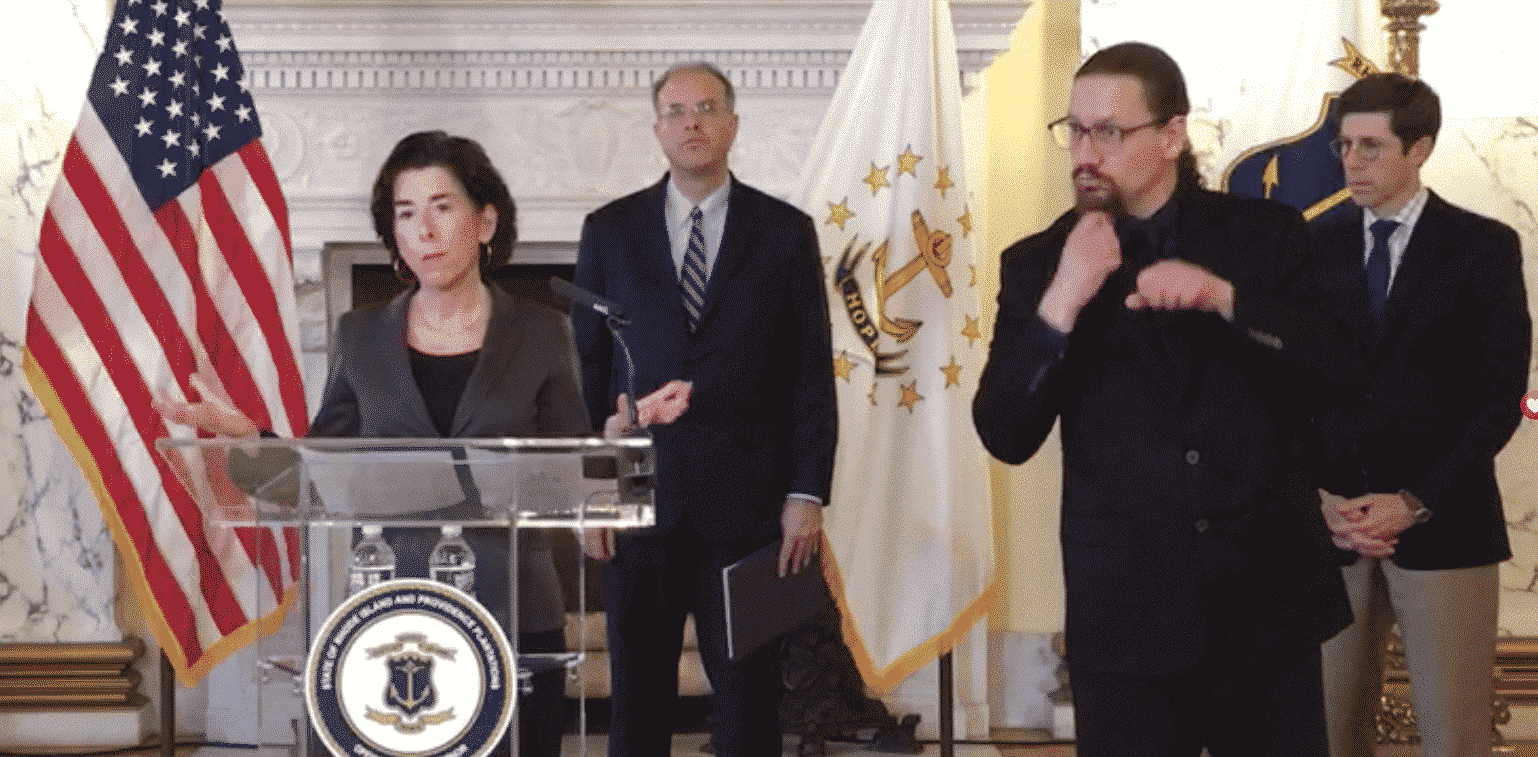 Editor's note: This article and and most of our COVID-19 related news is free to the public to ensure people have access to life-saving information. If we've helped you, and you're able to help us, we would appreciate your subscription for either $1.50/month or $15 per year.
PROVIDENCE — Saturday,  Gov. Gina Raimondo reported the first two RI COVID-19 deaths, limited gatherings to five people, and began a stay-home order except to get food, medicine and other essentials until April 13.
"Unfortunately I need to begin today's press conference on a sober note by reporting our first two deaths in the state of Rhode Island on account of coronavirus," Raimondo said during her daily State House press conference on the spread of the coronavirus that causes COVID-19.
Both persons had underlying medical conditions according to the Rhode Island Department of Health (RIDOH). One individual in their 80s died Friday, March 27, at night and the other individual in their 70s died today.
Raimondo acknowledged the possibility of deaths from the outbreak has loomed over the state for weeks now. "These are the first two deaths and will certainly not be the last two," Raimondo said. "We take all of them seriously. Our hearts, and thoughts and prayers go out to the families. Know that we are with you and all of the health care system and all the providers are doing all that we can to keep Rhode Islanders safe."
While all dine-in service has been shut down for days, take-out food services and grocery stores are not included in the stay-at-home order, Raimondo said.
Raimondo urged all Rhode Islanders to take the stay-at-home and gathering limit seriously, noting the dire threat of COVID-19, for which people have no immunity, no vaccine, no drug treatment and limited medical supplies.
"Today I reported two deaths and there will be more," Raimondo said. How many more depends on how seriously Ocean State residents take the social distancing order.
Raimondo said so far, she estimates about a 50 percent compliance with the order, which has to dramatically improve to minimize spread of the disease and limit additional deaths.
Raimondo described reports of crowds gathering at the Narragansett beach sea wall, people grouping in big-box stores and at parks and beaches in groups larger than ordered.
So, she said, she was issuing the stay-at-home executive order and limiting gatherings to no more than 5 people.
Stay at home / Groups of five orders
Rhode Islanders are ordered to stay at home unless they are securing essential supplies, Raimondo said, such as groceries, take-out food, gas for their vehicle or pet food.
If you need food and can have it delivered, that should be your first option, said Director of Health Nicole Alexander Scott.
People may leave for a walk or to visit a park, she said, but they must not do so with more than five people.
The five-person grouping limit applies inside as well as out. "If you are in close proximity to more than five people at any time, you're doing something wrong," Raimondo said.
Not only should you limit contact to no more than five, but it should be the same five people consistently during the duration of the crisis.
If you are sick in any way, you must stay at home. "If you have the sniffles, you have to stay at home. Period," Raimondo said.
All police departments are enforcing distancing, sometimes with tickets, Raimondo said.
All interstate travelers must quarantine for 14 days
Raimondo also extended her earlier order for travelers from New York state to quarantine for 14 days to now include travellers from all states.
Raimondo said on Saturday that National Guardsmen began going door to door to vacation homes to speak to people who have come to the state from New York to get their contact information and to ensure they are aware of the order to self-quarantine – meaning to stay inside – for 14 days.
Quaratine, said Alexander-Scott, means staying inside even if you need to get essentials such as food and medicine. In such cases, the quarantined people must have someone else get them the supplies they need while they remain inside.
Non-essential retail businesses: Doors closed, online-only
Because of numerous reports that social distancing orders are not being obeyed, Raimondo said, she is also ordering all non-essential retail stores to shut down. This does not impact restaurants or bars, which are still allowed to open for takeout or delivery only.
Starting Monday, all non-critical retail businesses must shut down the doors of their physical stores. Online and remote sales are still allowed at those businesses, the Governor said. The shut-down includes clothing stores and gift shops. The full list of closed, non-essential businesses, is as follows:
Arts & crafts stores
Florists – Furniture stores (by appointment only)
Car and other motor vehicle dealerships (except for auto repair and by appointment only)
Music stores
Billiard stores
Sporting goods stores
Home furnishings stores
Lawn/garden supply stores (note that agricultural/seafood supply would be allowed to be open)
Book stores
Departments stores
Gift stores
Beauty supply stores
Second-hand/consignment stores
Shoe stores – Clothing stores
Jewelry stores
Critical retail businesses include:
Food and beverage stores (e.g. supermarkets; liquor, specialty food, bodega and convenience stores; farmers' markets; food banks and pantries)
Pharmacies and medical supply stores, compassion centers
Pet supply stores
Printing shops, mail and delivery stores and operations, office supply
Gas stations
Laundromats
Electronics and telecommunications stores
Industrial, construction, agricultural/seafood equipment and supply stores, hardware stores, general power equipment
Funeral homes
Auto repair and supply
Banks and credit unions – Firearms stores
Healthcare and public safety professional uniform stores
And other stores and businesses identified as critical by the Department of Business Regulation
"This is a step that I take reluctantly," Raimondo said. But gift shops and smaller retail shops are too often filling with too many people, too close.
Raimondo encouraged people to continue to shop at such businesses, but to do it online.