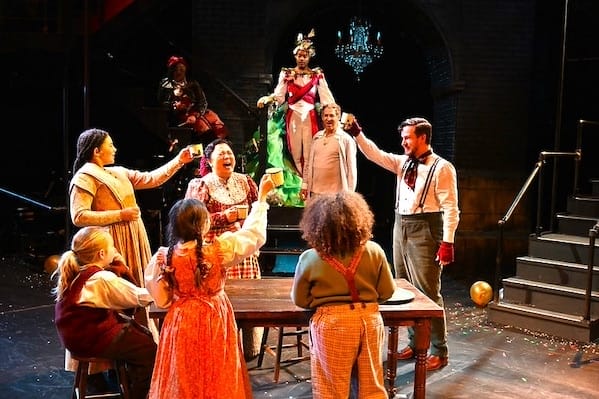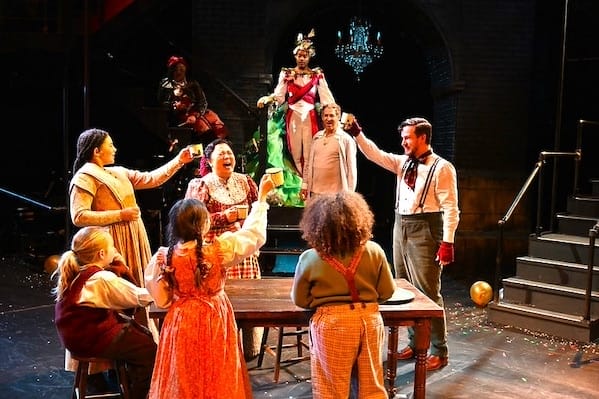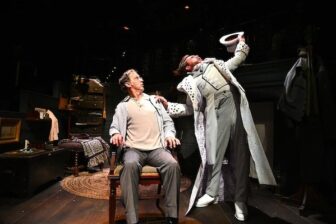 PROVIDENCE, RI — At its heart, Charles Dickens' "A Christmas Carol" isn't really about Christmas at all. It's a story about redemption and how a person can overcome their past sins to find true happiness again.
It's this theme which draws patrons back to Trinity Repertory Company every year to see this show.
Stephen Thorne, a longtime company member, adapted and directed the latest production, which opened Nov. 9 and runs Dec. 31 in the cavernous Chace Theater. 
Mauro Hantman ("The Inheritance") makes for a compelling Ebenezer Scrooge, the stingy businessman who ignores pleas for charitable donations for the poor, berates his long-suffering employee Bob Cratchit (Kevin Patrick Martin), and lives a lonely existence.
Scrooge is perpetually angry and actively resists the spirit of the holiday season. One night, he has some surprise guests who take him on a journey through his past, the present, and the future.
The story is told in a series of set pieces. Jacob Marley, Scrooge's long dead business partner, emerges from the stage floor, accompanied by a contingent of spirits. 
Rodney Witherspoon II is a truly terrifying Marley as he speaks in a disembodied voice and warns Scrooge to change his ways or else he will suffer eternal damnation.
Jeff Church ("By the Queen") gives a superb comic performance as The Ghost of Christmas Past. Wearing a sparkling white suit which looks like something you'd find hanging in Elton John's closet, Church appears in Scrooge's fireplace and makes drily sarcastic observations. 
Taavon Gamble ("Sweeney Todd") is wonderfully flamboyant as The Ghost of Christmas Present. Gamble brings a sheer force of personality to the character and expresses raw fury as he scolds Scrooge for his lack of compassion.
Other standouts in the ensemble include Trinity vets Phyllis Kay, Jackie Davis, and Richard Donnelly in multiple roles; Jenna Lea Scott as a feisty Mrs. Cratchit, and Alison Russo as Fred, Scrooge's devoted nephew.
Thorne's staging is imaginative and he has collaborated with a skilled group of technicians to bring "A Christmas Carol" to life. Michael McGarty's Gothic set design includes a catwalk which serves as a crucial element to the storytelling. The action is staged "in the round," which lets the audience become part of the show. 
Toni Spadafora-Sadler's costumes and James Horban's lighting create an alternately ominous and cheerful mood, depending on where Scrooge is in the story. 
The orchestra, led by Michael Rice, provided accompaniment for the show's vibrant musical interludes. The music was composed by Richard Cumming.
Ultimately, the success of the production rests on Hantman's shoulders. He has to be able to sell Scrooge's transformation from a selfish old miser to a budding humanitarian. If the performance doesn't work, then the story doesn't work.
Hantman is able to convey the character's inherent cruelty and even brings some psychological depth to Scrooge. He's a man who has been haunted by his past misdeeds and lashes out at anyone who crosses his path, even small children like Cratchit's young son, Tiny Tim (played by a fine young actor named Luca Anderson). 
 "A Christmas Carol" is spectacular entertainment. Trinity Rep. obviously pulled out all the stops here. It's not only a terrific holiday story, but a compelling theatrical experience as well. It's humorous, sometimes sad, and always compelling. This is the best way to celebrate Christmas.
A Christmas Carol runs through Dec. 31 at Trinity Repertory Company. 201 Washington St., Providence.
For tickets, call  (401) 351-4242  or visit trinityrep.com/carol.