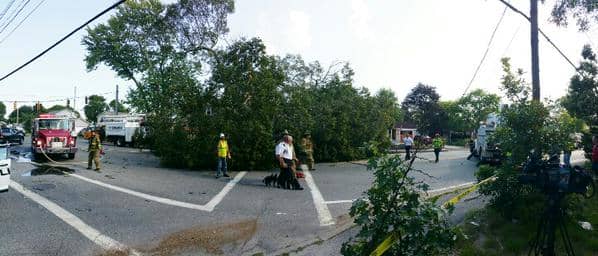 Editor's note: An earlier version of this story incorrectly reported the number of cars trapped by the fallen tree. That information has been corrected.
UPDATE – 7:15 p.m.: Assistant Fire Chief Bruce Cooley reports two people suffered minor injuries when a tree damaged by numerous past storms fell over at the intersection of West Shore Road and Main Avenue today at 3:30 p.m., trapping three cars and their passengers.
Cooley said Warwick firefighters had to wait about 30 minutes for National Grid to ensure downed power lines were not live before they could help the passengers out of their vehicles.
Firefighters helped the three women and one man from the vehicles. Only two of them were transported to the hospital with minor injuries.
4:30 p.m.
Warwick, RI – A tree fell across West Shore Road today at about 4 p.m., trapping three cars with people inside.
The tree also brought down live wires, according to a report on Twitter from @RIStatewide, which also provided photos of the incident.
Warwick Firefighters responded to aid the car's occupants. A Twitter report from @EverettTrainer said Warwick Police and two rescues also responded to the scene.
Channel 12 reports a man trapped inside his car for about 30 minutes walked away unharmed.  In a video posted to Facebook, a woman describes the emergency response, which included five fire trucks including a ladder truck.
Warwick Post will update this story as more information becomes available.