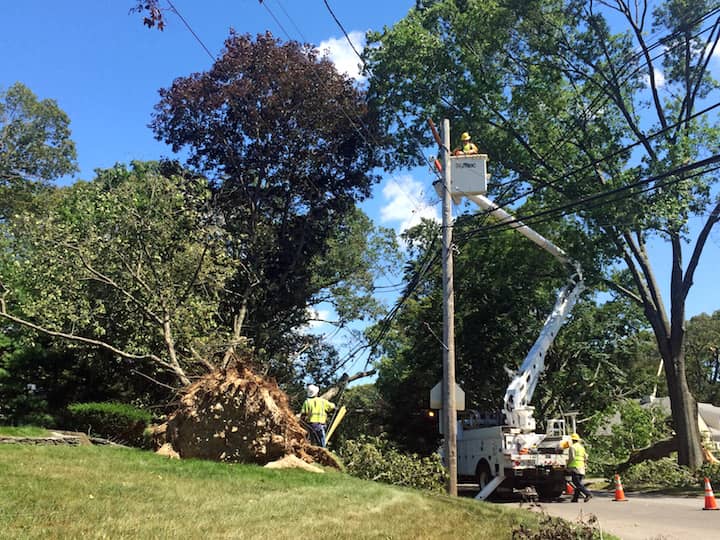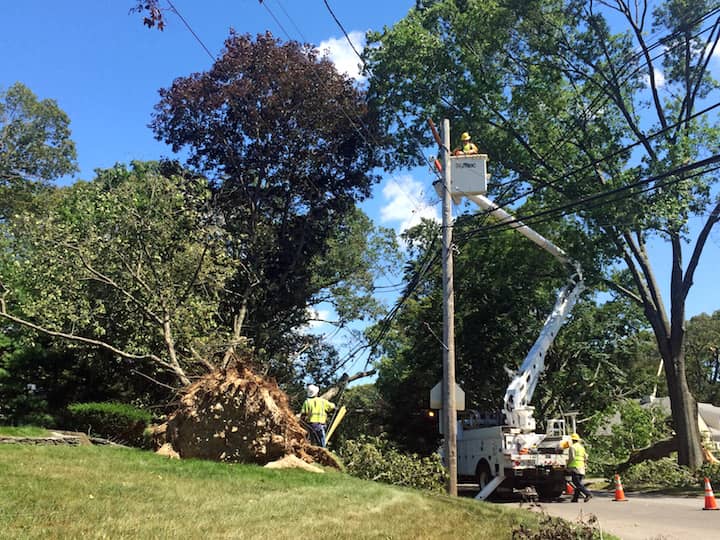 UPDATE: Aug. 6, 4:57 p.m. – Rep. Jared R. Nunes (D-Dist. 25, Coventry, West Warwick) has called on Gov. Gina Raimondo to declare a state of emergency in the towns of Coventry and West Warwick, along with the city of Warwick in the wake of a storm.
"These three communities were hit severely by the storm, and the hardships these families and businesses are going through are devastating," said Representative Nunes. "If we had a disaster declaration for these three areas, the assistance with the cost of cleanup would soften the blow to many of these residents."
If a state of emergency is declared, Nunes said, aid would be available from CommerceRI and the U.S. Small Business Administration.
Warwick, RI – Johnston and Pawtucket are lending resources to aid Warwick's cleanup following Tuesday's tree-toppling storm, and state reps are exploring financial support for local businesses affected by the storm.
Johnston MayorJoseph Polisena is sending three Department of Public Works employees, along with a chipper and two trucks to assist the Warwick DPW with cleanup of hard-hit areas throughout the city, said Warwick Mayor Scott Avedisian in a release Wednesday. Pawtucket MayorDonald Grebien has also offered manpower and/or equipment to help with the effort, Avedisian said.
"On behalf of all of our residents and businesses that were affected by the storm, I extend a heartfelt thanks to Mayors Polisena and Grebien, their department directors and employees for their willingness to help our community in this time of need," Avedisian said. "The spirit of cooperation that exists among and between Rhode Island's cities and towns helps us to do our jobs more effectively, and, in this case, will help our Warwick's citizens return more quickly to their day-to-day routines. Their offer of help will long be remembered."
Rep. Joseph M. McNamara (D-Dist. 19, Warwick, Cranston) joined Gov. Gina Raimondo as she toured the city yesterday to assess the damage caused by the storm. Raimondo also met with Speaker of the House Nicholas A. Mattiello (D-Dist. 15, Cranston), after the Speaker's own tour of Cranston, according to the Legislative Press and Information Bureau.
As Mattiello toured Oaklawn Avenue, witnessing the number of businesses that have been shut down for two days now, he announced plans to meet with officials from Commerce RI, as well as the U.S. Small Business Administration to find out what financial resources are available to those businesses that have been affected by the storm.
McNamara (D-Dist. 19, Warwick, Cranston) echoed that concern about business assistance as he toured affected areas of the city today with Governor Raimondo and Mayor Scott Avedisian.
"I'm particularly concerned for the elderly in Warwick," said Representative McNamara. "I've spoken to several with electric garage door openers, who are unaware that the doors can be opened manually. I'm sure their neighbors would be more than willing to come over and assist them, so they can get out and buy food and groceries."