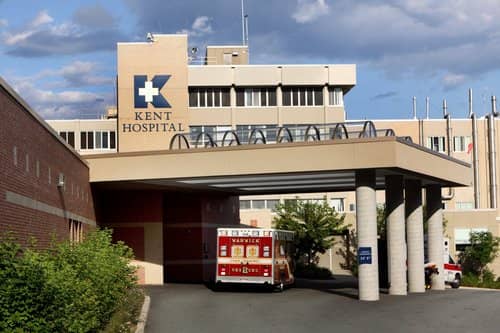 WARWICK, RI  —  A Warwick man faces a larceny charge after the 2019 Volkswagen Jetta he was rifling through at Kent Hospital Sept. 21 at 2:09 p.m. sent an alert to the smart phone app belonging to its owner, a Kent Hospital guard.
Officer Rose Michel was called to the corner of Toll Gate Road and Commonwealth Avenue, where the Jetta's owner, a hospital security guard, had apprehended the man, later identified as Raymond Seely, 46, of 30 Washington St., Apt. 710, Central Falls, RI, according to the officer's report.
Two hospital security guards were on the scene when Michel arrived. The officer who owned the Jetta and another, according to the report.
The car's owner told Michel that after the app alerted him that his car's door was ajar, he checked on it, finding Seely inside. When he called to the man, he fled on foot west on Toll Gate Road, and the Jetta's owner and another hospital guard pursued, according to the report.
The Jetta owner chased him, with the second guard following in a security car. The Jetta owner caught up to and detained the thief, who had taken the man's $40 toiletry bag, which contained a military compass worth $300 and a spare Jetta key valued at $400.
Michel arrested Seely and charged him with one count of larceny under $500.