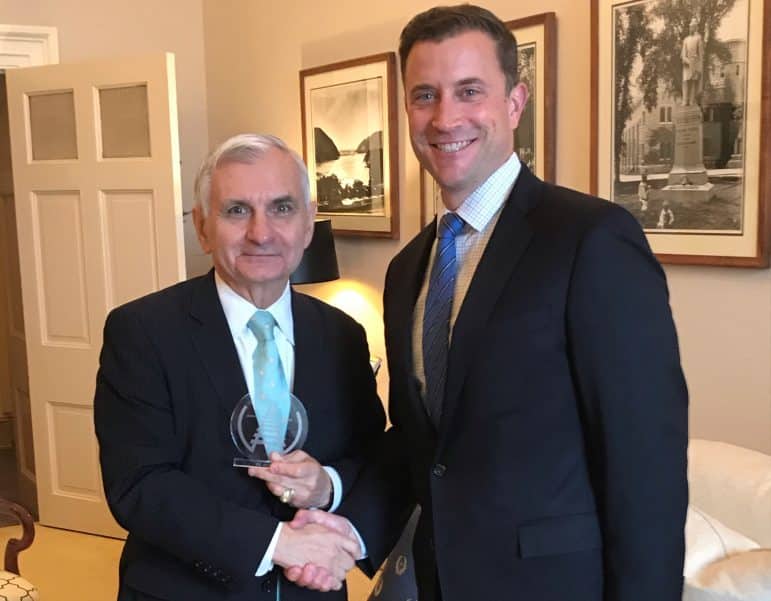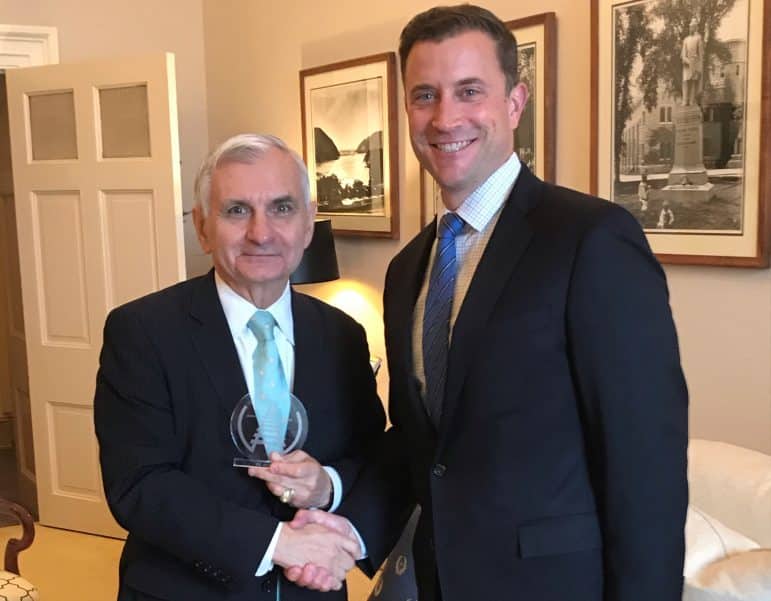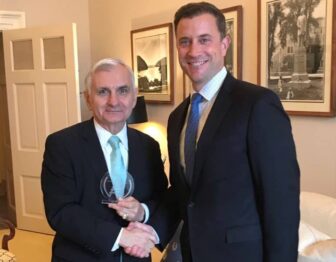 WASHINGTON, D.C. –  Sen. Jack Reed (D-RI) the top Democrat on the Subcommittee on Transportation, Housing, and Urban Development (T-HUD),  received the Railroad Achievement Award recognizing his leadership on freight and passenger railroad issues.
Reed is this year's first recipient of the award, created in 2017 and presented by the Association of American Railroads and GoRail.
AAR president and CEO Ian Jefferies presented Sen. Reed with the award in his D.C. Senate office.
"Senator Reed is a proven leader in forging bipartisan solutions through the Appropriations Committee, including policies related to economic development and U.S. infrastructure," said Jefferies. "Senator Reed deserves immense credit for backing grant programs to support public-private partnerships like the CREATE program in Chicago, helping keep controversial riders out of appropriations bills and fighting for funding for grant programs to improve highway-rail grade crossings, as well as passenger rail."
The Railroad Achievement Award is given to members of Congress who have shown leadership on policies that help ensure the vitality of railroads in the United States. Award winners like Reed have shown a deep understanding of the distinct role railroads play in the American economy and the need for safe and efficient operations made possible through sustained investment, Jefferies noted in the private award presentation. The AAR leader spotlighted a few particularly important policies, such as:
Protecting investments in important discretionary grant programs that invest in transformative rail and multimodal projects to expand our freight transportation network, including $1 billion for BUILD and $255 million for CRISI in the FY 2020 Senate bill.
Fighting the inclusion of riders in annual appropriations bills, including the expansion of commercial truck size and weight limitations that would further damage U.S. highways and bridges.
Providing essential resources to improve safety at grade crossings, including $245 million for the Section 130 highway-railway grade crossing program in the FY 2020 Senate bill.
Ensuring sustained, robust funding for Amtrak, including $2 billion in the FY 2020 Senate bill.
"Senator Reed knows from personal experience how investment in freight rail infrastructure supports local jobs and economic growth, having secured the funding needed to improve rail access at the Quonset Business Park and the Port of Davisville – which together support nearly 12,000 jobs and $4.3 billion in economic output in Rhode Island," said GoRail President Russell McGurk. "Thanks to his efforts, Rhode Island companies can 'go rail' to connect to markets across the United States and worldwide safely, economically and sustainably."