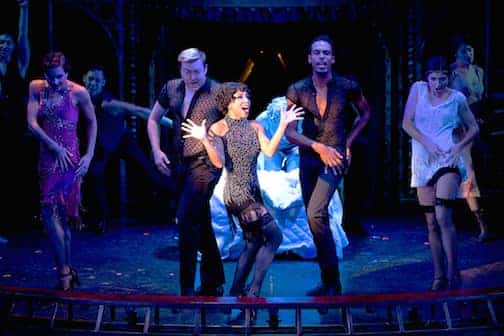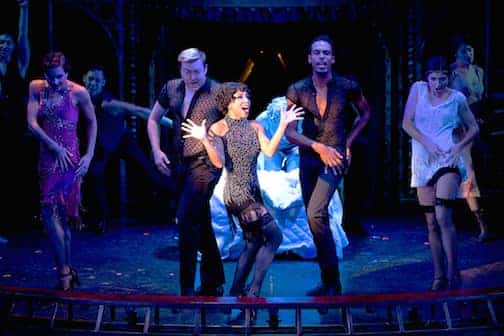 WAKEFIELD, RI — "Chicago" is a musical with a lot of energy and style. This sizzling production with songs by the famed composers Kander and Ebb, tells the tale of vixens Roxie Hart and Velma Kelly in the world of 1920s Chicago. The rough and tough city is the scene of betrayal, deception, illicit romances, and murder.
In a fit of passion, Roxie murders her no-good lover Fred (Maverick Hiu) and hires hotshot attorney Billy Flynn to defend her in court.
While in prison, Roxie earns the jealousy of hard-bitten Velma, who once had a successful show business career before ending up behind bars. The two women are seeking freedom of course, but what they want most is fame. "Chicago" demonstrates the lengths people will go to in order to achieve celebrity.
The vibrant performances made this show a success.
Jessica Wockenfuss brought an appealing mix of sexiness and vulnerability to Roxie, who becomes intoxicated by fame.
Michelle Alves was every bit Wockenfuss' match as the fiery Velma, who showed plenty of grit and determination in an effort to regain her place in the spotlight.
Matthew J. Taylor plays Flynn in an amusing tongue in cheek way and looks great in a tux. The suave and ultra-confident barrister is clearly having a blast while surrounded by a troupe of scantily-clad women holding huge feather fans.
The buxom Tarra Connor Jones is a lot of fun as the sassy prison matron, Mama Morton. Her showstopping performance of "When You're Good to Mama" brought down the house. Jones and Alves were charming on the ballad "Class," a lament of our society's deteriorating manners. The song takes on extra significance when you consider who is currently sitting in the Oval Office.
Kevin Loreque was gregarious and charming as Roxie's beleaguered husband Amos, who laments his lack of recognition in the poignant "Mister Cellophane."
Chicago has terrific music and dancing, but also is a sly commentary on our celebrity-crazed culture. Billy Flynn is a lawyer who basks in his notoriety, as does Roxie and Velma. They are unapologetic murderers and the public loves them, until they find someone else to fawn over.
The set design by Kyle Dixon was simple but elegant. Paula Peasley-Ninestein's costumes were flamboyant and stylish.
With the beautiful women, hunky male dancers, and superb choreography, this is a show with plenty of razzle-dazzle and the perfect closer to Theatre by the Sea's summer season.
"Chicago" runs through Sept. 9. Theatre by the Sea. 364 Card's Pond Road, Wakefield, RI
Tickets are on sale at the box office Monday through Saturday from 11 a.m. – 6 p.m., Sundays from 12 noon – 5 p.m. and performance days until curtain, online 24-hours-a-day at www.theatrebythesea.com and via telephone during normal box office hours by calling (866) 811-4111 or (401) 782-TKTS (8587).