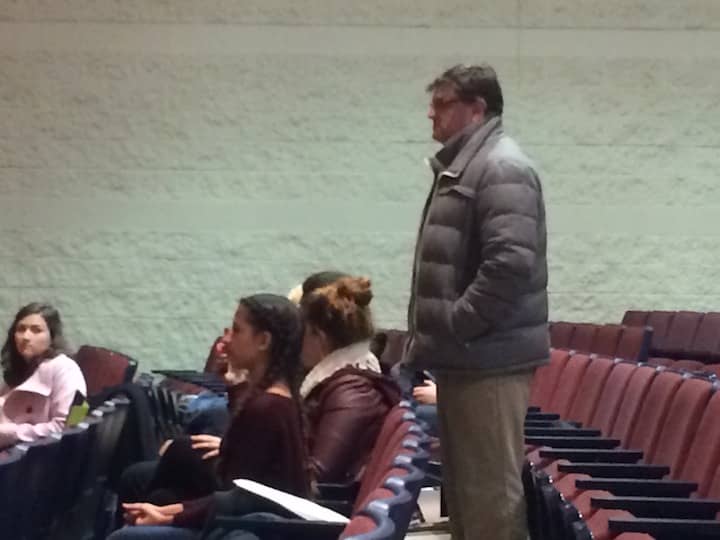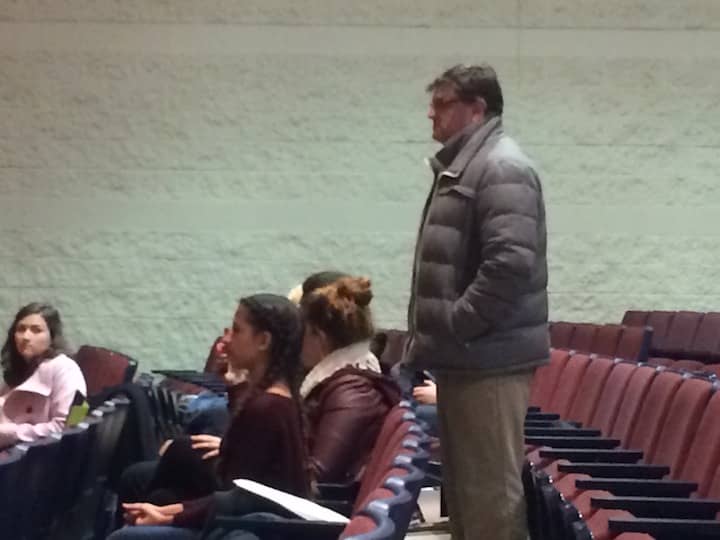 WARWICK, R.I. — Teachers and students at Tuesday's School Committee meeting insisted three-hour detention for the 100 student walkout protesters Dec. 21 demonstrating against special education practices was punishment for the protest, not the truancy, while Vice Chairman Eugene Nadeau called for suspending the demonstrators.
Nadeau's suggestion that Warwick Public Schools double down on the punishment came a day after the ACLU of RI admonished any alleged stricter-than-normal penalty for skipping class based on the protest rather than the absence from class. His statement came minutes after that of fellow School Committee member Karen Bachus, who referenced the ACLU of RI statement warning stricter than normal punishment would violate students' First Amendment rights.
"This was an absolute outrage to the Warwick School Department," Nadeau said near the end of the meeting, stating that by leaving school during final period the students (many of whom are 17 and 18-year-olds) put themselves in danger, and might have been killed during their trips to the School Administration office from Toll Gate and Pilgrim High. He added, "Suspension is absolutely required, the code of ethics must be adhered to."
In fact,the Warwick School Department Student Code of Ethics doesn't address the the penalty for cutting class directly, though it is listed among the "Actions which Result in Suspension and/or Other Disciplinary Measures."
On Monday, Thornton admitted the document does not spell out the punishment for that particular offense.
Nevertheless, if you want to protest, Nadeau said, do it on your own time, and away from the schools.
"How about next week on Martin Luther King Day?" retorted Pilgrim High School English Teacher Jason Huddon, who moved to stand behind three of the protesters, organizer Zach Colon, Senior Class President at Toll Gate, Alicia Censabella and Julia Sharma-Mathias, seated in the center of the auditorium at Toll Gate High School.
"They don't need to be bullied," Huddon told Nadeau, "Martin Luther King said whatever happens to the least of us, happens to all of us. In order for me to be my best, they have to be their best. Are you your best, right now? That is the question."
The statement was received with cheers from the 60 people in the audience.
"Warwick now has become a bit of a laughing stock again, and the ACLU is involved," Bachus said. "Thank you very much. What could have been used as a teaching moment became a debacle where we're being questioned by the ACLU.
Now, I happen to have had the opportunity to review some media that showed a couple of administrators looking out windows or creeping around doorways, looking at what's going on, outside, instead of going out and speaking to those students and finding out what their grievances were and trying to use it as a teaching moment, which is why we are here. Which is why I get so freaking angry."
Nadeau's suggestion was not voted on or commented on by the Committee. David Testa, attending his first meeting since his election to the board Nov. 8, said his fellow Committee members made unsuccessful efforts to stem t he Vice President's comments on the subject.
Earlier, at the start of the public speaking portion of the meeting, teachers and students challenged the word of Superintendent Phil Thornton and Pilgrim High Principal Jerry Habershaw, who contend three hour Friday suspension is the norm for cutting class.
"No student that I have ever written up for skipping class has ever received three hour detention," said Michelle Landrie, a Toll Gate High chemistry teacher. She said she confirmed that by checking on students who skipped class in the school's Aspen Student Information software.
"I can only conclude that these students were assigned a Friday detention was because of the statement they were trying to make. Specifically, that the current education practices as applied in our schools are entirely inept, and are actually hurting the most vulnerable students in our schools."
Just because the central office doesn't like that statement, Landrie said, doesn't give them the justification for such a severe punishment. "Shame on the School Administration for playing fast and loose with the rules, and shame on the School Committee for empowering them," Landrie said.
Sharma-Mathias, an aspiring lawyer, noted she was denied an appeal to defer her detention to attend a mock trial that afternoon. Though she addressed her email request to Thornton, her denial came from Chief Academic Officer Sheryl Rabbitt instead.
In the reply, Sharma-Mathias said, Rabbit noted the detention was leveled, " 'resulting from your involvement in a recent student protest,' " Sharma-Mathias said.
"I have evidence now that we are being punished because of our participation in a protest, in using our First Amendment right to freedom of speech," Sharma-Mathias said. He comment was greeted by cheers and applause.
Bachus also took issue with the response to Sharma-Mathias not being handled by Thornton.  "It kills me that Mrs. Rabbit had to answer that on behalf of Superintendent Thornton. For Pete's sake, who is the superintendent here?. It was addressed to the superintendent. Mrs. Rabbit, would you like to be the Superintendent? Perhaps we could arrange it."
In response to statements that their protest was dangerous, Censabella told the Committee that police officers approached them and thanked them for "being so great" while rallying in front of the school administration building.
"We had these officers thank us. That is not a safety risk," Censabella said.
Matt Hodge, a history teacher at Toll Gate, responded to Thornton's statement about the protests in December attributing them to the organization of teachers in the district.
"I assure you, I did not encourage him (Colon) to miss my class that period. I admire their initiative," he said.
"I think that it is disturbing that you would think that we cannot have a mind of our own," Colon said during his two-minute speaking time.
Colon directed attention briefly back to the heart of the matter, what he said are unfairly large class sizes for special needs students with federally protected Individual Education Plans (IEPs), robbing them of their required teaching time. He called for an independent investigation into special education at Warwick Schools, outside the RI Department of Education, to ensure an unbiased report.
After taking his seat, Hodge disputed the three hour Friday detention was standard for skipping class. "If they say that's the standard punishment, then I'd like to see it, because they have not been exercising that," he said.
The meeting's decorum was stretched threadbare throughout its final moments. Testa and Bachus interrupted School Committee Chair Beth Furtado near the end of the public comment session, mistaking her introduction to member comments to be an adjournment.
"I'm not done," an exasperated Furtado replied.
During Nadeau's remarks, Landrie strode from the auditorium, stating she was "So upset. You disgust me."
When Nadeau said that the audience's protests were causing the late Toll Gate Principal Stephen Chrabaszcz to spin in his grave, Nathan Cornell approached the mike.
"I would like everyone to listen to the noise. That noise is the late beloved Principal Stephen Chrabaszcz, turning over in his grave because of the disprespect shown to the reputation of Toll Gate High School and Pilgrim," Nadeau said.
"How dare you! Mr. Chrabaszcz was a great man. He would've backed these students. How dare you disgrace the memory?" Cornell said.
The meeting adjourned as more cries from the audience rang out amid applause for Cornell's comment.
After the meeting, Thornton said he stood by Habershaw's statement about the detention for the protesters being routine. He also noted that during hours students are supposed to be in school, administrators are responsible for students' safety, even if they skip class to do something else.