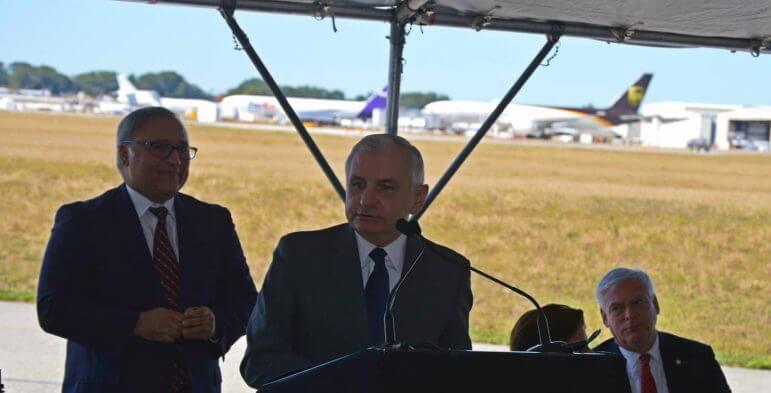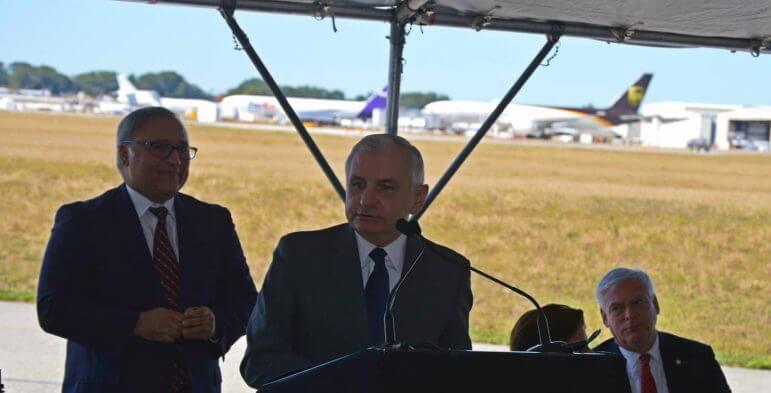 WARWICK, RI — On Monday, Mayor Scott Avedisian joined Governor Gina Raimondo, Senators Jack Reed and Sheldon Whitehouse, Representatives Jim Langevin and David Cicilline, other state and local officials to celebrate the completion of the T. F. Green Airport runway extension, part of a nearly $250 million Airport Improvement Program at the airport.
Reed, the Ranking Member of the Appropriations Subcommittee on Transportation, Housing, and Urban Development and Related Agencies (THUD), helped direct roughly $110 million in federal funding to extend the runway and modernize the airport.
The longer runway has made it possible for the airport to accommodate larger aircraft and add non-stop service to Europe and the West Coast, according to a release from his office. Reed said the extended runway helps attract new tourism, jobs, and business to Rhode Island.
Reed credits FAA Administrator Michael P. Huerta, who will be attending the event, with being a strong supporter of the expansion and a force for making it happen.  In 2011, the FAA approved plans for T. F.Green to extend the primary runway, Runway 5-23, to the south by 1,530 feet to a total length of 8,700 feet.  As part of this overall improvement plan, the airport also expanded the runway safety area on the Runway 16-34 and added an engineered materials arresting system (EMAS) that will create an enhanced runway protection zone.  Administrator Huerta and his FAA team came up with a plan to provide over 60 percent of the funding for this runway, as well as additional investments in runway safety and noise abatement.
Reed has worked closely with Warwick Mayor Scott Avedisian, state and local officials, and the Federal Aviation Administration (FAA) to get the project off the ground and see it through to completion.
"With the safety enhancements and runway expansion complete, we look forward to continued partnership with RIAC  (RI Airport Corporation) and other stakeholders to ensure that T.F. Green Airport remains a top rated airport and a driver to help grow our local business economy with its proximity to the City Center Warwick," said Avedisian.
Separately, Reed helped bring the airport and Rhode Island Infrastructure Bank together to finance a glycol (de-icing fluid) treatment facility through the federally funded Clean Water State Revolving (SRF) program.  The low interest loan under this program will save the airport an estimated $4.5 million in interest.  Earlier this year, Reed worked with the airport and the U.S. Department of Homeland security to secure necessary approvals for expanded international service.
"The airport is a great asset and a key piston in the state's economic engine.  I am proud to have delivered federal funds to make these improvements.  In addition to new air service and increased travel options, this extended runway is expanding opportunities for the state to attract new business and investment.  I think Rhode Island is very well positioned to compete now and in the long-term," Reed said.  "There was a lot of hard work, and some turbulence in getting to this point, but it is great to see this forward looking investment cleared for takeoff."