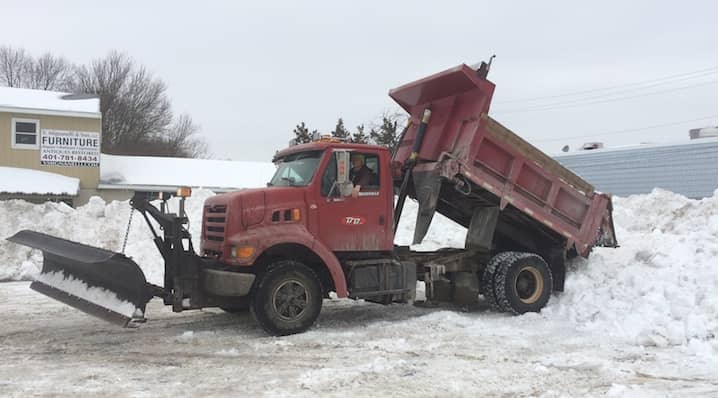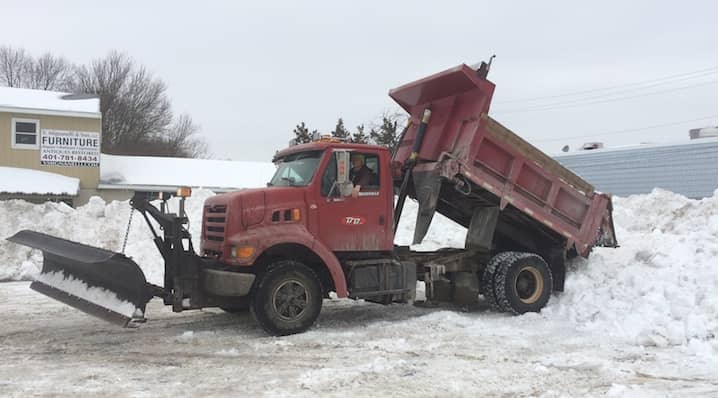 WARWICK, RI — There's heavy snow on its way early tomorrow at 1 a.m. – at least 6 to 8 inches, according to the National Weather Service, and Mayor Frank Picozzi says the city will start pre-treating roads tonight before the snow starts falling.
While the NWS expects total snow accumulations of 6 to 8 inches,  up to 10 inches possible, especially in southeast Massachusetts, it says in its Winter Storm Warning.  Picozzi also announced a parking ban starting at 6 p.m. Thursday.
"We will begin pre-treating the roads tonight before the snow starts. Main roads such as Main Ave., West Shore Road, Post Road, Warwick Ave. etc, are state roads and are taken care of by the RIDOT. City main and secondary roads such as Sandy Lane, Tidewater Drive, Buttonwoods AVE, Jefferson Blvd, etc are our responsibility and we treat and plow them. We plow neighborhood roads but the city does not treat them because the cost would be astronomical because we have nearly 2000 roads," Picozzi wrote on his Facebook page.
"Our manpower is somewhat depleted because of illness but we're taking whatever steps we can to get the job done as quickly and efficiently as possible," Picozzi said.
Although Picozzi had planned to run trash pickup as usual Friday, RI Resource Recovery, which governs the state landfill informed Warwick at 3:07 p.m. that decided to not open tomorrow, Picozzi said in a text update.
"This means that our trucks that are out collecting now cannot go and dump their loads today because the landfill closes at 3:30 and will not be able to dump in the morning as we usually do. So the trash will be picked up Saturday and if by chance the routes aren't finished, we'll get it on Sunday. I'm very sorry for this inconvenience."
Snow cancellations
UPDATE: Warwick Public Library closed for the day. "We will see you on Saturday!" the library announced on their Facebook page.
Warwick Schools have cancelled in-person classes for the day Friday, Leah Hazelwood wrote on behalf of Warwick Public Schools on the Community of Warwick Schools Facebook page.
"On behalf of Lynn Dambruch, Superintendent of Warwick Schools, I'd like to inform you that due to the current forecast of a winter storm and for safety purposes of all students and staff, all Warwick School buildings will be closed, Friday, January 7, 2022. This will be a distance learning day for all students and faculty. School Principals will be sending further information regarding attendance, schedules and remote learning instructions. Administrative offices will also be closed and staff will be working remotely."
Several area businesses, schools and services had cancelled classes or activities for Friday. Here are those listed in Warwick as of 5:30 p.m. Thursday, posted to the RI Broadcasters Association page:
Warwick Public Schools

: 

Distance Learning Day Monday; Friday -Admin Working Remotely

West Bay Collaborative

: 

Distance Learning All Programs 1/7; Admin and staff work remotely

Eleanor Briggs School

: 

Distance Learning Day Monday; Friday

Sargent Rehabilitation Center

: 

Distance Learning Day Tomorrow; Distance Learning Day 1/7; business/operations report

St Kevin School

: 

Closed Tomorrow; No DL

St Kevin School

: 

Closed Tomorrow; No DL

St Peter School

: 

Closed Tomorrow

St Rose of Lima School

: 

Closed Tomorrow

NE Inst. of Technology

: 

Campuses closed on 1/7 except for ; EB classes; Staff work remote

Boys and Girls Club – Warwick

: 

Closed Tomorrow; All locations

Boys and Girls Club – Warwick

: 

Closed Tomorrow; All locations

C.H.I.L.D. Inc.

: 

Closed Tomorrow; NO Distance Learning

Lit'l Red Hen Preschool-KG

: 

Closed Tomorrow

West Bay Comm Action Child Care Center

: 

Closed Tomorrow; Cancel All Shifts

Addiction Recovery Institute – Warwick

: 

Closed Tomorrow; BRING LOCKBOX THURSDAY 1/6

St Rose & St Clement

: 

Activities canceled; No Mass/Adoration Friday Jan 7

St Timothy – Warwick

: 

1/7 No 8 a.m. Mass / Chapel closed; Rectory Office Closed

Coutu Bros Moving & Storage

: 

Closed Tomorrow; All Friday moves cancelled

West Bay Community Action

: 

Closed Tomorrow
COVID-19 testing, vaccination delays and changes
Testing
Rhode Island's outdoor testing sites usually operate from 8 a.m. to 6 p.m. The hours of operation at the following sites will be adjusted on January 7th to 12 p.m. to 8 p.m.
Cumberland Stop & Shop
CCRI Warwick Parking Lot (new location)
McCoy Stadium
Pawtucket Stop & Shop
Woonsocket State-run Test Site
People who had morning appointments at these sites will have those appointments honored at any point later in the day.
The Wickford Train Station parking garage testing site and the outdoor Pre K-12 Pine Street testing site in Pawtucket will operate tomorrow during normal hours (8 a.m. to 6 p.m.).
The test site at the Rhode Island Convention Center ticket booth will move indoors to the Dunkin Donuts Center concourse for Friday.
Vaccination
The vaccination clinic that had been planned for the Providence Public Library downtown will not be held tomorrow. People who had appointments for Providence Public Library clinic are being rescheduled at the Rhode Island Convention Center.
Tomorrow will be the first day vaccinating at the Rhode Island Convention Center. There will be limited availability tomorrow, but additional availability next week. Appointments can be made at VaccinateRI.org.
Snow clearing reminders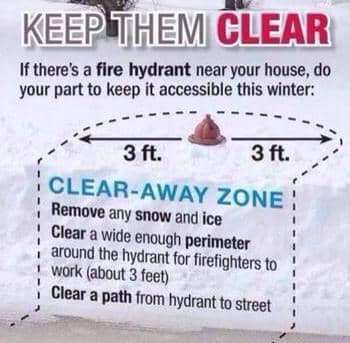 All that snow has to go somewhere, and it shouldn't stay on your sidewalks or pile up around hydrants:
Sidewalk ordinance City law Sec. 70-102, Removal of Snow Required states, "The owner, owner-designated occupant or any person having the care of any building or lot of land bordering on any street shall cause the snow to be removed from the sidewalk.""Violation of this section shall be punishable by a fine of $100 for the first offense and second offense."
Hydrant reminder While sidewalks are covered by city ordinance, local fire departments regularly ask the public's help in keeping fire hydrants clear of ice and snow.
Warwick Post Storm Center Info, Tips
Emergency Alerts:
RIBA – Make sure you're signed up for text alerts from the Rhode Island Broadcasters Association. You'll get emergency notifications (including school closings and delays) direct to your phone or email.
CodeRED – The City of Warwick has instituted a new rapid emergency notification service called CodeRED®.  The system will distribute emergency messages via telephone to targeted areas or the entire City of Warwick. Register here.
TF Green Airport –  Click here to follow arrivals and departures at Green.
Emergency Calls:
In an emergency, dial 911
Police Department: 401-468-4200
Fire Department: (401) 468-4000
Highway Dept./Snow removal – 401-738-2000 ext. 6518
Do NOT call 911 to report a power outage. Contact National Grid at 1-800-465-1212. Smartphone users can also text STORM to NGRID (64743) for outage alerts. To check the status of outages in your area, visit  National Grid Outage Central for Rhode Island.
Serve RI is looking for volunteers to help neighbors in need shovel out after upcoming snowfall. You can sign up here.  You can ask for their help at at 401-331-2298. For all other needs, people should call United Way-2-1-1.
Listen to NOAA radio: Check the National Oceanic and Atmospheric Administration radio frequency here.
Safety Tips:
If you use a generator to supply power during an outage, be sure to operate it outdoors. Before operating generators, disconnect from National Grid's system by shutting off the main breaker located in the electric service panel. Failure to do this could jeopardize the safety of line crews and the public.
Natural gas customers should closely inspect areas around and over gas meters, service hook-ups and vents for debris that could damage equipment or prevent CO from properly venting.
If  you suspect a natural gas leak:

Get Out – All occupants should leave the house immediately. Do not use the telephone or light switches for any reason.
Call Us – After leaving the house and reaching a safe environment, call the National Grid 24-hour gas emergency numbers at 1-800-640-1595
Stay Out – Do not return to your home until National Grid tells you it is safe.
Red Cross Extreme Cold Tips
The Red Cross has posted a number of personal and homeowner tips for dealing with extreme cold weather:
Avoid unnecessary exposure to the cold. Be aware of both the temperature and the wind chill when planning outdoor activities. When you prepare to go outside in severe cold weather, please remember the following:
Most of your body heat is lost through your head so wear a hat, preferably one that covers your ears.
Dressing in layers helps you retain heat. You can remove layers as needed if you become too warm.
Mittens provide more warmth to your hands than gloves.
Wear water proof, insulated boots to help avoid hypothermia or frostbite by keeping your feet warm and dry and to maintain your footing in ice and snow.
Get out of wet clothes immediately and warm the core body temperature with a blanket or warm fluids like hot cider or soup. Avoid drinking caffeine or alcohol if you expect you or someone you are trying to help has hypothermia or frostbite.
Recognize the symptoms of hypothermia that can be a serious medical condition: confusion, dizziness, exhaustion and severe shivering. Seek medical attention immediately if you have these symptoms.
Recognize frostbite warning signs: gray, white or yellow skin discoloration, numbness, waxy feeling skin. Seek medical attention immediately if you have these symptoms.