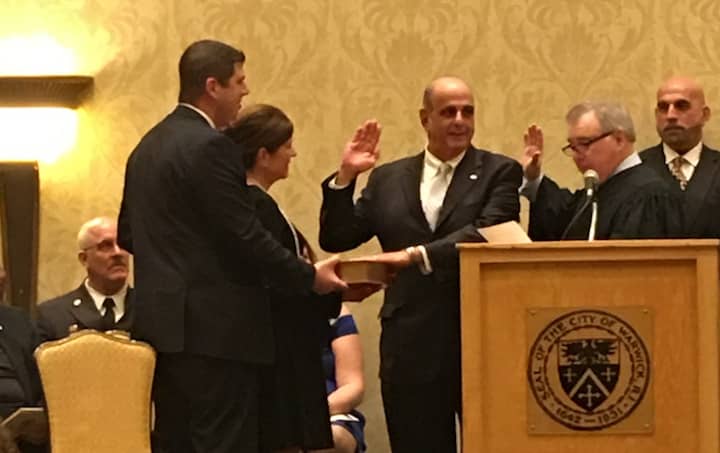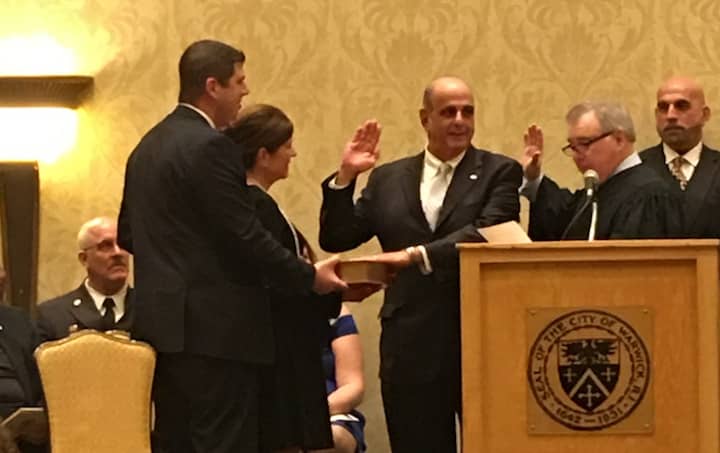 WARWICK, RI — The city's 2019 inauguration at Crowne Plaza Tuesday night cemented voters' will demonstrated during the Nov. 6 2018 elections, swearing in Mayor Joseph Solomon, as well as Council Members-elect and School Committee Members-elect.
The evening boasted the Pawtuxet Rangers, Rhode Island Militia & Pawtuxet Rangers Fife & Drum Corps, as well as the honor guards of the Warwick Fire Department, Warwick Police Department and the Rhode Island Professional Firefighters Pipes and Drums.
Captain William Tyler, Warwick Fire Department, retired, sang the national anthem, and the Rev. Edward Nedder, Pastor of Saint George Maronite Catholic Church, delivered the invocation, followed by music performed by Sharon Kathleen Santos-Leonard.
The Honorable Francis X. Flaherty administered the oath of office to Mayor Solomon as Cynthia Solomon and Joseph J. Solomon, Jr. held the Bible on which he was sworn in.
The Reverend Robert Marciano, Pastor of Saint Kevin and Saint Benedict Catholic Churches, offered a prayer for public service before Solomon administered the oath of office to the Council Members-Elect.