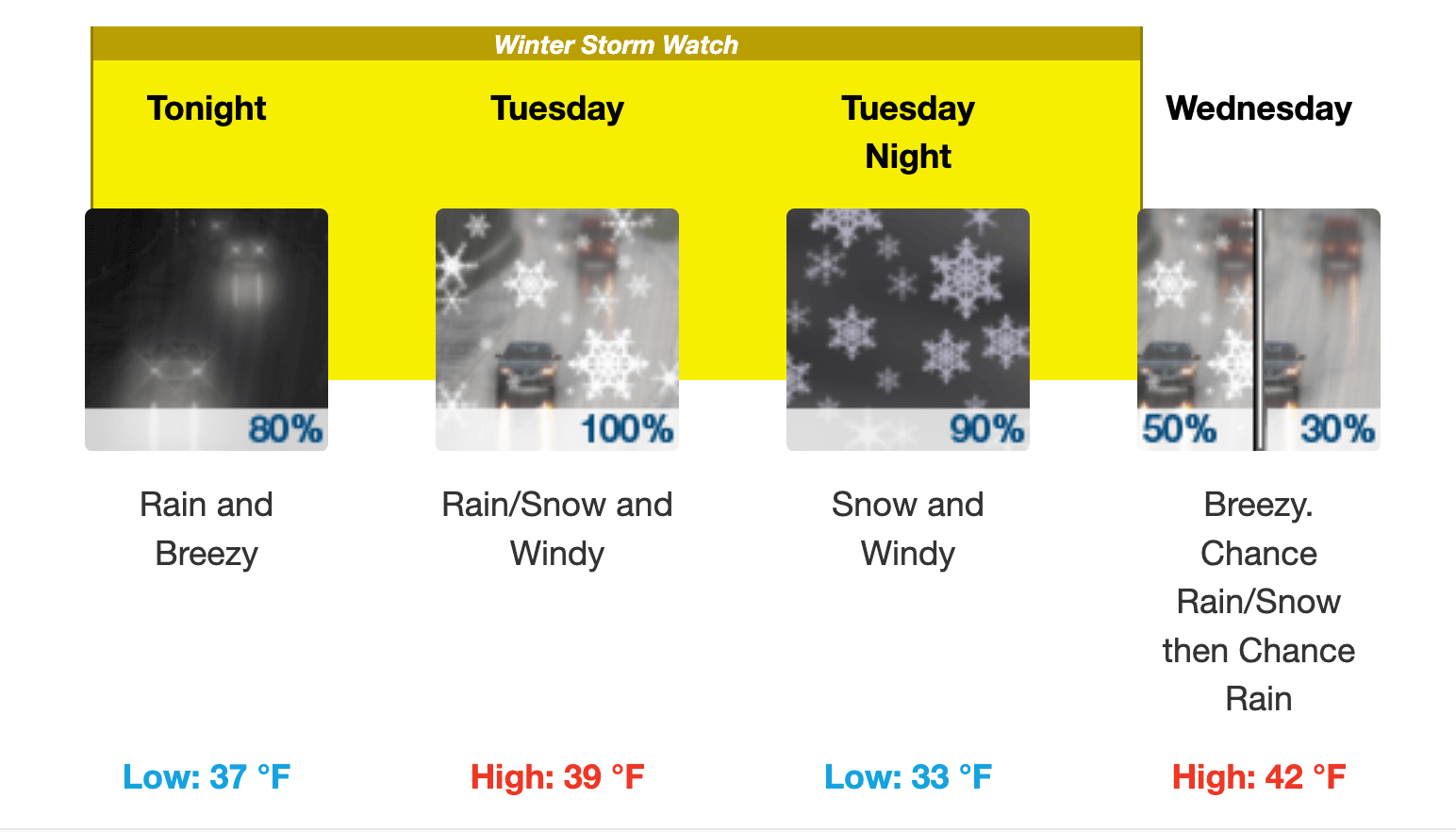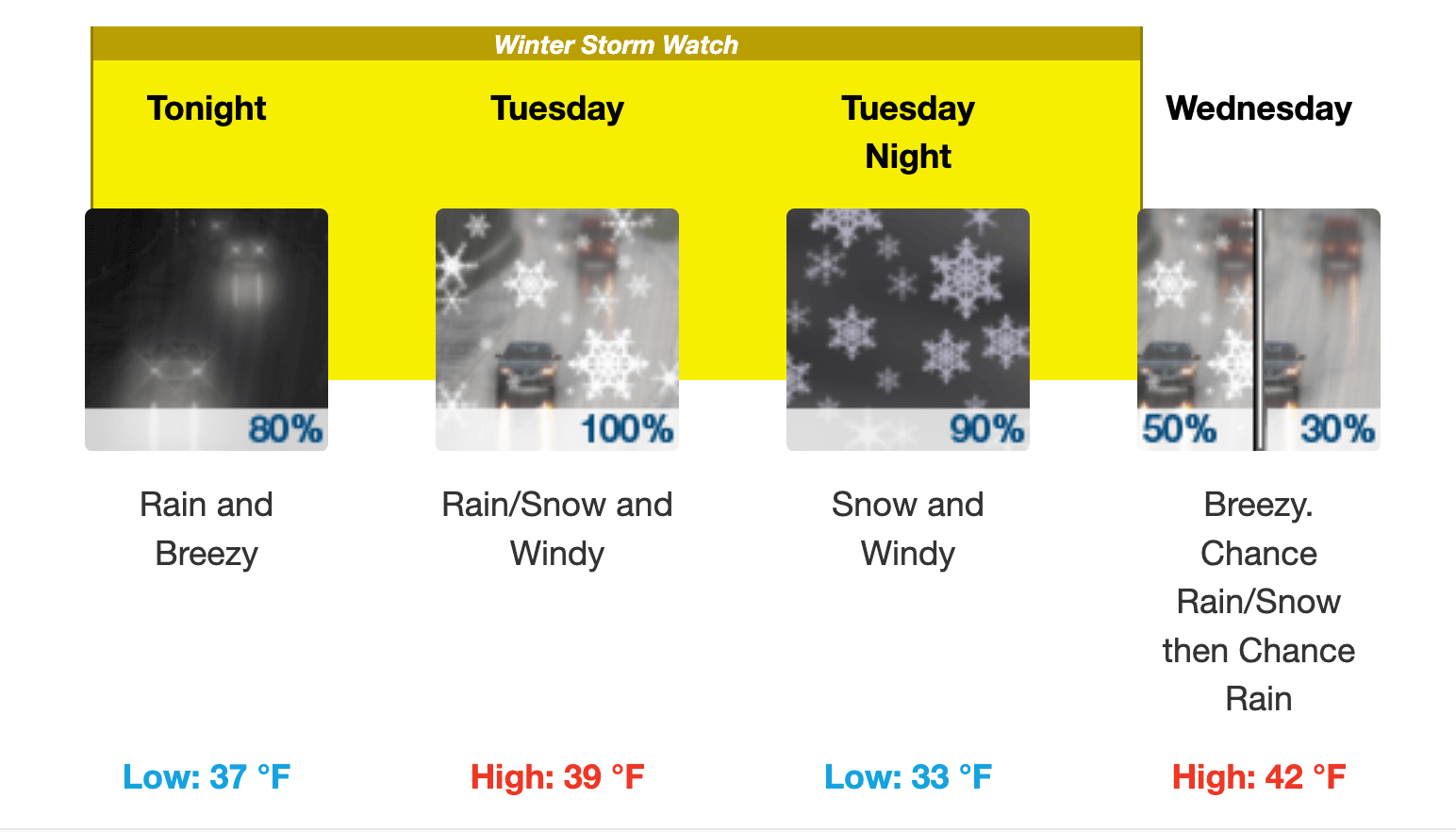 WARWICK, RI — The National Weather Service has a Winter Storm Watch for Warwick and surrounding communities for a snowstorm starting at 8 p.m., ending at 8 a.m. Wednesday, with up to 8 inches of snow and wind gusts up to 60 mph.
NWS warns travel could be very difficult during the Tuesday evening commute, as strong winds threaten tree damage, including downed lines and blocked roads. Rain will change to snow Tuesday afternoon, but it is still uncertain as to how much snow will accumulate during the day, which will affect final storm totals.
Snowstorm forecast
According to the snowstorm forecast, the storm will begin late this afternoon, with a chance of rain after 3 p.m.  The day will be cloudy, with a high near 42, and east wind 5 to 13 mph.
Tonight: Rain is expected to pick up after 9 p.m.,  as temperatures fall to a low around 37 degrees. Winds will also begin to pick up, with an east wind at 13 to 20 mph.  About a half and three quarters of an inch of rain is possible.
Tuesday: The morning will bring a rain and snow mix, becoming all snow after 2 p.m., with temperatures reaching a high near 39. Winds from the north will pick up from 23 to 28 mph, with gusts as high as 47 mph. Snow accumulation of 1 to 2 inches is possible.
Tuesday night: Snow  will continue, with an additional 3 to 5 inches possible, and a low temperature of 33 degrees. Wind from the north will remain steady at  25 to 30 mph, with gusts as high as 50 mph.  
Wednesday morning: A chance of snow before 10 a.m., then a chance of rain. Mostly cloudy, with a high near 42. North winds will continue at 23 to 25 mph, with gusts as high as 37 mph.
Snowstorm Emergency info, contacts
What to do in an emergency:
First, do NOT call 911 to report a power outage.
Instead, contact RI Energy at 1-855-RIE-1102 (1-855-743-1102) To check the status of outages in your area, visit the RI Energy Power Outage Map.
For gas emergencies or leaks, call 800-640-1595 for 24-Hour Assistance
Also be sure to check batteries for radios, and charge up your cell phone in case of power loss.
Emergency Alerts:
RIBA – Make sure you're signed up for text alerts from the Rhode Island Broadcasters Association for school, business, and organization closings. You'll get emergency notifications direct to your phone or email. Check closings and delays here.
CodeRED – The City of Warwick's CodeRED system distributes emergency messages via telephone to targeted areas or the entire City of Warwick. Register here.
Listen to NOAA radio: Check the National Oceanic and Atmospheric Administration radio frequency here.
Emergency Calls:
In an emergency, dial 911
Police Department: 401-468-4200
Fire Department: (401) 468-4000
Highway Dept./Snow removal – 401-738-2000 ext. 6518
Be prepared for snowstorm travel
Travel in winter can be extremely dangerous. The best thing to do is cancel any travel if winter weather will occur.
However, if you must travel, make sure you plan ahead. Make sure other people know your travel plans and know how to contact you. Travel in convoy with other vehicles if possible. Keep a survival kit in you vehicle. This kit should include items which include non-perishable food such as can goods or candy bars, extra clothes and blankets, a battery powered radio, a shovel, and sand and/or kitty litter for traction in case you're stuck. If stranded, the best thing to do in to stay in the vehicle. Tie a bright colored cloth to the antenna so rescuers can find you. Run the engine occasionally for heat making sure to keep the exhaust pipe clear. Open windows occasionally for fresh air.
Snowstorm Safety Tips:
If you use a generator to supply power during an outage, be sure to operate it outdoors. Before operating generators, disconnect from National Grid's system by shutting off the main breaker located in the electric service panel. Failure to do this could jeopardize the safety of line crews and the public.
Natural gas customers should closely inspect areas around and over gas meters, service hook-ups and vents for debris that could damage equipment or prevent CO from properly venting.
If  you suspect a natural gas leak:

Get Out – All occupants should leave the house immediately. Do not use the telephone or light switches for any reason.
Call Us – After leaving the house and reaching a safe environment, call the National Grid 24-hour gas emergency numbers at 1-800-640-1595
Stay Out – Do not return to your home until National Grid tells you it is safe.
Red Cross Extreme Cold Tips
The Red Cross has posted a number of personal and homeowner tips for dealing with extreme cold weather:
Avoid unnecessary exposure to the cold. Be aware of both the temperature and the wind chill when planning outdoor activities. When you prepare to go outside in severe cold weather, please remember the following:
Most of your body heat is lost through your head so wear a hat, preferably one that covers your ears.
Dressing in layers helps you retain heat. You can remove layers as needed if you become too warm.
Mittens provide more warmth to your hands than gloves.
Wear water proof, insulated boots to help avoid hypothermia or frostbite by keeping your feet warm and dry and to maintain your footing in ice and snow.
Get out of wet clothes immediately and warm the core body temperature with a blanket or warm fluids like hot cider or soup. Avoid drinking caffeine or alcohol if you expect you or someone you are trying to help has hypothermia or frostbite.
Recognize the symptoms of hypothermia that can be a serious medical condition: confusion, dizziness, exhaustion and severe shivering. Seek medical attention immediately if you have these symptoms.
Recognize frostbite warning signs: gray, white or yellow skin discoloration, numbness, waxy feeling skin. Seek medical attention immediately if you have these symptoms.
Shovel safely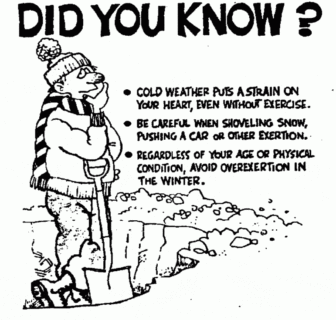 Working in cold weather puts a tremendous strain on the body, even for people in good shape. Take frequent breaks and don't overexert yourself. Make sure you dress properly for the conditions. Wear several layers of lightweight clothing. Air is trapped between the layers to help keep the body warm. Protect the extremities, such as the hands, feet and ears as they are the most susceptible to frostbite. Wear a hat as a large percentage of the body's heat is lost through the top of the head.
Snow clearing reminders for the snowstorm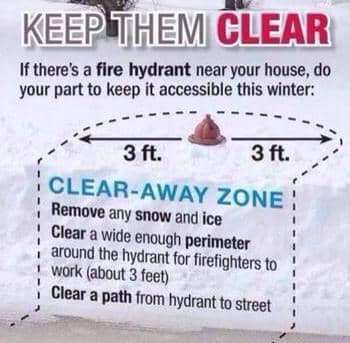 All that snow has to go somewhere, and it shouldn't stay on your sidewalks or pile up around hydrants:
Sidewalk ordinance City law Sec. 70-102, Removal of Snow Required states, "The owner, owner-designated occupant or any person having the care of any building or lot of land bordering on any street shall cause the snow to be removed from the sidewalk.""Violation of this section shall be punishable by a fine of $100 for the first offense and second offense."
Hydrant reminder While sidewalks are covered by city ordinance, local fire departments regularly ask the public's help in keeping fire hydrants clear of ice and snow.