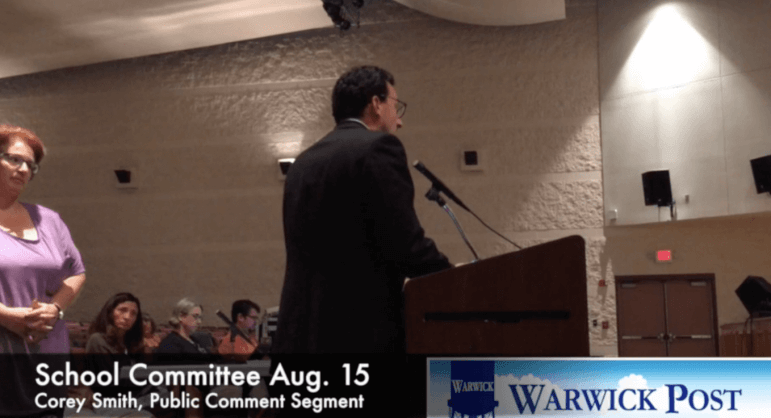 WARWICK, RI — Corey Smith addressed the Warwick School Committee Aug. 15, protesting the district's failure to update parents on an investigation of their complaints that Cedar Hill School Principal Colleen Mecurio mishandled abuse reports.
"There are now two active investigations by the federal office of Civil Rights," Smith said of the matter.
In June, a petition on Change.org with 73 supporters called for Mercurio's removal over her handling of a report of sexual abuse between two students on a bus in the fall of 2016.
"Dr. Mercurio has fostered a culture at Cedar Hill where students are routinely subjected to unsafe and hostile situations. During the four years that Dr. Mercurio has been principal, many of the parents listed on this petition have gone to her in good faith to inform her about serious instances of student misconduct, including bullying, cyber-bullying, sexual assaults and racial slurs. In each instance, Dr. Mercurio has mishandled incidents, minimized parent complaints, intimidated victimized students, or outright ignored situations," Smith wrote in in the Change.org petition, which he also presented to the Warwick School Committee July 11, recorded in a video posted to YouTube and linked to the petition.
"You have now given me, personally, the impression that you are either unable to make a decision, or that you are ignoring us in the hopes that we will go away," Smith said at the Aug. 15 meeting.
Smith spoke during the public comment segment near the end of last week's meeting at Toll Gate High School's auditorium, noting parents of children at the school have not heard any word from the Superintendent about an investigation into the complaints he said he had started July 21.
At the time,Thornton said he and his staff had looked into the parents' complaints, and he expected to finish their investigation, "In the coming weeks."
Smith warned the Council that if a new report from a child occurs, it would be their responsibility.
On Aug. 16, Thornton replied, "No news," when asked if there was an update on the matter.