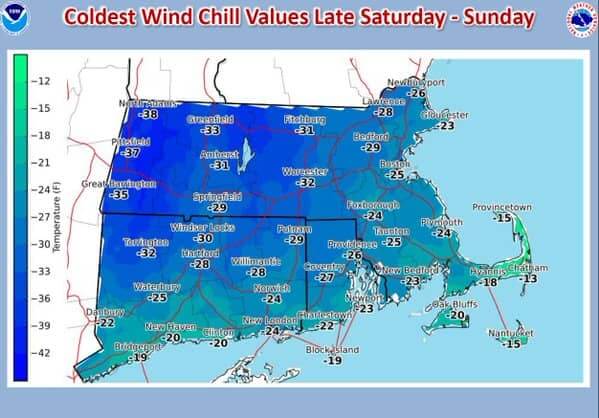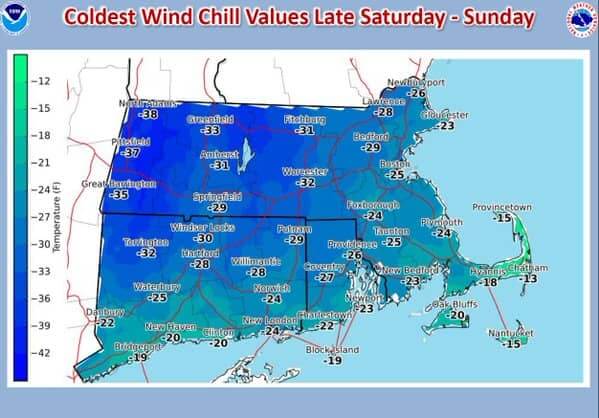 Warwick, RI — The National Weather Service warns of extreme cold due to affect the region starting at 4 p.m. Saturday as a core of cold air and high winds causing potentially life-threatening wind chills approach, and officials advise people to start preparing now.
The worst of the cold is expected to occur during Saturday night and Sunday morning, according to the service.  Wind chill readings of 25 degrees, 30 degrees and, in some places, 35 degrees below zero are possible, according to the service's report. At those temperatures, frostbite can occur in as little as 10 minutes, and officials warn that people should avoid traveling outdoors during this time.
Winds will gust at 15 to 25 mph, with gusts as high as 50 mph. Tree limbs and with them, power lines, may be damaged by the gusts, according to the weather service.
"Rhode Islanders are urged to prepare now as arctic air will overspread Rhode Island," Mayor Scott Avedisian wrote on his Facebook page alerting residents to the danger. Avedisian said the City's two warming centers will be open during the weekend for anyone in need of relief from the cold.
Pilgrim Senior Center, 27 Pilgrim Parkway
Warwick Public Library, 600 Sandy Lane
"Due to the artic air, we encourage everyone to take the necessary precautions as the extreme winter weather heads our way," Avedisian wrote.
In light of the extreme cold and wind chill, the weather service listed the following tips:
* IF YOU HAVE NOT DONE SO ALREADY...BE SURE TO COVER EXPOSED PIPES
  TO REDUCE THE THREAT OF FROZEN PIPES OR PIPE BURSTS.  

* ENSURE YOUR FURNACES ARE IN WORKING ORDER. FOLLOW MANUFACTURES
  INSTRUCTIONS OR UTILIZE A QUALIFIED TECHNICIAN TO ENSURE PROPER
  AND SAFE OPERATION OF YOUR FURNACE.

* NEVER VENTURE OUTDOORS WITHOUT WEARING GLOVES...A HAT AND
  SEVERAL LAYERS OF CLOTHING. 

* RUN WATER AT A TRICKLE AND KEEP CABINET DOORS OPEN TO PREVENT
  PIPES FROM FREEZING.

* NEVER USE A STOVE OR OVEN TO HEAT YOUR HOME OR USE AN OPEN FLAME
  TO MELT FROZEN PIPES. MANY HOUSE FIRES RESULT FROM THESE
  PRACTICES.

* NEVER USE A GENERATOR NEAR OR INSIDE YOUR HOME. CARBON MONOXIDE
  POISONING IS DEADLY.  CHECK OR INSTALL CARBON MONOXIDE
  DETECTORS.

* CHECK TIRE PRESSURE AND YOUR CAR BATTERY. BE SURE YOUR CAR HAS
  A WINTER SAFETY KIT THAT INCLUDES A BLANKET...WARM CLOTHES AND
  GLOVES IN CASE YOUR CAR BREAKS DOWN OR BECOMES STRANDED.

* TAKE EXTRA STEPS TO KEEP YOUR PETS WARM AND KNOW THEIR LIMITS TO
  COLD.