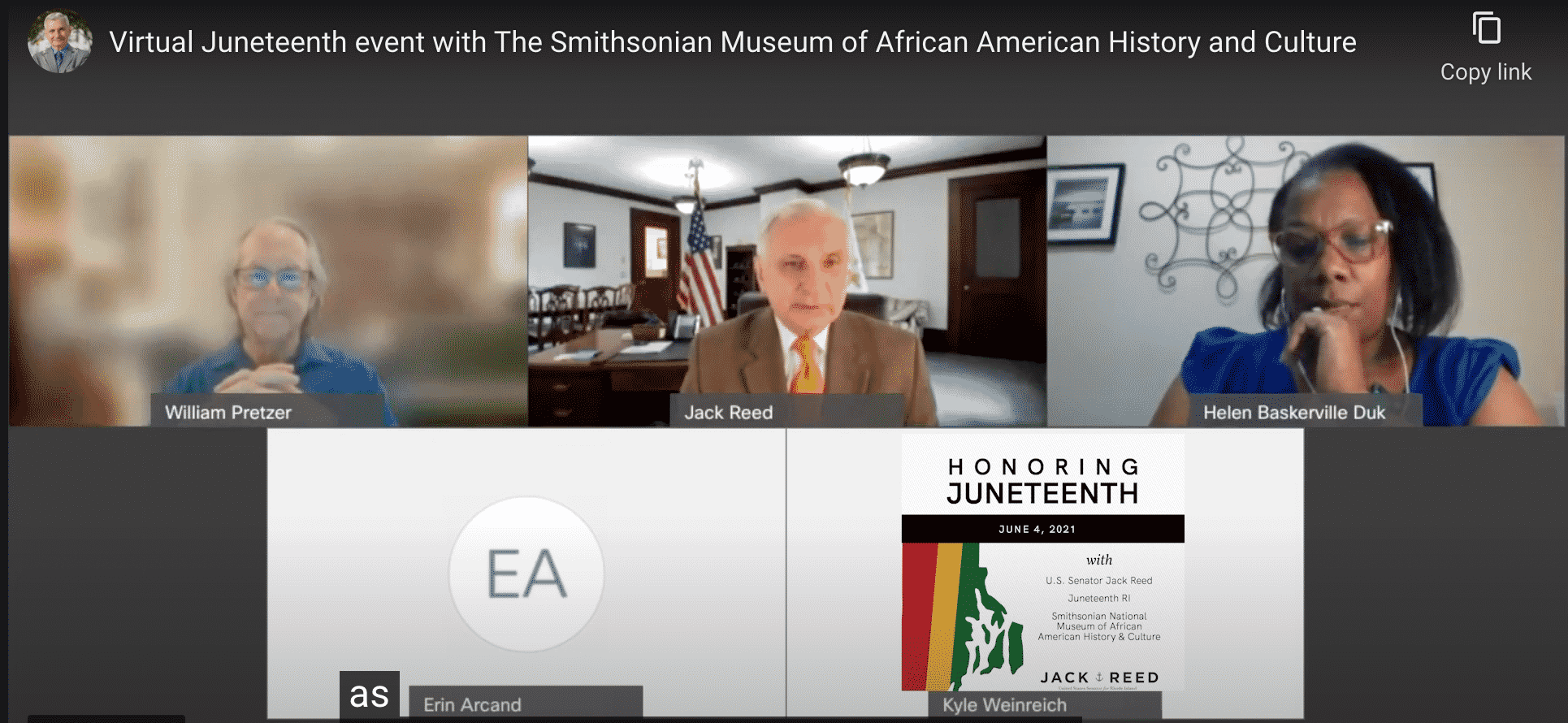 WASHINGTON, DC – The U.S. Senate and House have approved bills making Juneteenth a federal holiday celebrating the official end of slavery in the United States.
The Juneteenth National Independence Day Act, co-sponsored by U.S. Senator Jack Reed, which Congressman Jim Langevin (D-RI) voted for in the House on Wednesday, is expected to be signed into law by President Joe Biden.
Forty-seven states and the District of Columbia have established it as a state holiday or observe the holiday, including Rhode Island, which established an official observance, but not a state holiday for Juneteenth, in 2012.
This year, Rhode Island's official Juneteenth celebration will take place at Roger Williams Park, on June 19 starting at noon.
Juneteenth commemorates the arrival of the news of emancipation and the freedom of enslaved people in all former Confederate states following the conclusion of the Civil War.  The holiday is called "Juneteenth" because it marks June 19, 1865 — the day Union soldiers arrived in Galveston, Texas to serve notice of the Emancipation Proclamation and announce the freedom of America's last remaining enslaved people.
The Emancipation Proclamation, issued by President Abraham Lincoln, had legally freed slaves in Texas on Jan. 1, 1863, almost 2½ years before. At that time, the document only freed enslaved people in Confederate-controlled areas. Some slave masters withheld the information from their slaves, holding them as slaves through one more harvest season.
"June 19, 1865 is a day of historical significance that deserves national recognition.  It recognizes both the sin of slavery, the struggle to abolish it, and our continued march toward liberty, justice, and equality for all. Recognizing Juneteenth as a federal holiday to commemorate the end of slavery in the United States will help make it a national day of pride, celebration, reflection, action, and unity," said Senator Reed.  "Every 4th of July we celebrate our nation's independence and every June 19th we commemorate our enduring struggle for freedom and equality.  I am pleased the U.S. Senate unanimously approved making Juneteenth a national holiday and we must continue addressing persistent and pressing issues of racial inequality."
"Juneteenth should have been recognized as a federal holiday a long time ago, but I'm glad my colleagues in the House and Senate have agreed to pass the Juneteenth National Independence Day Act and send it to the President's desk," said Langevin. "Juneteenth is a time to celebrate the emancipation of enslaved Black Americans. Today's vote is a great step towards reckoning with our nation's dark legacy of slavery, but our country's fight to eliminate racism and injustice is far from over."
 In 1980, Texas became the first state to recognize Juneteenth as a paid holiday.
In the lead up to Juneteenth celebrations across the nation on June 19, Senator Reed hosted a virtual Juneteenth celebration, discussion, and tour of The Smithsonian's National Museum of African American History and Culture (NMAAHC) in partnership with NMAAHC and Juneteenth RI.