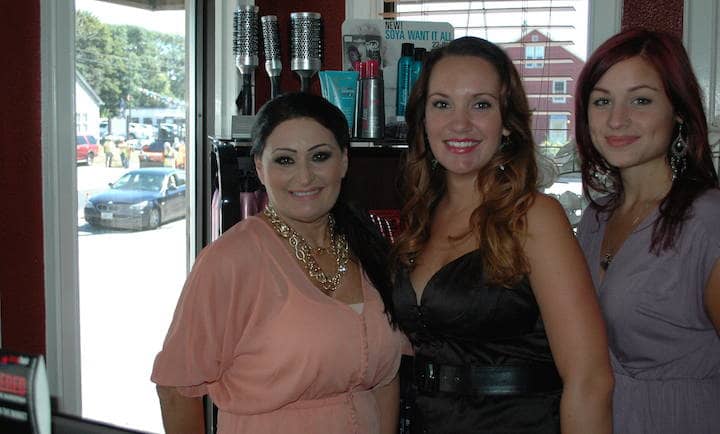 Warwick, RI – As DOT's $29.9 million Apponaug Circulator Project continues moving down Post Road between the Coyle Street and Veterans Memorial Drive intersections, the owner and stylists at Salon X look forward to better access for their customers.
"It is going to be worth it," said Debbie Bedrosian, owner and stylist at the 3087 Post Road salon.
"I try to think of it in a positive way," said stylist Emily Zambrano. She said it has been a pain getting to the salon from her home, which is usually only a few minutes away. But, she said, the finished road will be nice once it's done.
From the drawings of the plans on DOT's website, she's seen, said, Bedrosian can tell the work is leading up to something good for local businesses.
"I know it's going to be gorgeous after it's all done," said Bedrosian, who's been in business at her spot for the last two years.
The entire project, which will convert the one-way Post Road stretch through Apponaug into a two-way at Post Road at Williams Corner, and put roundabouts at Apponaug Four Corners, the Centerville Road and Tollgate Road intersection, the Greenwich Avenue and Veteran's Memorial Drive intersection, and the Veterans Memorial Drive and Post Road Extension intersection, is expected to be complete in 2017.
On Friday, Cardi Construction Corp. continued laying temporary ashphalt between West Shore Road and Veteran's Memorial Drive and demolishing the old Bank of America Building at the corner of Post Road and Veterans Memorial Drive.
They also began excavating the sidewalk to prep for installation of a new 8-inch water main for the Kent County Water Authority, according to Steve Mason with Cardi.
"It's going according to plan," he said. Mason asked for the continued patience of drivers through the area during the work. He said work crews are doing all they can to minimize hassle for motorists as they pass through the area.
Bedrosian vouched for the crews' helpfulness during the work, keeping them informed, "…every step of the way." Though the construction has cost her some business, she said, workers are very accommodating, and are becoming new regulars.
"I'm actually getting a little business from them, too," Bedrosian said.